Orange The World Event: Film screening of "Women and Men" followed by discu...
Description
November 25 marks the beginning of the global campaign called "Orange The World" – 16 days for the elimination of violence against women and girls*. On this occasion, the Institut Français Indonesia, Embassy of France, and UN Women are organizing a film screening and an ensuing discussion around "Des Femmes et des Hommes" (Women and Men) a film by the French Director Frédérique Bedos. The film investigates today's situation of women and girls, featuring them in political and economic contexts and brings together a collection of key testimonies. The film will be subtitled in English and Indonesian.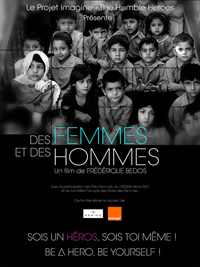 This exceptional event will start with a performance by the band "Sisters in Danger" who received the Most Popular Award at the 2016 Unite Song Contest organized by UNWomen.
After the film, speakers from various backgrounds will share their perspective on gender equality and ending violence against women. They will share personal stories of addressing today's challenges.
Invited speakers:
Sri Danti Anwar,

Deputy Minister for Gender Equality, Ministry of Women Empowerment and Child Protection

Kartika Jahja, singer, songwriter, and women's rights activist
Sarah Spronk, Education advisor at the Embassy of the Kingdom of the Netherlands in Indonesia

Henry Manampiring, Author of Alpha Girl's Guide

Prof. Dr. Emilienne Baneth-Nouailhetas, Attaché for educational affairs at the Embassy of France to Indonesia and East-Timor/Institut Français Indonesia
Moderator: Chandra Sugarda, Gender and social inclusion advisor, former TV journalist and news producer
*The 16 Days of Activism campaign "Orange the world" runs from 25 November, the International Day for the Elimination of Violence against Women, to 10 December, the International Human Rights Day. It is a time to galvanize actions to end violence against women and girls around the world. This year's theme is "Leave No One Behind: End Violence against Women and Girls".