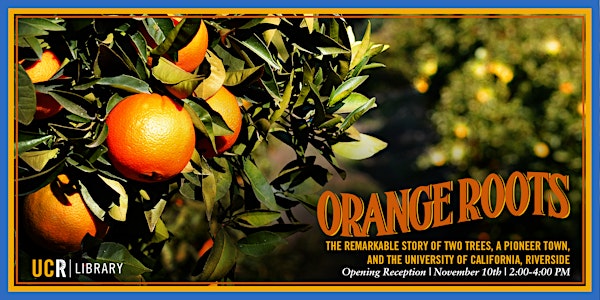 Orange Roots Exhibition: Opening Reception
When and where
Location
Tomás Rivera Library 900 University Ave Lobby Area, First Floor Riverside, CA 92507
Description
The University of California, Riverside Library invites you to celebrate the opening of a new exhibition, titled, "Orange Roots: The Remarkable Story of Two Trees, a Pioneer Town, and the University of California, Riverside."
The welcome reception in honor of the exhibition's opening will be held at the library, from 2-4 p.m. on Thursday, Nov. 10. The event is free and open to the public, but space is limited so we encourage you to register if you wish to attend.
The reception will include a talk by Susan Straight, professor of creative writing at UCR, and a citrus-tasting station where guests can sample different varieties of citrus fruits. The citrus-tasting station will be organized by Tracy Kahn, UCR's Givaudan Citrus Variety Collection Endowed Chair. Free parking will be available. Those interested in attending should register here.
The exhibition will showcase the remarkable history of Riverside's citrus heritage, from its early, pioneer days to the establishment of UCR. It will feature photographs, historical documents, and other memorabilia from the UCR Library Special Collections & University Archives, the UCR Citrus Variety Collection, the UCR Department of Botany and Plant Sciences, the Riverside Metropolitan Museum, and the Riverside Public Library.
The exhibition will remain on display at the Tomás Rivera Library through June 2017.