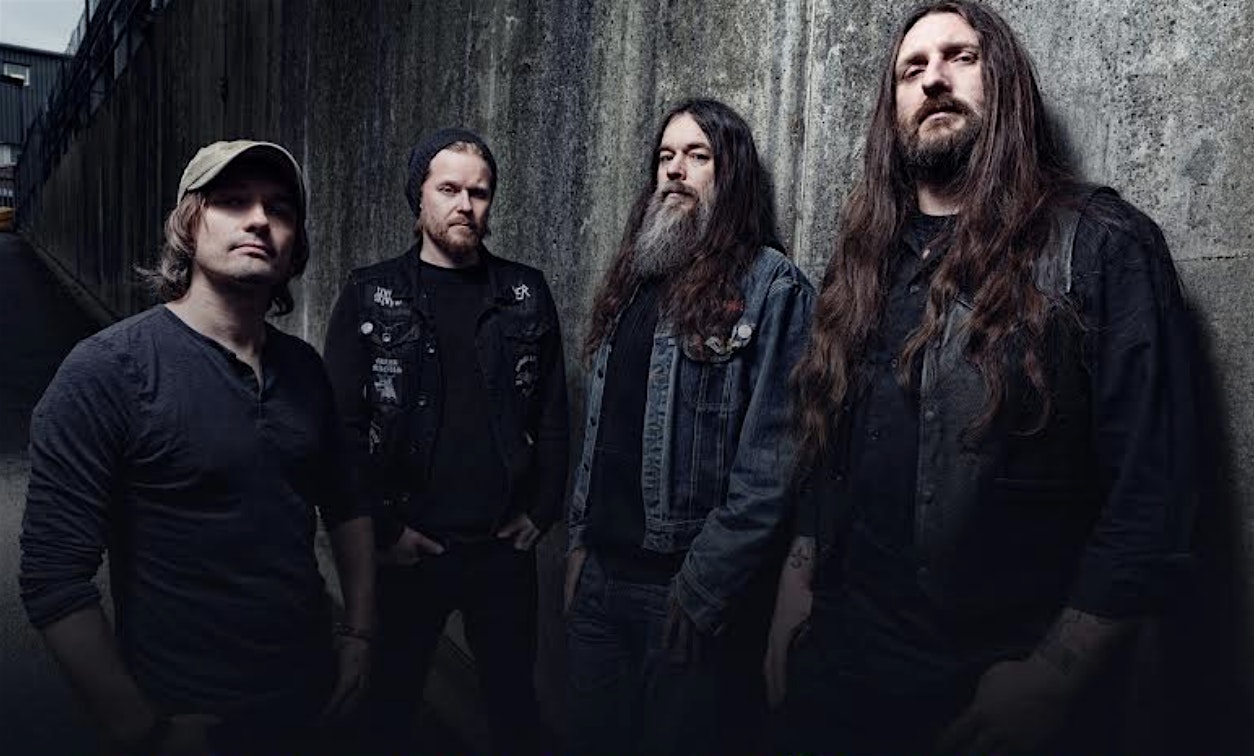 About this event
ORANGE GOBLIN
Facebook | Instagram | Twitter
About the Show:
Doors 7:30pm / Show 8:30pm
"This is the sound of a band that have been together for over 20 years. It's the sound of a band that don't give a fuck about modern day trends and what the 'cool' kids are listening to. It's the sound of Orange Goblin digging really deep into our well of inspiration."
In a world gone mad, there are few certainties to cling to. But one thing remains forever unwavering and true: Orange fucking Goblin. Diehard exponents of the noble art of heavy metal since 1995, the London-based quartet have spent the last two decades steadily but surely establishing themselves as one of the UK's most loved and respected bands. Emerging from the stoner rock explosion of the mid '90s, the band led the way for that scene on British shores, kicking off with classic debut album Frequencies From Planet Ten in 1997 and continuing with a steady stream of critically acclaimed albums that boldly and gleefully blurred the lines between stoner, doom, black, crust and southern rock, while always fervently saluting the old school heavy metal flag and the sacred Sabbathian code.
Widely admired as one of the most ludicrously thunderous and entertaining live bands on the planet, Orange Goblin have paid their dues and earned the right to be regarded as a heavy metal institution. The band's last two albums, A Eulogy For The Damned (2012) and Back From The Abyss (2014) have further cemented their reputation and taken their popularity to new heights, aided by high profile festival slots all over the world. Since the release of Back From The Abyss, the band's feet have barely touched the ground: a full European tour with doom legends Saint Vitus, a full US trek with Down, headline shows across Europe and triumphant appearances at Download, Bloodstock, Ozzfest, Wacken Open Air and many more. Nominated for 'Best British Band' at last year's Metal Hammer Golden Gods ceremony, at which they also performed, Orange Goblin have never been more in demand. As a result, the arrival of their ninth studio album, The Wolf Bites Back, is a very big deal. After a four-year wait, fans are about to feel the full power of a band at the peak of their powers and with the wind in their sails.
"Sometimes you just have to make a statement and I believe that this album is that statement," avows frontman Ben Ward. ""We just wanted a title that represents the feelings we tried to get across with the material on the album and it seemed to fit perfectly. It's vicious, it's dangerous, it's wild and it's unashamedly heavy metal and hard rocking! A lot of bands seem to be ashamed to say that these days, there are too many hipsters and posers that are afraid of the heavy metal tag yet like to revel in the imagery. Fuck that, people should be proud to be heavy metal!"
If you have blood in your veins, it will be impossible to avoid a sudden rush of heavy metal pride when album opener Sons Of Salem rips into gear: a turbocharged upgrade for the Orange Goblin formula, it ushers in an album full of diversity and daring but one that is powered by metal, pure and simple. From the insistent, fire-breathing groove of the title track and Renegade's balls-out rampage to the psychedelic fog of Ghosts Of The Primitives and Suicide Division's two minutes of snot-spraying Bathory-ized hardcore, The Wolf Bites Back will scratch every conceivable heavy metal itch while simultaneously making most sensible people want to run through a brick wall. Recorded at Orgone Studios in rural Bedfordshire with esteemed underground guru Jaime 'Gomez' Arellano at the controls, the new opus comes adorned with a raw but crystalline sound that has maximised Orange Goblin's extraordinary eight-legged chemistry.
"Gomez has a very new, custom built studio in a really remote part of the English countryside so there are zero distractions and we were totally focused on the job at hand," says Ben. "We gave ourselves plenty of time so the vibe was relaxed and almost experimental. We were trying out new sounds and working with equipment and instruments that we may not have considered in the past. Gomez was like a fifth member of the band, constantly making useful suggestions. I think that the band's playing and songwriting on this album are the best they've ever been. It's a huge wall of sound and Gomez has recorded and mixed it perfectly."
Its rampaging musical contents aside, The Wolf Bites Back is also an album of pitch-black horrors and warped nightmares, as Ben Ward channels his fury and fire through twisted tales of ghouls, witches, warriors and sinister ne'er-do-wells. At the heart of the album, however, lies a sincere and heartfelt frustration at the state of the world and humanity's resistance to getting our collective shit together.
"I think this is the most honest album I have written," admits Ben. "There are still fantasy themes but a lot of that fantasy is derived from real life frustration and anger. There are strong themes of rebellion, fighting back, revenge and making yourself a better person. There are underlying themes that the whole world and humanity in general is fucked! This time I was reading a lot of science-fiction, stuff like Philip K. Dick and other writers with a bleak, nihilistic view of what the future holds. Whether it's because of politics, science, religion or just the simple fact that the majority of human beings are stupid and ignorant, we are all doomed and the world is a fucked up place!"
As the world burns, Orange Goblin continue to give us fresh reasons to live. The Wolf Bites Back is a flat-out triumph for a band that refuse to deviate from their stated mission of bring joyous, blood 'n' thunder metal to the masses. With fistfuls of killer new songs and momentum propelling them onward and upward, the future is looking bright and busier than ever.
"We have Stone Free Festival, Hellfest, Alcatraz, Summer Breeze, Impetus, Rock Im Wald and a lot more scheduled for the summer," Ben states. "Then we are looking to tour the UK in late October, early November, to promote the album here properly. We're looking forward to people finally being able to hear this new material. It's been a long four years since the last album but we definitely feel that this one has been worth the wait!"
Organizer of Orange Goblin with Weedeater and The Skull @ Thalia Hall
Thalia Hall is a historic landmark located in the Pilsen neighborhood of Chicago. It was founded by John Dusek at the turn of the century as a neighborhood establishment. Dusek was a family man, a tavern owner, and a facilitator of the arts. He was a visionary, and the founding father of Thalia Hall. His hope for the corner of 18th & Allport was to build a public hall for the community. In 1892 his dream became reality: a multi-purpose property that would offer commercial storefronts, residential housing, and a hall for the community. In September 2013, owners Bruce Finkelman [Beauty Bar, Bite, Empty Bottle, EBP, Longman & Eagle] and Craig Golden [Longman & Eagle, Space, Union] launched three new concepts within this storied property: a re-established beer inspired restaurant, a Punch focused cocktail bar, and a public hall fit for all types of events.