About this Event
ORANGE CRUSH WEEKEND 2019
TYBEE ISLAND SAVANNAH GA HILTON HEAD
When is Orange Crush ?
APRIL 25-28, 2019
What is Orange Crush ?
Biggest Annual Beach Bash Weekend in the South
100k + ppl flood the beach for Car&Bike shows, Concerts, Parties, Greeks, Alumni, College students, dancers, models, photographers and more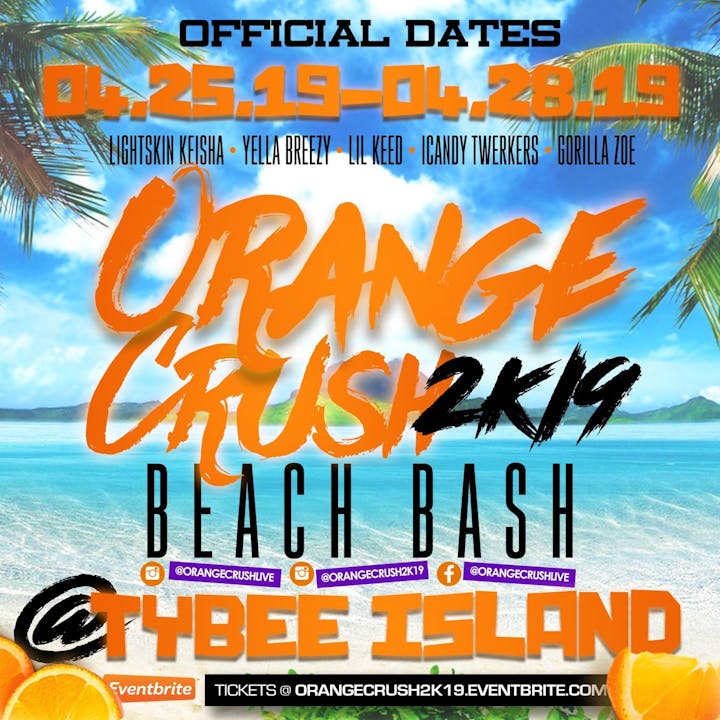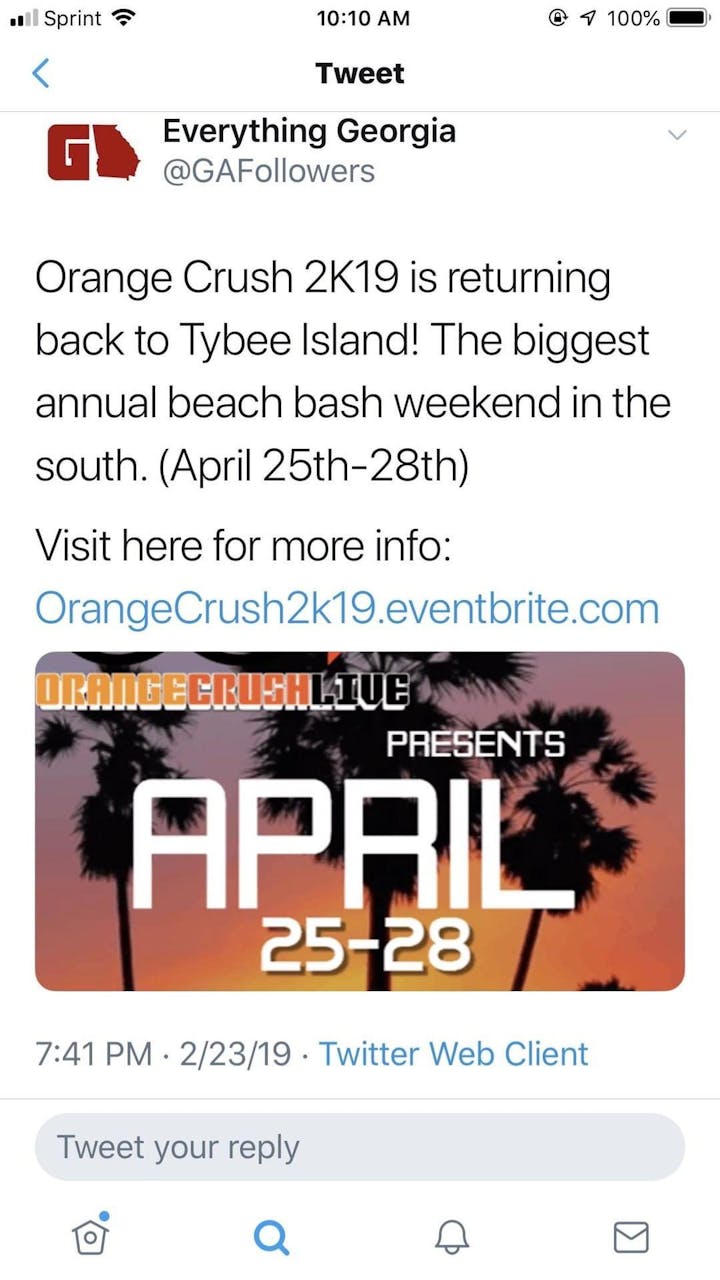 Want Free All Access Passes ?!?!?
ONLINE #TwerkOff #GoViral
▶️How to WIN FREE ALL ACCESS
Show us how ready you are for #ORANGECRUSHTYBEE #orangecrushweekend
🔘in a bathing suit, show us what you look like
🔘impress us (twerk, pose,rap or sing
🔘Mention #OrangeCrush2k19 & #OrangeCrushLive
🔘get most likes & RT
🔘win the ticket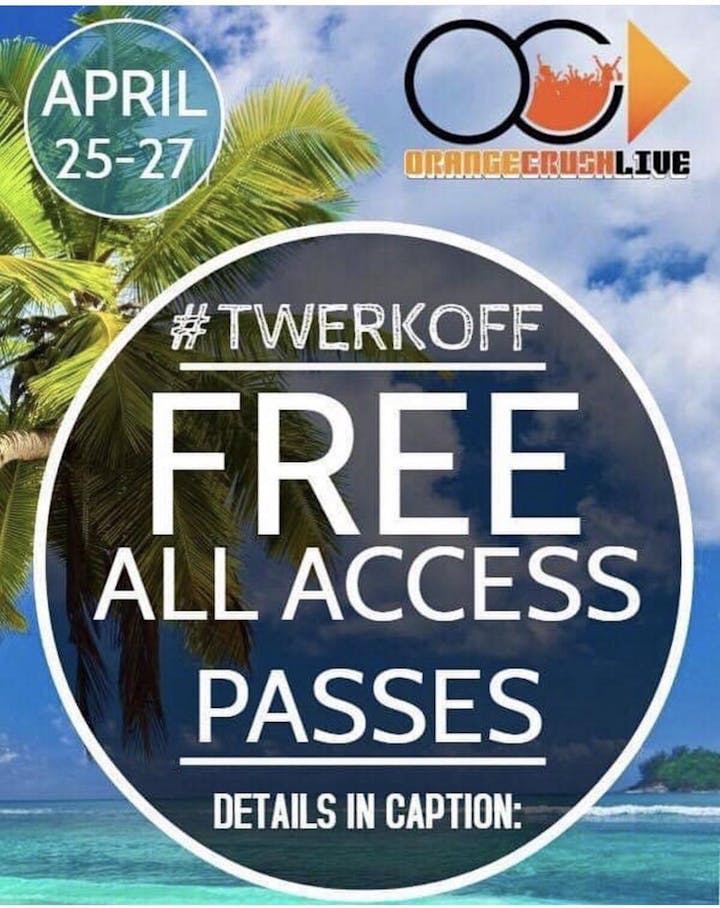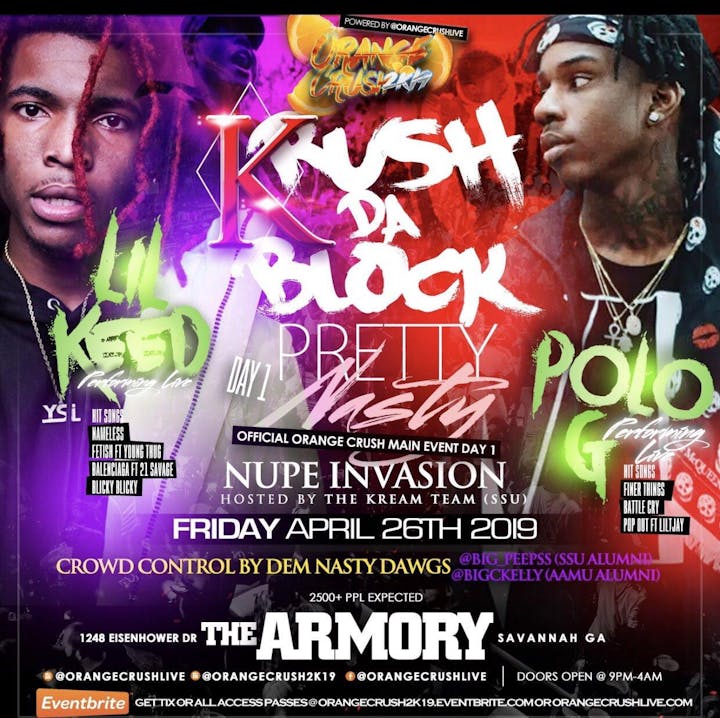 OFFICIAL ORANGE CRUSH 2019 MAIN EVENT DETAILS
CRUSH DA BLOCK ORANGE CRUSH 2k19 MAIN EVENT
$75 3 Day CrushDaBlock Pass
DISCOUNT PASSES
(Limited amount) $40 3 Day Passes
*Both Include*
#CrushDaBlock
APRIL 26-28 FRI-SUN
FRI - KrushDaBlock Pretty Nasty @ CrushDaBlock (1248 Eisenhower Dr) Day 1 ORANGE CRUSH
Physical Tickets @ DTLR Near You !
ONLINE Tickets @ OrangeCrushLive.eventbrite.com (Organizer)
OrangeCrush2k19.eventbrite.com
(ALL ACCESS PASSES)
KrushDaBlock.eventbrite.com
(Day 1 FRIDAY ONLY) 26th
LIL KEED
POLO G
QrushDaBlock.eventbrite.com
(Day 2 SATURDAY ONLY) 27th
Yella Beezy
LightSkin Keisha
Gorilla Zoe
QUE PARTY/GREEK INVASION
CrushDaBlock.eventbrite.com
Sunday 28th
(Day 3 SHOWCASE/CAR&BIKE ONLY)
(3DAY CRUSHDABLOCK PASSES)
(Free SUNDAY Performance Slot)