Description

Pitch and network with venture capitalists, angels and accredited investors from Southern California, Silicon Valley and throughout the country at the Orange County VC Fast Pitch Conference.

Black Dog Venture Partners has hosted investor events throughout the west and has raised millions of dollars for start ups as a direct result of our fast pitch conferences.
Investor Panel:
Scott Kelly, Black Dog Venture Partners
Scott Kelly Founder and CEO of Black Dog Venture Partners, is a 25 year fundraising, marketing, sales, training and publicity veteran. Scott has raised millions of dollars in capital for disruptive companies, garnered national media coverage for hundreds of regional and national brands and generated millions of dollars in revenues for the companies he has represented. He has also trained over 1,000 sales people and has taught marketing at the university level in the United States and Europe.
Todd Belfer, Managing Partner of Canal Partners.
Todd Belfer is Managing Partner of Canal Partners. In this role Mr. Belfer is responsible for all aspects of the company including identification of potential acquisition targets, due diligence, financial analysis and final investment decision making. Mr. Belfer currently serves on the boards of Allbound, PetDesk, Lightpost Digital, and MobileLogix.
Mr. Belfer has a long history of entrepreneurship and has been involved with a wide range of businesses throughout his career. In 1990 he Co-Founded Employee Solutions, Inc., a professional employer organization which he helped take public in 1993. He also Co-Founded a leading sports nutrition company, M.D. Labs, in 1993 and after realizing triple-digit growth sold his interest to a private equity firm in 2002. He was a founder of the successful Japanese restaurant chain RA, which has grown to more than 30 locations throughout the United States and was sold to Benihana in 2002. In 2002 Mr. Belfer founded NETtime Solutions, LLC – a Software as a Service (SaaS) company dedicated to delivering on-demand time and attendance service, which was sold to Paychex in 2014. Additionally, Mr. Belfer serves on the Board of Directors for Omedix, Deal Current Network, Limos.com, ClickDimensions, and Sauce Pizza & Wine.
Mr. Belfer has been a dedicated volunteer with Big Brothers and Big Sisters for over 10 years. Nationally, he is recognized for his work with The American Israel Public Affairs Committee (AIPAC) and received the prestigious Regional Wings of Memory Society "Excellence in Leadership Award" presented by the United States Holocaust Museum in April 2006 for his ongoing support and dedication to the Holocaust Museum and its efforts. He is also a Board Member of Crossroads, a recovery center for men & women.
Mr. Belfer has a Bachelor's Degree in Finance and a Real Estate Degree from the University of Arizona.

Jeff Bocan, Partner Okapi Capital
Jeff is Okapi's lead on our investments in Trackstreet, WhiteFox Defense Technologies, CloudKeyz and a stealth-mode company. Prior to joining Okapi as a Partner in Okapi's third fund, Jeff Bocan led the venture capital investment in Mophie for the venture firm, Beringea, and served on the board before being asked by Mophie's founders to join the Executive team full time in 2013 to help manage the company's rapid growth and global expansion. Jeff invested in Mophie when it had revenues just over $10 million in 2010 and worked with the team to help drive revenues to $250+ million in 2015, and the eventual sale of the company in early 2016 to a strategic acquirer, ZAGG (NASDAQ: ZAGG).
As Mophie's Senior Vice President, Jeff's primary focus was on strategic initiatives and partnerships, business development and managing the global sales team as well as working across many areas of Mophie's operations including: marketing, corporate development, product development, legal and human resources.
Prior to joining Mophie, Jeff was a venture capitalist for 13+ years, last serving as a Managing Director at Beringea where he sourced, led or managed the technology and media investments for 35 of Beringea's portfolio companies and served on 22 corporate boards across several of Beringea's $50 – $150 million venture funds; including such companies as Mophie, Mergermarket, eSpotting, Steak Media and Sakti3. His work prior to Beringea involved an early-stage tech VC in London (Saffron Hill Ventures), and marketing roles for BMW of North America and startup beverage company, Honest Tea.
Jeff earned a B.A. in Government and Sociology from the University of Notre Dame, graduating magna cum laude and Phi Beta Kappa; and a MBA with high honors from the University of Virginia. Jeff currently resides Orange County, CA with his wife and four children.
Denise Koller Longley Founding Partner, Longley Capital
Denise currently serves as the CEO and Founding Partner of Longley Capital, an early stage investment firm focused on technology companies at the forefront of meaningful challenges in the world.
At Longley Capital Denise leads the firm's overall strategy and investment initiatives. Longley Capital is focused not only on investing capital but collaborating with founders and business leaders to accelerate growth and create enterprise value.
Prior to Longley Capital, Denise was a leader in the Business Modeling practice at EY in Southern California and New York City. At EY Denise focused on advising private equity firms, investment banks and Fortune 500 companies on applying business analytics and modeling. Denise has worked across industries which have included technology, consumer products, agriculture and finance. Prior to EY Denise held operating roles in corporate strategy and finance at Encore Capital Group and HSBC.
Denise holds a B.S. in Economics from University of California San Diego (UCSD) where she graduated summa cum laude. Denise received her MBA from the Rady School of Management at UCSD. A native of Switzerland Denise is fluent in German, Spanish, and French. Denise currently resides in La Jolla, CA with her husband and is the proud mom of three boys.
Joshua Lee Founder & Managing Director, Two Coins Group
Joshua is loving life as an investor and entrepreneur in Southern California's growing "Silicon Beach." Having founded several funds and projects that expand across many global markets, he is especially interested in partnering with growing companies in the mobile, gaming /entertainment, and specialized IP industries.
Previously, he led several teams in the Quantitative Services Group at Ernst & Young, and primarily focused his career in the two sectors that he is most passionate about: R&D and Technology. His responsibilities included maximizing cash flows by aligning tax and business strategies together. This included performing extensive industry, company, and transactional analyses in conjunction with both corporate finance and advisory engagements.
Eventually, his experiences above naturally led him to become an investor, working adviser, and/ board member in different types of companies (e.g., from start-up to Fortune 100 companies). His areas of expertise and interests include practice strategy, process infrastructure, initial business planning, and paying customer / partner acquisition.
Gregory Wertman Partner Noname Ventures
Greg attended the USC Marshall School of Business, with an emphasis in Finance & Advertising. Since then, he's accumulated over ten years of experience growing technology startups, focusing on equity raises and helping companies achieve first revenues. His background includes multiple years working as a venture scout, advisor, & consultant to numerous venture funds in Southern California and SFBA. Greg also built The Buddy Group into a digital ad agency leader through strategic business development and sales, where he drove double-digit growth rates year over year.
Noname Ventures invests in early stage technology companies that have value based business models and are focused on solving unique problems within established and easily accessible markets. They emphasize demonstrated product/market fit and the potential for near-term profitability while retaining large long-term market opportunities.The support and resources that they offer go far beyond seed capital, with a commitment to working hands-on with founding teams to propel them to near-term profitability or exit.
They also run Immersive Mentorship, a program designed to help early stage ventures take a product-first approach to developing their ideas, achieving product market fit, evaluating their performance, and building great organizations.

Janice Orlando Private Investor - Board of Directors, Pasadena Angels
The Pasadena Angels was founded in 2000 and is one of the longest running angel investing groups in Southern California. We have invested over $75 million in 190 plus companies. Pasadena Angels funded companies have gone on to raise over $500 million from additional funding sources such as venture capital and private equity. Recent notable exits for the Pasadena Angels are Mind Body Software (NASDAQ:MB) reaching $1 billion and Bluebeam Software, acquired by Nemetschek for $100 million. The Pasadena Angels has been consistently ranked as one of the top ten angel investing groups in the country according to Forbes Magazine (2015) and Angel Resource Institute's HALO report (2017). A nonprofit entity, the Pasadena Angels offers early stage start-ups capital investments; as well as mentoring from the expertise of more than 100 investor members with over 4,000 years of combined business expertise. Our $1.5 million PA Fund 1 was formed in 2016 with the sole purpose of co-investing exclusively in deals subscribed by Pasadena Angels members.
Sean Slavik Managing Partner, Glass Ventures
Sean Slavik, CEO, Investor, Founder, and independent developer, Slavik has been programming and developing games for over 20 years. As an investor, Slavik has helped fund the development of Colina: Legacy, Mikura: Going Home, RestLess, FlakJak, as well as partnered with Sebastien Pacetti to finance YUNOIA.
Since entering full time into the games industry in 2015, Slavik has built a publishing and development support company, Chance6 Studios, as well as led the development of its platform, GameRights.net.

Rob Vickery - Partner & Co-Founder, Stage Venture Partners
Rob is a Co-Founder of Stage Venture Partners, which is a seed venture capital fund that invests in emerging technology for B2B markets.
Stage invests in Founders building frontier technology for enterprise clients. We offer access, services, and expertise that are unique in our market, leading to remarkable results for our portfolio.
We are not thesis, geographic or sector focused, but instead business model focused. We invest only in software companies that solve problems for companies, monetizing either through SAAS or transaction fees. We also welcome entrepreneurs from diverse backgrounds.
Before founding Stage with Alex Rubalcava, Rob held a number of executive roles within large financial institutions in the UK and the US, pioneering new distribution channels and making and managing large scale technology investments. He has also spent a number of years working and advising a range of international music and film talent on embracing with new forms of technology.
Rob has also served on the boards and committees of the British Academy of Film Television Arts (BAFTA) LA Games, British American Business Council, International Trade Education Programs, South Central Scholars and the Chairman of the School of Business & Entrepreneurship at Dorsey High School.
In his downtime, Rob is an amateur paleontologist, outdoors enthusiast, snowboarder and gaming addict.
Jason Thanh La - Venture Partner at K5 Ventures and Investment Partner at Crosscut Ventures.
Jason is an entrepreneur and early stage investor based in Orange County. He is the co-founder and CEO of Merchant Service Group LLC (MSG LLC), a full service electronic payments company that successfully processed billions of dollars in transactions for all types of businesses across the US. In 2014, MSG LLC was partially purchased for an eight-figure investment deal with Merchant Choice Payment Solutions, an affiliate of Woodforest National Bank. Jason is a Venture Partner at K5 Ventures and Investment Partner at Crosscut Ventures.
Prior to co-founding Merchant Service Group LLC, Jason was a consultant at Internet start-ups and Fortune 500 companies. He was named one of 2014 Orange County Register's "Forty under 40" list of top executives and entrepreneurs. Jason currently serves on the Board of Harvard Business School Association of Orange County and Advisory Council for Entrepreneurship at Cornell University. He is also involved in leading the HBS Alumni New Venture Regional Competition. Jason is an alumnus of Cornell University and Harvard Business School.

Mark S. Vreeke, Chemical Angel Network
Mark S. Vreeke, PhD—Dr. Vreeke is a cofounder of the Chemical Angel Network. The Chemical Angel Network provides a source of capital for early stage firms that converge with the chemical sector in the materials, measurement and manufacturing space.
Previously, Dr. Vreeke served as vice president of R&D for Rational Biotechnology, a Rational Systems spin-off. Rational Biotech's mission was to speed the adoption of personalized medicine through the development of combined IVD and drug therapy products. Rational Biotech identified a novel route to the delivery of personalized therapy without the requirement of massive clinical trials. He also served as the Senior VP of R&D at Pepex Biomedical (St. Louis, MO). Pepex is an early stage medical device company specializing in developing, manufacturing and marketing disposable miniaturized electrochemical biosensors.
Earlier in his career, Dr. Vreeke held research positions at TheraSense. At TheraSense he contributed to the successful transfer of glucose sensor technology from the University of Texas. This was one of the most profitable technology transfer plays for any university outside of the drug space. The company was originally funded through the SBIR program and can be counted as one of the SBIR program's biggest successes.
He graduated from Calvin College with a BS in chemistry and went on to receive a PhD in analytical chemistry from the University of Texas at Austin. He is currently a member of the editorial advisory board of IVD Technology and is a visiting professor in the chemical engineering department at the Universitat Rovira i Virgili (Tarragona, Spain). He sits on several academic, industry, and corporate boards. Academic honors include a Dow Scholar, Welch Fellow and Woodrow Wilson Fellow.

Hunter Slay Partner, Oxford Capital
Hunter has assisted pre-revenue, start-up and middle-market businesses in a variety of industries. He has worked with city officials, architects, engineers, public offices, etc. in the process of commercial real estate development to help facilitate healthy growth strategies and models for the communities in which Oxford Investment Partners has invested. Internally, he maintains OIP project schedules to ensure smooth operations while striving to construct new avenues of revenue for company growth. His personal areas of interest are VR/AR, Blockchain, music, and golf.
Suraj Rajwani - DoubleRock General Partner
Suraj is the co-founder and managing partner of DoubleRock. He has over ten years of management, investment, and M&A experience in Silicon Valley, China, and India. He was previously the Managing Director of the Global Entrepreneurs Network Organization (GENO) in Singapore. Suraj is an expert on multinational company branding, exit strategies, and deal origination.
Joe Kaiser Director, Mercato Partners
Joe Kaiser is a director at Mercato Partners, a growth equity investment firm focused on technology and consumer industries. Joe supports entrepreneurs by leveraging over 15 years of financial, operational, and start-up experience. Joe is actively engaged with Mercato portfolio companies Central Logic, Ephesoft, and Venafi. Immediately prior to joining Mercato, Joe served as a director of capital markets at Vivint Solar, where he raised in excess of $1 billion in project financing and led several successful corporate development initiatives. Vivint Solar achieved a successful IPO in 2014 at a valuation of approximately $1.6 billion. Prior to joining Vivint Solar, Joe worked at the Blackstone Group, where he advised investors, activists, and corporate clients; completed mergers and acquisitions, and structured finance transactions, including Blackstone's acquisition of Vivint Solar and its sister company, Vivint, Inc.
Growing up in a small Midwestern town, Joe received an M.B.A. from the Kellogg School of Management at Northwestern University and a B.S.B.A. from Saint Louis University.

Vishal Arora, Technology Executive, Startup Investor, Incubator, and Advisor
Vishal is a technologist at heart. He enjoys building disruptive, innovative technology products and services that have worldwide impact, as well as investing in, incubating, and advising startups that do the same. He has Bachelor's and Master's in Computer Science and an Executive MBA from Kellogg School of Management at Northwestern University.
Vishal has served multiple product and professional services organizations like Microsoft, Symantec, Accenture, and Avanade in different leadership capacity, where his roles included enterprise product and services strategy, design and delivery, product and portfolio management, global technology and P&L management. He is a founder of both Netvega Solutions, an IT services firm focused on providing services and solutions for small to mid-market companies, and VDOSH, an investment and advisory firm focused on growing technology startups in the early stages of their development.
Vishal is passionate about startup mentorship and incubation and supports startups throughout the United States and India. He also leads Kellogg Entrepreneurs Organization, Los Angeles Chapter.
Investor & Advisor:
SeerNet Technologies (www.deepaffects.com)
Lemon Ideas Pvt. Ltd. (www.lemonideas.in)
Virtual Healthcare - Startup focused on bringing tele health services in India. (www.virtualhealthcare.co.in)

Wayne Rickard, Executive Committee / Investor, Tech Coast Angels.
Tech Coast Angels (TCA) is the largest and most active groups of angel investors in the United States. Since its founding in 1997 TCA members have invested over $100 million in 155 ventures, coupled with over $1 billion from co-investors; mostly VC firms.

Jon Warner Organizational Strategy, Digital Health Expert, Entrepreneur and Best-Selling Author
5 time company CEO, Jon Warner is a widely respected entrepreneurship expert having founded and led 3 startups (with 2 successful exits). Jon's career started in the corporate world with Air Products and Chemicals, working in the US and across Europe before joining Exxon-Mobil. At Exxon, Jon worked in the UK, the US, Australia, and Nigeria, ending his career there as Deputy CEO.
Following his 15 years in the corporate world Warner founded and grew a management consulting business-The Worldwide Center for Organizational Development, which had 30 people carrying out a range of strategy assignments for large companies such as Ford Motor Company, L'Oreal, British Airways, HSBC, Microsoft, Glaxo, Foster-Wheeler, Toyota, Johnson and Johnson, Coca-Cola, PWC, The UK NHS, Roche and MasterCard. Much of this work focused on building an innovative culture and establishing greater internal entrepreneurship skills.
Following his time as a management consultant Warner was CEO of 2 startups-a digital publishing company and a Bill-pay and payments software platform that operated in the US, UK, and Australia. Since his successful exit from the latter Warner has been working from a California base to coach, mentor and invest in disruptive start up companies, especially in the area of technology deployment and digital health in particular. Warner manages the deal flow into a Los Angeles based Healthcare investment fund-Adaptive Health Capital.
Warner's career has included senior executive roles in marketing, business development, operations, logistics, finance, investment, human resources and engineering/technology.
Warner is a noted speaker at businesses and colleges across the world. He is also a prolific author having published 40 books, all concerning business, management, leadership, innovation and technology.
A native Englishman, Warner moved from the UK to Australia for 15 years before relocating to Los Angeles in 2004. Warner is a graduate of the top 5 Warwick University in the UK, with a double bachelor's degree in philosophy and politics and an MBA (with a finance specialism). Warner also has a PhD in Psychology (with a specialism in Neuro-science). Warner sits on the Board of St Barnabas, LA's largest Aging in place non-profit, Is LA Chapter Ambassador for Aging 2.0 and is Co-chair of the annual "Aging into the future" conference in LA. He is also an Entrepreneur in Residence (EIR) at UC Riverside. He is married to psychologist, management consultant and author Anne Sandberg, and has four grown up children.
John Samuelson, Karas Partners Inc.
John Samuelson provides investment placement management and related operations from the venture's initiation through success, predominantly with Karas Partners. John's focus includes managing initial deal flow review, providing technical, business and financial due diligence and transaction closure operations, while counseling those investment opportunities with their internal needs, along with providing post closure business operations supporting the investment and venture's success.
John has an expansive history providing disruptive technology development, operations leadership and investment support, including business advisory, transactional due diligence and financial management. John's international experience includes: Blockchain, Fintech, Crypto's; Energy and Water Systems Development; Renewables; Deep Water Energy Systems; Telecommunications and Silicon Device Development; Aerospace Systems; Cellular Systems; Life Support and Medical Systems.

John Livesay, "The Pitch Whisperer"
John Livesay is known as "The Pitch Whisperer." He helps founders create a pitch that makes them magnetic to the right investors.
As a keynote speaker, John has captivated audiences in settings such as Coca-Cola's CMO Technology Summit in Silicon Valley. He is also the author of The Successful Pitch: Conversations On Going From Invisible To Investable and the host of "The Successful Pitch" podcast, which is heard in over 60 countries.
He is currently the Co-Founder, CMO of QuantmRE where he helped raise $1.7M in a seed round in 90 days. QuantmRE helps homeowners get cash for the equity in their home without taking on more debt. It is using the blockchain to create a token that allows people to own real estate without the headaches of being a landlord.
John has appeared on TV as the expert on "How To Ask For What You Want And Get A Yes." . During a 20-year career in media sales with Conde Nast, John worked across all 22 brands in their corporate division, and was the recipient of salesperson of the year honors.
John currently lives in Los Angeles with his two King Charles Spaniels who welcome him home after he returns from his keynote talks, reminding him of the importance of belly rubs
Scott Fox – Entrepreneur, Author, Investor, Mentor
SCOTT FOX is a serial Internet Entrepreneur, 4x best-selling Author, Startup Mentor, and Angel Investor. He has founded, worked for, or coached hundreds of startups since raising his first VC round in 1996. These range from small lifestyle businesses based on his best-selling books about Internet entrepreneurship to VC-backed firms in the US and Europe to founding the digital division of a Fortune 500 multi-national company to high-profile celebrity-driven e-commerce properties.
Today he specializes in startup strategy, business development, fundraising, and scaling the operations of early stage companies. This is mostly for his own ventures, but also for some consulting clients, as a mentor or board advisor, as a MasterMinds group leader, or for companies in which he's invested.
In Orange County he's pleased to host #MasterMindsOC, a monthly startup coaching workshop community service supported by sponsors like local law firms, Cox Business, and Silicon Valley Bank. Online he's the Host of the MasterMinds Startup Founders Forum (www.MasterMindsForum.com) that's been coaching entrepreneurs worldwide since 2009.
Scott Fox is a graduate of the University of Michigan and Stanford Law School, and a popular guest speaker in broadcast media and at conferences and universities worldwide.

Steve Beck - Venture Partner Serra Capital
Steve is passionate entrepreneur and technology investor with over 25 years of experience both launching and guiding start-up companies. Steve originally joined Serra Capital as a Venture Partner in January of 2016, and in January 2017 became a Managing Partner with an emphasis on further developing Serra Capital's presence on the West Coast.
Steve began his entrepreneurial career by launching California Cheap Skates (CCS) at the age of 23, which grew into the world's leading action sports e-commerce business selling to Foot Locker (NYSE:FL). Later, Steve joined the founding team of C2B Technologies, one of the Web's first and leading product search engines which ultimately was acquired by Inktomi (Nasdaq:INKT) in 1998.
Subsequently, Steve joined his longtime C2B Technologies colleagues to form Integrity Partners, a boutique venture firm pioneering the now popular category of super angel investing. At Integrity Partners, Steve assisted in sourcing, analyzing, investing and guiding a portfolio of 15 early stage companies. Most notably, Integrity Partners became the founding investor of Baidu (Nasdaq:BIDU), the "Google of China", where Steve served as a Director and ultimately helped Baidu become the most successful foreign IPO in stock market history.
Throughout Steve's entrepreneurial and technology investing career, he has participated in two IPOs: Baidu (Nasdaq:BIDU) and Lifelock (Nasdaq:LOCK), and he has transacted five public and five private company sales.
Education: Steve holds undergraduate and graduate degrees from Cal Poly and studied theology at Fuller Theological Seminary.
Board Memberships: SoGo Financial Group (2015 to present); HomeBay (2017 to the present), WhiteFox Defense Industries (2017 to the present); Past board memberships at IOVOX, Baidu, Synteleos, Rulespace, Respond TV and MarketRiders.
Drew Leahy is the Director of Equity Partnerships and Cofounder of Hawke Ventures,
Managing deal flow for Hawke Ventures and a SWAT team of 5 marketers for portfolio clients. Three-time entrepreneur and inventor, Drew was previously the Chief Marketing Officer and Co-founder of SnapSuits.com, a tech-forward men's fashion e-retailer. He leveraged his seasoned product team, based in Colombia, South America, to achieve an 8x ROI with powerful technology and marketing. Drew was also previously Entrepreneur in Residence at memBrain in Los Angeles, working with tech and entertainment angel investors Ken Hertz and Liz Heller, whom he met while pitching his first technology in 2006. He graduated from the University of Michigan and is the recipient of the 2010 Ross School of Business Entrepreneur of the Year.
MANY MORE INVESTORS SCHEDULED TO ATTEND
Testimonials from past conferences: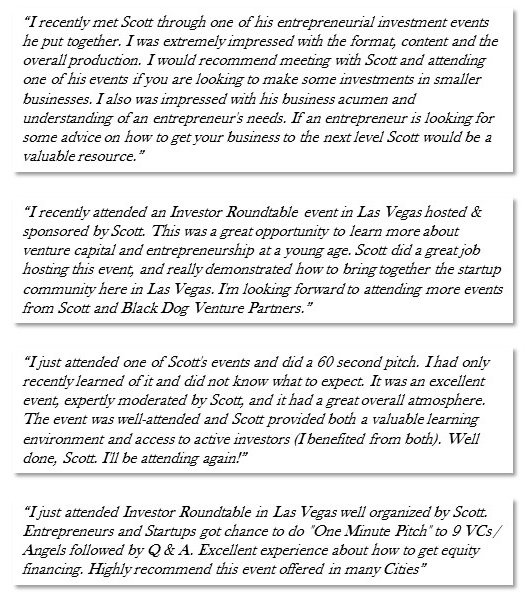 This event will sell out so register today!
Looking forwwrd to meeting you all.
Sincerely,
Scott Kelly, CEO