Description
Pitch and network with venture capitalists, angels and accredited investors from Southern California, Silicon Valley and throughout the country at the Orange County VC Fast Pitch Conference.

Black Dog Venture Partners has hosted investor conferences throughout the west and has raised millions of dollars for start ups as a direct result of our fast pitch conferences.
Investor panelists and speakers include:
---
Scott Kelly, Black Dog Venture Partners
Scott Kelly Founder and CEO of Black Dog Venture Partners, is a 25 year fundraising, marketing, sales, training and publicity veteran. Scott has raised millions of dollars in capital for disruptive companies, garnered national media coverage for hundreds of regional and national brands and generated millions of dollars in revenues for the companies he has represented. He has also trained over 1,000 sales people and has taught marketing at the university level in the United States and Europe.
Michael Hool, Hool Coury Law
Michael Hool is our founding Partner and is a pioneer in the field of venture formation and financing in the Southwest and California. Michael works with select companies as an advisor, legal counsel and periodically serves in executive and board capacities. Michael practice is focused primarily on corporate and commercial representation, securities, finance and venture capital, mergers and acquisitions, corporate governance matters, and all aspects of counseling emerging companies. He represents both issuing companies and investors in a large variety of financing transactions. In the past fiscal reporting year, the firm has assisted entrepreneurs in over $187 million in funding transactions and has assisted funds raise over $100 million for investment in emerging companies.
Michael represents or advises accelerators, incubators, and has formed three active angel investment groups, including ATIF (predecessor to AzTech Investors) and Canyon Angels. Michael has chaired or served on the board of Arizona Venture Capital Conference, BioAccel, AzTech Investors, Canyon Angels, and the Indus Entrepreneurs. Mr. Hool is currently active in formation of three separate seed stage investment funds. Mr. Hool is highly sought after as a speaker and author of papers on a broad variety of topics. Michael is also active as an investor in a growing portfolio of emerging companies.
Jordan Wahbeh, Managing Partner Bay Angels
Jordan partners with startups grow, scale, and focus on achieving their objectives through operations, fund raising, business development, product development, and team leadership. As an experienced leader, advisor, and mentor, he assists or leads in business operations, business development, org transformation, customer management, and team growth. He is a partner and executive director at Bay Angels, and has a small portfolio of companies he works with. Most recent is his work with VCs and Accelerators in Silicon Valley, Dubai, Jordan, Kuwait, and European groups
His 20+ years' experience includes hands-on work, and leadership in high-demand, fast-paced, or structured environments in engineering, business, SW development, IT, Hi-Tech, Big Data/Analytics, IoT, Smart Home, and manufacturing.
Beginning in 1998, the BayAngels have backed a long list of ventures, including Open Table, PhotoBucket, Zoom Systems, Z-Force, On Site Dental, and many others. Our style of angel investing has been emulated across the globe.
Founded by long-time investor Roger King, the BayAngels is now entering an accelerated phase of growth and expansion with the addition of Karim Nurani as our Executive Director.
From the beginning BayAngels has focused on investors in the dynamic San Francisco bay area, especially the area comprised of Marin, Napa, and Sonoma counties. Many of our members belong to other angel groups and we often collaborate with them to support entrepreneurs.
Like other angel investor organizations, BayAngels is comprised primarily of former entrepreneurs. Our members understand the challenges and complexities of launching a new business. Our style of mentoring involvement begins with a thorough evaluation and due diligence process. Then we provide needed counseling during the critical launch phase. Many of our members continue providing consultation throughout the early years of a new businesses' growth to ensure its success. Our in-depth investing process increases the likelihood of success—for the company and our investors.
For newly established companies already showing significant progress, BayAngels provides the necessary funding to help them reach the next stage of their growth. Our investors have helped infuse dozens of early stage companies with the capital necessary to accelerate their success.
Pete DeAngelis – The Cove Fund I Investment Committee & Tech Coast Angels member
Pete is a senior corporate executive with a proven ability to raise capital and guide technical organizations from start-up to profitability. A few of the companies he has founded or co-founded include Rokenbok Toy Company (1995), the segment starter in megapixel network cameras called IQinVision (2001) and a company focused on liquid cooling for high-performance computers called Chilldyne (2013). Pete is considered an expert in the following subject matter: financial modeling, intellectual property portfolio management, Asian business culture, fundraising, mergers and acquisitions and due diligence. His style is hands-on management and he emphasizes leadership by example, accountability and accessibility. He is a member of the Investment Committee of The Cove Fund as well as an independent angel investor with the Tech Coast Angels.
Bill Carpou, CEO, OCTANe
Bill Carpou is the chief executive officer of OCTANe. Prior to joining OCTANe as CEO, Mr. Carpou served as an operating partner at the private equity firm, Blackstone including leading a key portfolio company, RGIS. Mr. Carpou was recruited to this position by Blackstone and was responsible for all aspects of revenue including sales, marketing, channel expansion, strategic alliances, acquisitions and customer service.
Mr. Carpou's prior experience includes a stint as a partner at Profit Recovery Partners ("PRP"). Before joining PRP, Mr. Carpou served in a variety of senior executive positions at IKON Office Solutions for 18 years where he led revenue and M&A activities for a variety of key areas within IKON's global operations. IKON has since been acquired by Ricoh Corporation. He began his career with the Xerox Corporation and earned his securities license at Merrill Lynch.
Mr. Carpou has a bachelor's degree in marketing from Villanova University. He has served on the board of the Barclay Theatre, serves on the Dean's Advisory Board at the Villanova School of Business and is a member of the Chief Executive Roundtable at the University of California, Irvine. He resides in Laguna Niguel, California.
Kelly Perdew - Managing Partner - DuMont Project, Moonshots Capital, Entrepreneur, Winner Apprentice 2 and Father of Stepson & Twins
Perdew has been angel investing since 2004, run a syndicate with his partner, Craig Cummings, deploying over $8.5M into 27 companies since 2014, and is now a managing partner at a $40M committed fund - Moonshots Capital Fund 1.
Perdew has held founder/senior executive operating roles in nine companies and his notable investments include: LinkedIn, Pandora, TrueCar, Active Networks, ID.me, Scopely, Fair, CrossChx, RideScout, Harvest.ai, Ustream, Klout and Fitmob.
Perdew earned a BS from the US Military Academy, West Point and served in the US Army as a Military Intelligence Officer and completed Airborne and Ranger training. He earned his JD/MBA degrees from UCLA .
In 2005, Perdew won Season 2 – The Apprentice – and worked directly for President Donald Trump in NY on multiple projects. He lives in Los Angeles with his wife, Dawn, and 7 year old twins – Grant and Grace.
Alice Jacobs, M.D. is a physician entrepreneur, advisor and investor
Dr. Jacobs serves as EIR at Caltech and as an advisor to Third Rock Ventures/MIT/Bob Langer, FiNC Technologies, Biolabs, Greybird Ventures and Essex Management. Jacobs also served as an advisor to GE Healthcare Ventures. Advisory/investor roles have contributed to raising over $100M in financings and include digital health/wellness including artificial intelligence/machine learning/data analytics-driven applications, clean energy, synthetic biology, genomics, proteomics, microbiome and other precision medicine technologies, and biotech applications including drug discovery/development platforms and drug delivery. This includes a platform technology in the top 10 recommendations of the Blue Ribbon Panel on the cancer moonshot to speed progress in cancer.
While still a student at Harvard Medical School, Dr. Jacobs co-founded a digital health company along with Dr Boris Nikolic (Chief Science and Technology Advisor to Bill Gates and Managing Director, Biomatics Capital) becoming an industry leader globally in the development and manufacturing of molecular diagnostic tests, prior to exit.
Dr. Jacobs holds multiple patents in personalized medicine and has received numerous awards including being recognized by Scientific American as one of the top 50 innovators and by the World Economic Forum as a Young Global Leader, a 40 under 40 award by the Boston Business Journal as well as for Healthcare Innovation in Clinical Diagnostics by Frost & Sullivan. She holds a BA in Art History, a BS in Biological Sciences from Stanford with Honors in Developmental Neurobiology and an MD from Harvard Medical School.
JD Morris focuses is serving on the board of advisors and board of directors of private and publicly traded companies. He co-invest with friends & family in EBITDA and moonshot deals.
JD's merchant banking and investment banking activities have resulted in many successful deals. JD advises clients ranging from business strategy, mergers and acquisitions, revenue models and future growth opportunities. His focus today is to help high net worth individuals (HNWI), family office (since 1989), and other funds acquiring assets. Our group of HNWI has been investing together since 1979.

He has been a speaker at various industry forums, has been quoted in numerous leading publications, such as the Wall Street Journal, He has made several appearances on Bloomberg, CNET, CNBC, ESPN, WSJ, and other media sources (with more than 500 hours on Bloomberg).

JD worked through college with family offices starting in the development office of Hampden-Sydney College in Virginia. He is an Omega Rho student from The George Washington University in Washington, D.C. where he focused on debt to equity tools to help plan growth for companies.

Mark S. Vreeke, PhD—Dr. Vreeke is a cofounder of the Chemical Angel Network. The Chemical Angel Network provides a source of capital for early stage firms that converge with the chemical sector in the materials, measurement and manufacturing space.
Previously, Dr. Vreeke served as vice president of R&D for Rational Biotechnology, a Rational Systems spin-off. Rational Biotech's mission was to speed the adoption of personalized medicine through the development of combined IVD and drug therapy products. Rational Biotech identified a novel route to the delivery of personalized therapy without the requirement of massive clinical trials. He also served as the Senior VP of R&D at Pepex Biomedical (St. Louis, MO). Pepex is an early stage medical device company specializing in developing, manufacturing and marketing disposable miniaturized electrochemical biosensors.
Earlier in his career, Dr. Vreeke held research positions at TheraSense. At TheraSense he contributed to the successful transfer of glucose sensor technology from the University of Texas. This was one of the most profitable technology transfer plays for any university outside of the drug space. The company was originally funded through the SBIR program and can be counted as one of the SBIR program's biggest successes.
He graduated from Calvin College with a BS in chemistry and went on to receive a PhD in analytical chemistry from the University of Texas at Austin. He is currently a member of the editorial advisory board of IVD Technology and is a visiting professor in the chemical engineering department at the Universitat Rovira i Virgili (Tarragona, Spain). He sits on several academic, industry, and corporate boards. Academic honors include a Dow Scholar, Welch Fellow and Woodrow Wilson Fellow.

Mark Prynn is a CPA with over 30 years of experience. A proven leader with a strong track record for strategic and market positioning, Mr. Prynn is known as a Resource Capitalist for bringing the right resources to aide a company in achieving complex tasks on their path to maximizing market valu
e.
Mr. Prynn brings a strong history of initiating new business opportunities that result in the development of long-lasting highly profitable firms. Early in his career, as an auditor for Deloitte, Mr. Prynn assisted in growing over 45 venture-backed companies and completed approximately 20 IPO's in 1995 and 1996 with a third completing Secondary Offerings. Examples include taking Bird Medical Technologies public and successfully selling it to Thermo Fischer and is now a division of Viasys Healthcare. Additionally, Mr. Prynn assisted in taking Hansens public, now called Monster Beverage Corporation.
After transitioning to Business Development for Deloitte, Mr. Prynn became a dominant force in the high tech and start-ups arena where he assisted the growth of public and private companies by deploying the services of Deloitte, including tax strategies, SAP and Oracle enterprise software. In 2000, Mr. Prynn was an A Round investor in Bitfone Corporation a mobile device management software company which was sold successfully to Hewlett-Packard for $160M in 2007.
In 2014 Mr. Prynn cofounded and was a General Partner of Lotus Innovations Fund 1 investing in undervalued Enterprise IT and Services Companies, turning then around and developing SaaS Software. The Fund established a Shared Service Center and invested in 3 portfolio companies which sold successfully.
In 2017 Mr. Prynn cofounded and is a Managing Partner of Bethesda Group Fund 1 investing is Molecular Diagnostics, Digital Health and Precision Medicine.
Mr. Prynn earned his Bachelor of Commerce Degree majoring in Accounting & Economics in 1982 and his Graduate Diploma in Advanced Accounting in 1983 at the University of Cape Town, South Africa. He holds a Certified Public Accountant (inactive) license in the State of California and is an AICPA Member.
David Patton, Managing Partner at Cambridge Companies SPG
David Patton co-founded Cambridge because he and his partners saw an unmet and unique opportunity to assist consumer and retail companies achieve their ultimate potential. As an experienced investor and business developer, David has been involved with companies from start-up phase to disposition across a multitude of categories including consumer products, retail, manufacturing, distribution, service and technology.
Prior to establishing Cambridge, David was the managing partner at a family office, focused on private equity. Earlier in his career, he worked for Citigroup in the firm's Mergers and Acquisition group.
David holds an M.B.A. from the University of San Diego, and a B.A. from the University of Colorado, Boulder.
R. Grant Van Cleve, President of Tech Coast Angels
Grant is a global entrepreneur, angel investor, and business accelerator. He is involved in 57 high growth start-ups, serving as a board member or formal advisor in 12 of those. Grant is the President of Tech Coast Angels OC - America's most active angel group – part of Wharton Angels and is an Expert-in-Residence at UC Irvine.
One of the companies in which Grant is active, Buy It Installed, Inc. recently convinced Grant to move from being Chairman of the Board to becoming CEO. The Irvine based company has 47 employees locally. The company recently raised a significant series A round to harness the massive demand for their installed-sales at solution.
Alongside SoCal private equity, Grant develops real estate locally and in Eastern Europe. He also does impact investing via roles in clean-tech and education projects in Africa, South America and SE Asia. A big fan of giving back, Grant pours time into catalyzing the entrepreneurial ecosystem locally and in the developing world. He can also be found in leadership roles in his church and in local politics.
Grant is on the OC50 list of top influencers in Orange County, CA.
He was raised in California, but left to study at Penn/Wharton and then to live 19 years in Europe. He has some amazing stories to tell about 'nation building' in Albania – catalytic roles in rebuilding that nation's spiritual and commercial foundations after half a century under communism. Along the way he added an MA in Intercultural Studies at Fuller.

Testimonials from past conferences: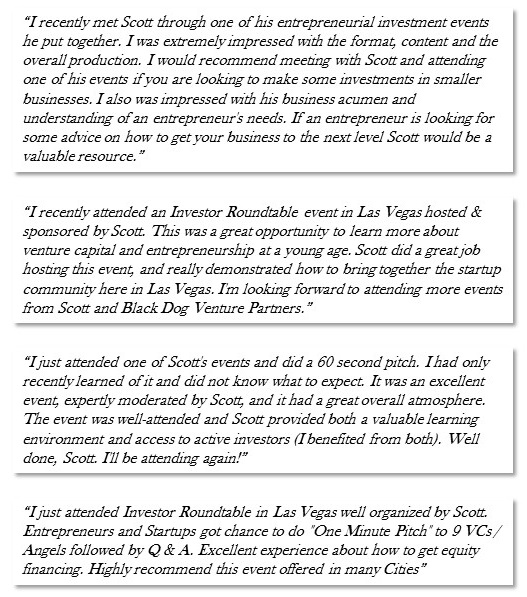 This event will sell out so register today!
Looking forwwrd to meeting you all.
Sincerely,
Scott Kelly, CEO Black Dog Venture Partners