Description
Oral Infection and Biofilm Control
Thursday, January 25th, 2018 from 6:00pm-9:00pm
Speaker: Ajay B. Setya, DDS., MSD.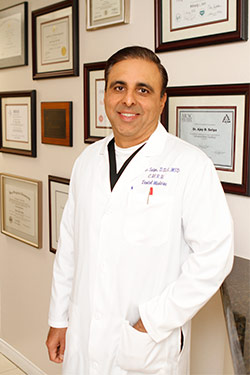 Dr. Setya is an accomplished and experienced specialist in all aspects of periodontics, including gum disease treatment, bone regeneration, cosmetic and functional gum treatments and placing dental implants. A long-term desire to help people and have an impact on their lives motivated Dr. Setya to become a periodontist. "I have always wanted to help people in a meaningful way," he says, "I love restoring my patients' full oral health and improving their confidence with functional and cosmetic procedures. Old fashion caring and the latest technology are an amazing combination in helping our patients obtain optimal oral health."
Our Dental Hygiene Study Club was created to provide continuous learning relevant to the profession of Dental Hygiene to maintain the highest level of professionalism, in a supportive environment. Over the past several years, it has grown to over 175 members and continued to bring quality continuing education to the dental hygienists of Southern Orange County.
We are so excited for our 2018 curriculum! At the October 2017 meeting, we handed out a survey for potential topics for 2018; thank you for your kind responses. We have designed the 2018 Study Club based on that feedback. There will be five meetings will be held at the Laguna Hills Community Center and each session will be 3 units of continuing education.
Save the date! Don't miss out on our other exciting lectures coming up this year!!




Innovations in Dental Hygiene Products and Instruments
Thursday, March 29th, 2018 from 6:00pm-9:00pm
Speaker: Anna Matsuishi Pattison, R.D.H., M.S.
Dental Ergonomics
Thursday, May 24th, 2018 from 6:00pm-9:00pm
Speaker: Brian Bradley, Vice President of Therapy Protocol for Egoscue, Inc.
Implant Dentistry for the Dental Hygienist
Thursday, September 20th, 2018 from 6:00pm-9:00pm
Speaker: TBD
Bumps and Lumps: What's HPV Got To Do With It?
Thursday, November 8th, 2018 from 6:00pm-9:00pm
Speaker: Nancy Dewhirst, RDH, BS
2018 MEMBERSHIP REGISTRATION DUES - $109.00 FOR ALL FIVE SEMINARS
Because of the great value of our study club membership, we are unable to offer pro-rated fees; we encourage our members to register early so you're able to take advantage of all five study club meetings. Light dinner and beverages are provided. We look forward to seeing you!
Ajay B. Setya, DDS, MSD, & Robert C. Hirst, DDS, MS