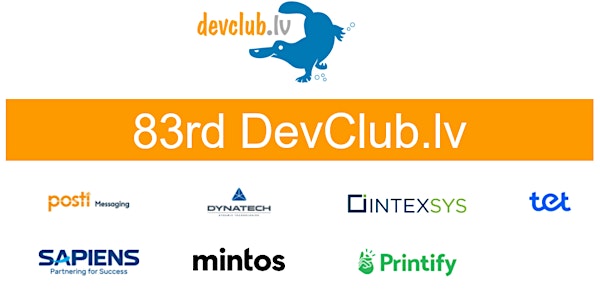 Oracle focused 83rd Devclub.lv
When and where
Location
Microsoft Latvia Zaļā iela 1 Riga Latvia
Description
Hi!
This event is made together with Latvian Oracle User Group and will facilitate the exchange of information, knowledge and experience among group members, inform about Oracle product improvements and innovations, and provide feedback to Oracle.
You are welcome to Oracle focused 83rd Devclub.lv on February 19 at 18:30, Zaļā iela 1, 4th floor (Microsoft Latvia office).
Agenda for Oracle focused 83rd Devclub.lv
Peteris Arajs from Accenture will give a talk "Oracle Cloud Infrastructure".


In the session we will show few client use cases, compare published costs and vendor lock in via Oracle, Azure and AWS.


(Language - Latvian)
Tags: Cloud, azure, oracle, aws

Peteris is Technology Architecture Manager at Accenture. Also experienced in all stages of software development life cycle (SDLC) from business requirements and technical definitions to development, testing and production support.
Agnese Belousova from Accenture will give a talk "Oracle ERP Cloud (SaaS) options to integrate and manipulate data".


Quick review of ways to access database. Options to integrate and validate large data amounts via standard file based data integrator. How to perform massive data fixes on SaaS. Review options for data exports and limitations.


(Language - Latvian)
Tags: Cloud, SaaS, FBDI, Web Services, Data export, BI, OTBI

Agnese is an Functional Data Integration Assoc. Manager. Also experienced in all stages of software development
Māris Elsiņš from Pythian will give a talk "Using Terraform to Manage Oracle Cloud Infrastructure".


"Managing the Oracle Cloud Infrastructure by using just the Cloud Console can get out of hand very quickly due to the vast amount of resources and their interdependencies that need to be controlled. It leads to weakened security, reduced availability or human mistakes in infrastructure management. Terraform - an open-source infrastructure as code software - allows solving many of these issues. This presentation will explain the basics of working with Terraform and will provide hints and examples for using it with OCI."


(Language - Latvian)
Tags: Cloud, Terraform, OCI

Maris is an experienced Oracle Applications DBA currently working as Lead Database Consultant at The Pythian Group. His main areas of expertise are troubleshooting and performance tuning of Oracle Database and e-Business Suite systems, but recently his skills have become more "cloudy" too. He is a blogger and a frequent speaker at Oracle related conferences such as UKOUG, Collaborate, HotSos, Oracle OpenWorld, OUGF Harmony, and others. Maris is an Oracle ACE, an Oracle Certified Master, and a co-author of "Practical Oracle Database Appliance" (Apress, 2014).
Check out the latest updates in the program of RigaDevDays - one of the tracks is already completed and much more is coming. Don't miss the chance to purchase the Early Bird ticket here.
80% of the program is published, check FrontCon 2020 and get your ticket!
Are you looking for a place where all your effort, time and work pays off? For it to not be just a job. All Printify team players own part of our company – which means you are working for a bright and rich future. Join Printify now https://printify.com/jobs/:
- Senior Back-End Software Engineer
- Front-End Software Engineer
Sapiens team in Latvia is THE workplace, that's why 30 people chose to join us in 2019.
Upgrade your work life, too!
Check our careers page for these vacancies and more:
- Sr. Java Developer
- .NET Developer
- Full Stack Developer
At Tet we are a dynamic technology and entertainment company and here you will create new, innovative products and learn new skills and technologies, while also choosing your own perks and joining fun internal events. We strive to grow as individuals and be the best as a team. If you are up for challenges, join us:
- Data analyst
- OTT Solutions Architect
- Smart TV programmer
At INTEXSYS, we're always looking for experienced professionals in a wide range of technologies. If you want to apply your skills in a challenging environment of large-scale international e-commerce, apply now:
- Senior Database Developer (MS SQL)
- Database Administrator (DBA)
- Junior PHP Developer
We promise – it will never be boring!
Here at POSTI MESSAGING, we are moving towards serverless setup in our Cloud journey. We are also investing in Machine Learning and Artificial Intelligence. We are constantly looking for new talent, contact us via LinkedIn if interested to find out more. Currently looking for:
– 2nd tier support team lead;
– Implementation specialists
Did you know that the good quality of your personal life brings more value to your work life? Oh boy (girl!), how we love that at MINTOS! Join the most work-life balanced team. We are looking for teammates to grow with:
– Senior PHP Developer
– Software QA Engineer
– Senior Front End Developer
Did you know that we have a piece of London in our office? That's right, at DYNATECH we have red phone booths available for employees to make personal calls or, possibly, teleport to London. If you're up for working in a modern environment, check out our open vacancies:
- Senior Data-Warehouse Developer
- Front-end Developer
- Senior PHP Developer
Thanks to our sponsors we are able to make DevClub.lv events and have drinks and snacks: