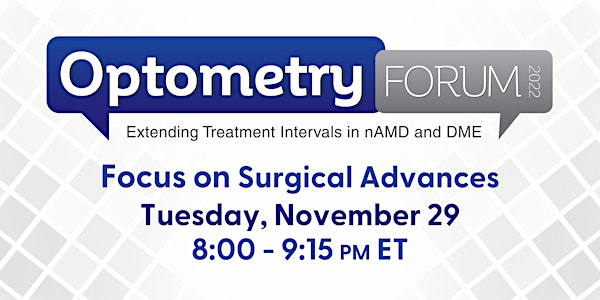 Optometry Forum: Extending Treatment Intervals in nAMD and DME
Free Webinar With Live Q&A
About this event
Faculty
Mark T. Dunbar, OD, FAAO
Director of Optometry
Bascom Palmer Eye Institute
UHealth - University of Miami Health System
Miami, FL
Nancy M. Holekamp, MD
Director, Retina Services
Pepose Vision Institute
St. Louis, MO
Agenda
Introduction
Mark T. Dunbar, OD
Introduction to the Port Delivery System (PDS) With Ranibizumab
Nancy M. Holekamp, MD
New Surgical Approaches That Extend Treatment Intervals in Retinal Disease: Defining the Role of Optometrists
Mark T. Dunbar, OD
A Closer Look at the Port Delivery System With Ranibizumab – Clinical Trials and Performance
Nancy M. Holekamp, MD
Case Presentation and Discussion
LIVE Question and Answer
Learning Objectives
Upon successful completion of this activity, participants should be better able to:
Review the challenges in managing and monitoring patients with neovascular age-related macular degeneration (nAMD) and diabetic macular edema (DME) regarding treatment frequency and adherence and the impact these have on outcomes.
Recognize the benefits and limitations of long-acting delivery options for the treatment of nAMD and DME.

Assess the clinical data on new surgical options that offer longer treatment intervals for patients with nAMD and DME.
Summarize assessment and referral procedures that ensure that patients on treatments with extended intervals are seen regularly to allow for prompt interventions if needed.
Target Audience
The intended audience for this activity is optometrists and other health care professionals involved in managing patients with nAMD and/or DME.