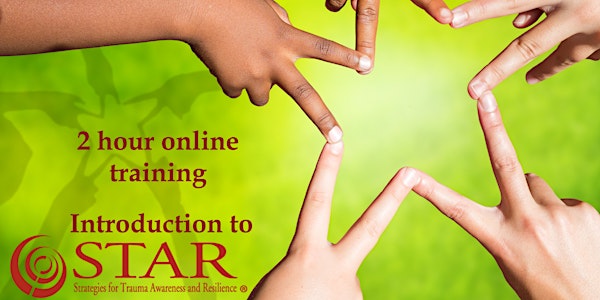 Optional CEs for Intro to Strategies for Trauma Awareness and Resilience (S...
Location
Online via Zoom video conferencing
Minneapolis, MN 55417
Refund policy
Contact the organizer to request a refund.
Eventbrite's fee is nonrefundable.
Description
If you are a Minnesota Social Worker, Teacher, or Nurse taking this training for continuing education (CE), you must also register for the training on the training webpage. We ask that you pay the $30 tuition on the training webpage linked above and pay the required $15 CE fee here – these are separate costs as not all trainees have a professional license that requires continuing education.
Optional Continuing Education (CE) for Introduction to Strategies for Trauma Awareness and Resilience (Intro to STAR) 2 hour online training
Tuesday, April 14, 2020, 10:00 a.m. - 12:00 p. m. CST
When terrible things happen, like COVID-19, our peace has been stolen from us. Introduction to Strategies for Trauma Awareness and Resilience (STAR) teaches how to build peace back into our lives and communities.
Training Facilitator:
Donna Minter, PhD, LP
Certified STAR Trainer, USA and International Experience
Neuropsychologist, Clinical Psychologist, and Forensic Psychology Examiner
Founder and Executive Director, Minnesota Peacebuilding Leadership Institute

This 2 hour online training teaches the basic concepts, models, and strategies of the 5-day Strategies for Trauma Awareness and Resilience - STAR Training. STAR is a research and practice-supported peacebuilding training integrating neuropsychology, trauma healing and resilience, restorative justice, nonviolent conflict transformation, and broadly defined spirituality. The training introduces people to being trauma-informed, resilience-oriented, and restorative justice-focused for the benefit of themselves and others. It is for individuals who wish to learn basic STAR concepts and models within a shorter-time frame than the single day STAR-Lite Training and the 5-day STAR Training. Introduction to STAR is not a pre-requisite or replacement for the STAR or STAR-Lite Trainings. It is designed for those wanting to understand and heal trauma toward building peace within their spheres of influence.
The Introduction to STAR online training objectives:
a. Learn the full intersectional spectrum of individual and collective psychological trauma.
b. Learn the links between unhealed trauma and cycles of victimhood and violence.
c. Learn STAR's trauma healing and resilience models and associated practices.
d. Explore self-care for resilience strategies to build peace into your life, family, and community.

For licensed Minnesota social workers, teachers, and nurses who also wish to earn 2 hrs of continuing education (CE) for Introduction to STAR, the CE fee is an additional $15, which must be paid via this page. If you're a social worker, nurse, or teacher licensed in another state, please contact your state's professional board to determine if they have a reciprocal CE relationship with Minnesota.
Please note that it is still necessary to register on the original webpage if you intend to purchase CEs.
After you receive your training registration confirmation from Eventbrite, we'll send you PDF handouts in preparation for this online training as well as instructions to access the Zoom video conferencing online training link.
Also, we'll invite you to send us a visual Image of Hope via email attachment that you are willing to let us show to the online training group as a part of a community peacebuilding collage. Sending this image to us is completely optional.
Maximum number of trainees: 30
Cancellation Policy: Refunds for this training, less a $10 administrative fee, will be given if written cancellation is received from the registrant at least 48 hours prior to the training. No tuition refund is offered after 48 hours prior to the training. Transfer of tuition to another online training is granted if written request is received at least 24 hours before the day of this training. Refunds or transfers are not available for no-shows. There is high demand for this training. If you realize you cannot attend, please contact us immediately at info@mnpeace.org to let us know. This will open your spot to another attendee. Thanks!
All of Peacebuilding's trainings are available by contract arrangement for community groups, schools, organizations, and corporations. Please email inquiries to info@mnpeace.org
The STAR Training is a program of the Center for Justice and Peacebuilding at Eastern Mennonite University, Harrisonburg, VA www.emu.edu/star