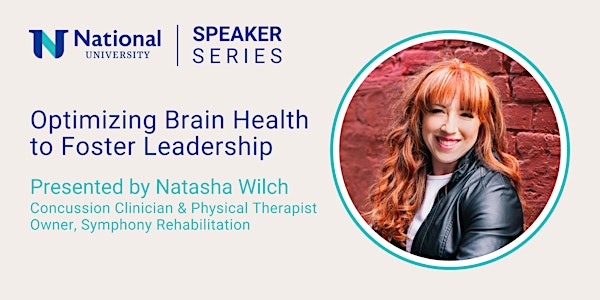 Optimizing Brain Health to Foster Leadership
In this presentation our speaker will connect the dots of how optimizing your brain health can foster and deepen your own leadership skills.
About this event
What is a leader? It sounds like a simple question, and it could have a simple answer. But that would not be doing the topic justice. A leader is someone who helps to paint a vision, to empower others, but then has the tools and the skills to guide others towards the goal. They are someone who is trusted, respected, looked up to, and challenged to hold space for themselves and others.
Who do you lead? Perhaps it's a work team, a sports team, a project …. your children. When you think about how you lead today, is there room for improvement? For growth?
In this presentation, Natasha Wilch will connect the dots of how optimizing your brain health can foster and deepen your own leadership skills. She will be speaking about the four pillars of brain health and how understanding these pillars and coupling them with objective tools leads us to the ultimate expression of our health. A brain nerd at heart, she'll take you deeper into what the research tells us, and how we can shift and improve upon our health based on what we know right now. You'll leave with an immediate ability to look deeper into your own health and understand how when we take steps to address and optimize our brains, we expand our capacity, our creativity, and our depth as leaders too.
About the Speaker
Natasha Wilch is a brain health optimization expert, a physical therapist, and an award-winning entrepreneur who understands that humans are much more than the sum of our parts. She approaches leadership development and human performance from a whole-human perspective.
Natasha's work is rooted in the understanding that the best leaders show up fully in all parts of their lives. She believes that to live life's most meaningful moments - at home and at work - we can't compartmentalize who we are. As a business owner, a mother, a clinician and a mentor, each of Natasha's roles is essential in her development as a leader. Natasha will show you that all of your roles are essential, too.
Known best for her work as a mentor and leader in the concussion rehab space, Natasha was recognized as Canada's Entrepreneur of the Year in 2017. She will leave you with a clearer understanding of how to unlock more depth in your daily interactions, how to become more creative in your decision-making, and how to create more moments of meaning for yourself and everyone around you.
Don't be surprised if you catch her cold-plunging in the middle of a Canadian winter, beaming at the BMX track, or dancing with her team to celebrate a win… Natasha lives what she teaches and she can't wait to help you live, work and play at your best.