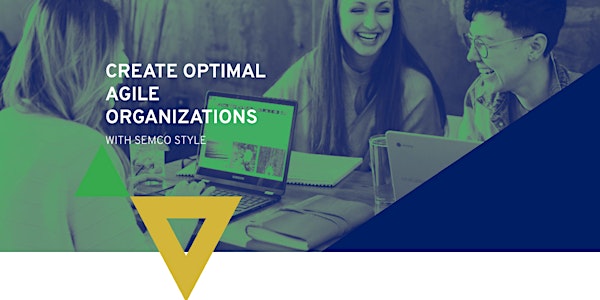 Optimizing Agile Cultures - Optimiser les cultures agiles
Discover how Semco Style can support an agile team culture | Découvrez comment Semco Style peut soutenir une culture d'équipe agile
About this event
Organizations around the world are adopting the agile mindset.
We see a number of them reaping the fruits of working with Scrum teams and projects being completed in a smoother and quicker fashion. On the other hand, we also see others who don't succeed.
Why?
Because it is not enough to know the processes and principles of such a methodology, you also need to understand how to apply it to your company.
We realized that organizations need a comprehensive model for creating a team culture that promotes better autonomous decision-making and have, therefore, developed a series of workshops where we guide leaders, managers, and team members from the basics of Agile to its implementation in their own workspace.
In this interactive session we will play a game that showcases how hierarchies impact the way humans interact. And we will discuss how our SELFIE team assessment can provide teams with effective feedback on their functioning.
___
Les organisations du monde entier adoptent l'état d'esprit agile.
Nous voyons un certain nombre d'entre elles récolter les fruits de la collaboration avec des équipes et des projets achevés de manière plus fluide et plus rapide. D'un autre côté, nous en voyons aussi d'autres qui ne réussissent pas. Pourquoi ?
Parce qu'il ne suffit pas de connaître les processus et les principes de la méthodologie agile, il faut aussi comprendre comment l'appliquer.
Nous avons réalisé que les organisations ont besoin d'un modèle complet pour créer une culture d'équipe qui favorise une meilleure prise de décision autonome et avons donc développé une série d'ateliers où nous guidons les dirigeants, les managers et les membres d'équipe depuis les bases d'Agile jusqu'à sa mise en œuvre dans leur propre espace de travail.
Dans cette séance interactive , nous allons jouer un jeu qui illustre l'impact des hiérarchies sur la façon dont les humains interagissent. Et nous discuterons comment notre évaluation d'équipe SELFIE peut fournir aux équipes un feedback efficace sur leur fonctionnement.
Speakers:
Christian Wandeler is the founder and leader of Semco Style Institute USA and an Associate Professor at California State University, Fresno. He earned a Ph.D. in personality and positive psychology at the University of Zurich and was a Visiting Scholar at Stanford University. His research in organizational psychology led him to work with institutions to co-create the future of work. Among them is the Morning Star Self-Management Institute, and more recently, the Semco Style Institute co-founded by Ricardo Semler, the original Maverick.
Olivier Gourment is a Semco Style expert, has 15 years experience in Agile transformations, and Semco Style faculty. He became interested in Self-Managed & Self-Directed Organizations after realizing that the most exciting times in his career were in startups, and that the Semco Style framework can create startup-like cultures in large organizations. Olivier has been a key member in Agile Centers of Excellence of organizations in various industries, responsible for making large programs or departments deliver more value, of higher quality, sooner and more frequently through drastically better teamwork.
Eliza von Baeyer is a Semco Style Expert in Canada and an organizational psychologist, consultant, and professional coach with 20+ years of experience in results-based management, change leadership and management, career and executive coaching, as well as applied research. Eliza is passionate about arts-based research, as well as including the arts in her academic, consulting, and facilitation work, wherever possible. She has always been interested in the future of work and always strives to co-create awesome workplaces. With the pandemic, interest in the future of work, especially transitions to remote and hybrid work situations, has become a large part of her consulting work. She recently completed the Semco Style Expert Certification training to learn about Ricardo Semler's work and the transformative methodology that he and the international network of Semco Style Institutes have developed.