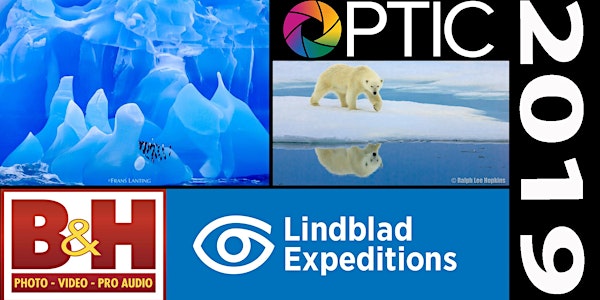 OPTIC 2019 Conference Attend in Person - Presented by B&H Photo and Lindblad Expeditions
When and where
Location
The New Yorker, A Wyndham Hotel 481 8th Avenue New York, NY 10001
Description
OPTIC 2019 returns for its fifth year and promises to be the best OPTIC yet! Our planet's environment is changing at a rapid pace and the discussion is as poignant as ever. The four-day imaging event will be exploring the inspiration, techniques and equipment essential to capturing the great outdoors with an emphasis on conservation. The speakers this year include seasoned Lindblad Expeditions National Geographic Photographers Eric Guth, Erika Skogg, Ralph Lee Hopkins and Paul North, and we are very pleased to announce that our 2019 Keynote Speaker is the legendary Frans Lanting!
OPTIC 2019 will also feature an assortment of contemporary photographers who have impressive projects to share such as Lana MacNaughton, Daniel Cartamil, Rony Wyatt and Carissa "Car" Pelleteri. Three year OPTIC veteran and favorite, Nikon Ambassador Ron Magill will also grace the OPTIC main stage as well as Lexar Elite Photographer Stephen Wilkes. More speakers being announced weekly!
Events include Portfolio Reviews, Photo Walks, Photo Contests, a Sunset Cruise, and something new this year - The OPTIC Challenge!
Reserve your spot now and get bi-weekly updates as we draw closer to the 5th Annual OPTIC conference.
Presented by B&H Photo and Lindblad Expeditions.