OPTAVIA™ NY Oct 13th - Lifelong Transformation One Healthy Habit at a Time
Sales Have Ended
Ticket sales have ended
We are looking forward to seeing you there. Please let us know who is joining you as your guest so we can be prepared to welcome them. This is going to be an amazing breakthrough for all who enter so please help us get the word out. The more people who enter, the more the pot grows and the more health we achieve. Better together, Event Organizer
Sales Have Ended
Ticket sales have ended
We are looking forward to seeing you there. Please let us know who is joining you as your guest so we can be prepared to welcome them. This is going to be an amazing breakthrough for all who enter so please help us get the word out. The more people who enter, the more the pot grows and the more health we achieve. Better together, Event Organizer
Description
Welcome to OPTAVIA™and welcome to our OPTIMAL HEALTH COMMUNITY!!!
What we know is that everyone wants to be Happier, Healthier and Wealthier in life yet due to the constraints and challenges in our lives we have a tendency to place our focus on the element of well being we need the most. Which is it for you? What is most important for you to change/improve in your life?

- Healthy Body? Weight Loss, better nutrition, control, or general improvement in healthy habits?
- Healthy Mind? Relationships, personal growth, spiritual grounding, or plcing those that matter most first?
- Healthy Finances? Comfort in paying your bills, new career with purpose, extra cash or over all financial freedom.
Welcome to OPTAVIA™and our Optiaml Health Program and Community where YOUR Optimal Life can become a reality. Join us for a special event where you can learn about simple, basic steps to begin your journey to a more fullfilled life that is build around the things that matter most.

We will hear from experienced coaches and real life clients that have transformed their health and opened up their lives to Health and Hope. After we will provide a simple, altruistic aproach to paying it forward and experiencing the reward of helping others do the same.
Join us and see what you want and need in your life now and how OPTAVIA™might be a fit for you.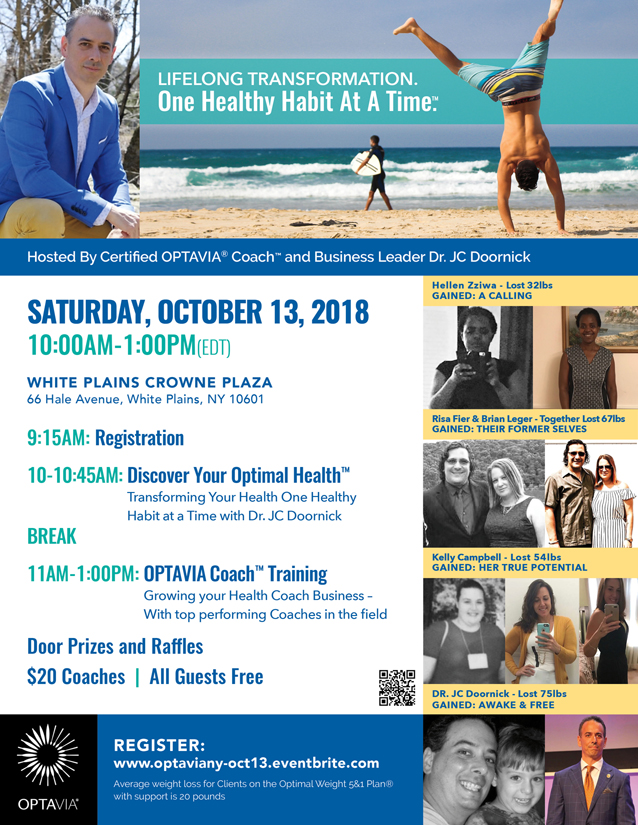 ALL GUESTS ARE FREE!!
OPTAVIA ™ HEALTH COACHES - $20 (Online Registration)