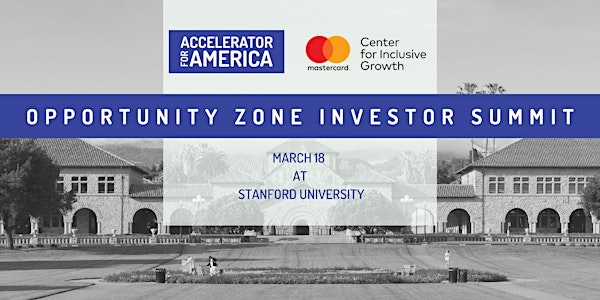 Opportunity Zone Investor Summit
Showcasing impactful Opportunity Zone communities, funds, deals and institutions, while providing each a forum to connect with one another.
By Accelerator For America
Date and time
Monday, March 18, 2019 · 8:30am - 7pm PDT
Location
Stanford University Alumni Center 326 Galvez Street Stanford, CA 94305
About this event
Accelerator for America, Economic Innovation Group, The Governance Project and Drexel's Nowak Metro Finance Lab invite you to the first national Opportunity Zone Investor Summit on March 18, 2019 at Stanford University in Palo Alto, CA, hosted by Stanford's Global Projects Center. Pursuant to our collective mission to demonstrate working models for designing, financing and delivering inclusive growth while creating new models for building wealth in disadvantaged communities, this convening of city and community leaders, NGOs, foundations and investors will accelerate the creation of best practices and models by highlighting innovative and impactful Opportunity Zone communities, funds and projects.
While the incentives of the Opportunity Zone legislation are attractive, the economic development community is left with little guidance on how to maximize what could be $100 billion in equity investment. We seek to level the playing field between the public and private sectors, empowering cities and communities to leverage the Opportunity Zone incentive by pursuing development most additive to their most vulnerable residents.
Additionally, we intend to establish connections between cities, community stakeholders and investors to advance inclusive OZ projects aligned with the mission to foster economic growth and job creation. Cities must have an approved Investment Prospectus to attend.
We look forward to working together to fill this void and move the marketplace and our communities forward together.
***Cities must have an Opportunity Zone Investment Prospectus to attend. Investors, institutions and developers must have demonstrated interest in empowering vulnerable communities and mitigating displacement.
To learn more about our Opportunity Zone Investment Prospectus:
Visit: www.acceleratorforamerica.org
or
Email: info@acceleratorforamerica.org