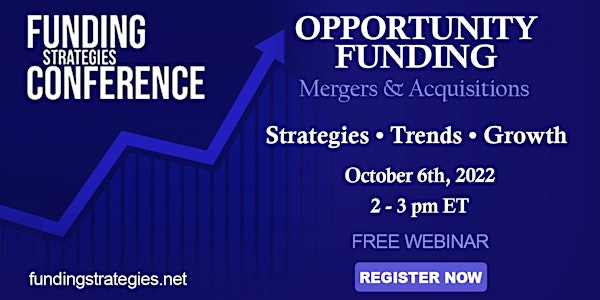 Opportunity Funding, Mergers & Acquisitions, and avoiding costly mistakes
Join this free educational livestream event to learn how to fund an M&A opportunity and avoid costly mistakes.
About this event
The Funding Strategies Conference (www.fundingstrategies.net) is the place to gain insight about stress-free competitor buyouts from those in the know. Join our next roundtable discussion focusing on Opportunity Funding, Mergers and Acquisitions and how to avoid costly mistakes. Our panel is made up of experienced professionals from banks, SBA lenders, alternative lenders venture capital, including angel and private equity investors. This webinar will cover the latest trends, strategies, and financial obstacles in our ever-changing volatile
Our panel includes:
Sylvia Blount, Associate Director, Bardi Co.
​Sylvia Blount is an Associate Director at Bardi Co. investment bank, where she specializes in equity and debt offerings, and buy-side M&A in the TMT, consumer products, and manufacturing verticals. Sylvia has managed international M&A projects totaling over $500 million of transaction value throughout her career. Sylvia has a profound understanding of how middle-market companies operate, their financing requirements, and how to interpret them for investors and buyers.
​
​Don Noble, Partner, Florida CFO Group
A CFO, Mentor, Teacher, and USAF veteran, Don is an expert in finance and technology at high-growth and start-up companies. He has experience in mergers and acquisitions and the entire M&A process, including strategy, deal types, due diligence, hostile takeovers, valuation, and integration. He is a Doctoral Candidate in Business Administration and has served as CFO, CEO, founder, and board member of several companies.
​
​Adam Weber, Managing Director, OutCrowd Capital
​Part of a network of experienced owner-operators, Adam is an expert in debt and equity underwriting, due diligence, execution, monitoring and servicing, building processes, and procedures. His insight will help investors make solid business decisions.
​
The moderator is:
Craig Stacy, Managing Director, Sunbelt Business Brokers of Tampa
​Craig Stacy serves as managing director for Sunbelt Business Brokers of Tampa, a licensed business brokerage agency. He has spent the better part of his career in upper-level management holding CFO, COO, and CEO titles for various companies. As a business broker, he specializes in assisting owners of privately-held companies to value, market, and sell their businesses, as well as representing buyers in business searches. His expertise is in business valuation, exit planning, acquisition financing, SBA loans, and helping clients buy and sell businesses.
​