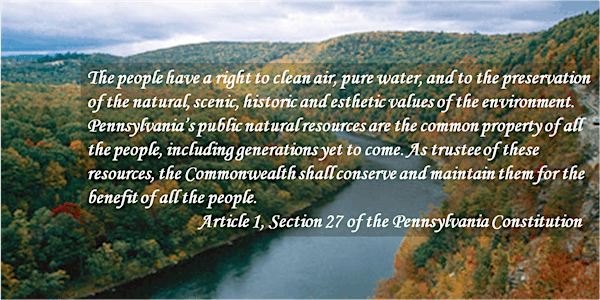 Opportunity and Obligation: Article 1, Section 27, PA's Green Amendment
Franklin Kury authored Pennsylvania's environmental rights amendment. Hear from him and our panel of experts on its importance.
When and where
Location
St. Stephen's Episcopal Cathedral 221 North Front Street Harrisburg, PA 17101
About this event
The Better Path Coalition invites you to attend this talk and panel discussion that kicks off our two-day action in Harrisburg when we call on our legislators and governor to uphold the amendment by taking aggressive action to address climate change and enviromental destruction and degradation already occurring in the Commonwealth.
Franklin Kury, the former state representative who authored the amendment, will provide some opening remarks before joining our panel featuring Maya van Rossum, the Delaware Riverkeeper and author of the book, The Green Amendment, Jordan Yeager, Jordan Yeager, Curtin & Heefner attorney whose legal arguments concerning Art. I, Sec. 27 resulted in the landmark Act 13 ruling that breathed life into the amendment, Pouné Saberi, President of the Board of Directors of Physicians for Social Responsibility, Philadelphia, Ashton Clatterbuck, Sunrise Movement organizers, and others to be announced shortly!
The event will be held at St. Stephen's Episcopal Church in Harrisburg from 2:30 - 4:30 p.m.. Doors open at 2:15. At 4:30, we will walk from the church to the Capitol steps.
Street parking is available and attendees will be able to park in a lot behind the church for free. If you can't walk comfortably from the church to the Capitol, you'll be able to get to your car quickly to drive there if you use the lot behind the church.