Description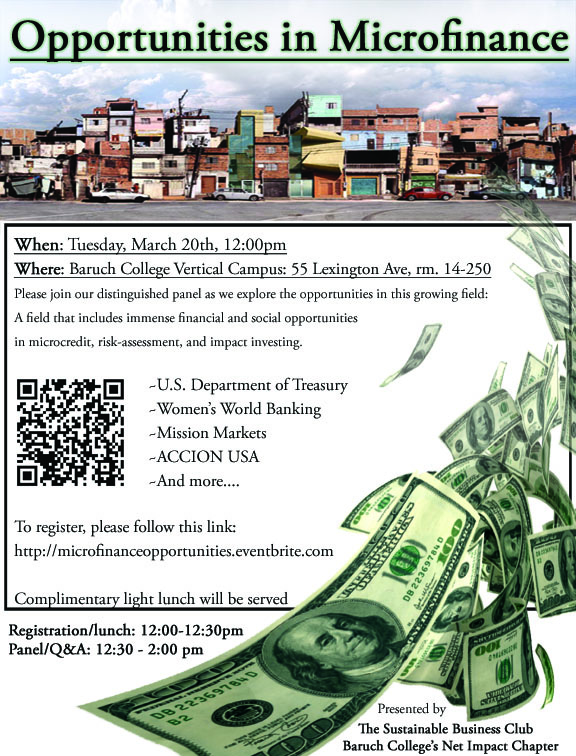 *There has been a room change. Please note that the event will take place in room 14-250.

*There is no need to print/bring your tickets with you-
We will have a list of all registered attendees at the door.
*Business casual attire suggested
---
What is Microfinance?
---
Microfinance Institutions opened acces to financial services to millions of low income people around the world who before were viewed as unbankable. Originating in Bangladesh, Microrofinance has spread internationally, and has become a rapidly growing sector in the US. MFIs have helped millions of entrepreneurs finance their small businesses.
With mainstream banking institutions like Citi and Deutsche Bank, as well as government departments such as the US Treasury entering the market, the oportunities for MBAs and financiers to attain high powered careers in microfinance that have far reaching social impact have never been so appealing.
---
Who are we?
---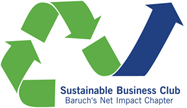 The Sustainable Business Club, Baruch's Net Impact Chapter (SBC) is the student organization dedicated to issues such as corporate social responsibility, social entrepreneurship, green marketing, socially responsible investing, and renewable energy.
The SBC's mission is to empower a diverse community of leaders who use business to make a positive social, environmental, and economic impact on the world.
The SBC is entering its fifth year as a Net Impact chapter and has been growing rapidly since inception – reflecting the increased interest in sustainability among students, faculty, Zicklin administration, and the broader community. Each year our goals include cultivating leaders who understand the importance of sustainability, debunking the myth that money and mission are mutually exclusive pursuits, and supplementing classroom learning with discussions, speakers, trips, and networking events that create a more holistic MBA experience and prepare students for business in the 21st century.
For more information, please visit SBC's website here: www.SustainableBusinessClub.com
To join our online community, please visit us at www.Facebook.com/SustainableBusinessClub
Organizer of Opportunities in Microfinance