Webinar for Dutch tech firms interested in doing business in USA. Part of the Crossroads Utrecht 2021 program organized by #StartupUtrecht
About this event
With the rising labor costs in America, the digital transformation is now really in full swing. Dutch technology companies are successful in driving digitization in the Netherlands – can they achieve similar success in America? Interact with and gain information from companies that have in-depth experience with this; from government organizations that assist innovative foreign companies with soft landing programs; and from Dutch Chambers of Commerce that assist Dutch companies with networking and social integration.
Met de oplopende arbeidskosten in Amerika is de digitale transformatie nu echt in volle gang. Nederlandse technologiebedrijven zijn succesvol in het aandrijven van de digitalisering in Nederland – kunnen zij ook succes boeken in Amerika? Communiceer met en verkrijg informatie van bedrijven die hier veel ervaring in hebben, overheidsorganisaties die innovatieve buitenlandse bedrijven bijstaan met soft landing programma's, en Nederlandse KvKs die Nederlandse bedrijven bijstaan met netwerken en sociale inburgering.
This event is part of the Crossroads Utrecht 2021 multi-day program, hosted by #StartupUtrecht . This webinar on Nov 10 is open to firms from across the Netherlands.
FORMAT & TIME
The webinar takes place on Zoom on Wednesday November 10, 2021 at 16.00 CET Netherlands time (4pm in the Netherlands), which is 10am ET USA East Coast time.
Program: Brief presentations by panel members, followed by Q&A.
Advance registration required.
PANELISTS & HOSTS
Martin de Groot
Co-Chair, Netherlands American Business Council (NABC), President, Netherlands-America Chamber of Commerce Washington Metro (NACCWM); Managing Partner, NL to US
Martin is Co- Chair of NABC, a network that represents the Dutch-American business and professional community in the United States, and President of NACCWM. He is also Managing Partner of NL to US; through his vast network in the US and strong ties with service providers (i.e. lawyers, tax accountants, visa specialties and financial institutions), Martin helps Dutch companies that want to expand their market in the United States — from market research, trade show representation, FDA regulatory guidance and establishing a US presence, to import logistics, distribution, marketing, and sales. Martin has been in the US for about 20 years and has been consulting to, and participating with, Dutch companies that bring their products into the North American market. He has extensive experience managing business development, the supply chain, sales & distribution as well as setting up the administrative backbone of a US entity.
Andrew Kreinik
Regional Manager for Europe, Australia and New Zealand at the Office of International Investment & Trade, Maryland State Department of Commerce
Currently Regional Manager for Europe, Australia and New Zealand, Andrew's previous position was senior International Growth Consultant at the Small Business Development Center (SBDC) based at the University of Maryland. Founder and/or owner of three companies, Andrew has 30 years' experience building worldwide networks of distributors. He is an alumnus of the Thunderbird School of International Management with a MBA in International Business. He has an Honours Bachelors from University of Western Ontario (Canada) and a diploma from Universite d'Aix-Marseille III (France). Andrew shares his expertise with a wide range of Maryland small and medium enterprises through mentoring, speaking engagements, programs and organizing delegations of Maryland companies to attend international trade shows as part of his position with the Maryland Department of Commerce.
Jorrit van de Walle
CEO, Audittrail
Jorrit van de Walle is founder and CEO of Audittrail Group, an audit- and consultancy company in cyber security, privacy law and compliance. Audittrail provides services to organizations in 7 European countries. In 2018 and 2019 Audittrail was selected to be part of the global Microsoft Incubator Program. Jorrit has more than 20 years of experience as a IT-auditor and security manager and over 10 years as an entrepreneur. Audittrail's headquarters are in Leiderdorp in the Netherlands. In 2019 Audittrail Group opened their USA east-coast location in the state of Maryland. Using the incubation program in the Maryland region, they received a lot of support from Maryland Department of Commerce, UMBC University, and the bwtech@UMBC Cyber Incubator.
Frans Meuwissen
Partner, Impact USA
Frans Meuwissen is a Partner with Impact USA, a Corporate and Business Development BPO company, focused on assisting Dutch companies enter the US markets, and vice versa. Frans has an extensive background in technology, leading sales teams, partner programs and Joint Ventures for entrepreneurial companies in networking, IT and software. Impact USA specializes in accelerating profitable growth and in minimizing corporate risks for when companies enter the North American market. Frans will highlight some challenges that companies face in a new market, and some best practices on how smaller companies can address these risks, yet capitalize on growth opportunities.
Jatinder Kaur Khosla (Host/Moderator)
Board member, NACCWM; Business Investment Manager for Europe at Fairfax County Economic Development Authority (State of Virginia)
Jatinder is board member of NACCWM, a non-profit supporting business ties between the Netherlands and the United States. She is also the Business Investment Manager for Europe at the Fairfax County Economic Development Authority (FCEDA). She is responsible for bringing foreign direct investment from Europe into Fairfax County, Virginia, and oversees the operations of the FCEDA's office in Berlin. Jatinder works with a number of international companies to help them develop their business activities. Her areas of expertise include economic development, strategic planning, marketing, business development, market strategy, market communications, and community development. Jatinder graduated summa cum laude from George Mason University with a Bachelor of Science Degree in Management.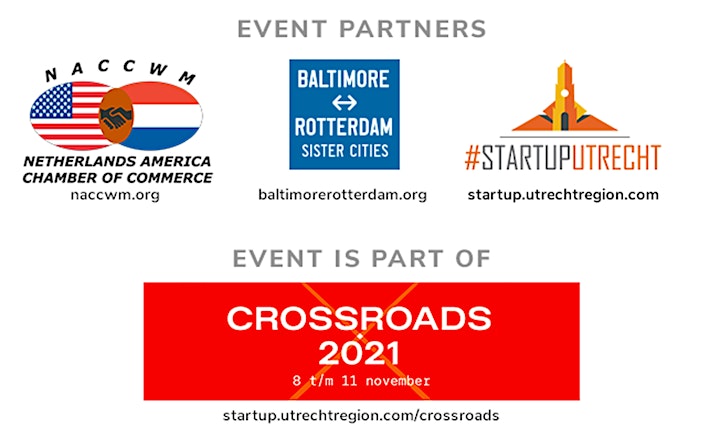 Organizer of Opportunities for success in the USA
Baltimore and Rotterdam's Sister City relationship was established by the mayors of Baltimore, Maryland USA and Rotterdam, The Netherlands in 1985. The Baltimore-Rotterdam Sister City Committee (BRSCC) is a volunteer-run committee based in Baltimore that conducts the sister city affairs. We facilitate mutual exchanges and understanding between the citizens of both cities. We are a member of Baltimore Sister Cities, Inc., a 501(c)(3) non profit.