Description
Presented in conjunction with General Provision, LLC - An informational session will be offered to artists in the region to learn more about the upcoming Artist as an Entrepreneur Institute (AEI) and the various services the Broward Cultural Division offers to artists in the region, including funding, professional development and networking opportunities.
Broward Cultural Division is a local arts agency, one of thousands across the U.S. providing financial, technical and marketing assistance to artists and arts organizations.
Artist as an Entrepreneur Institute (AEI) is a course of study designed to assist individual artists, of all disciplines (visual, musicians, writers, media, theater, performing arts), by cultivating and advancing their business skills, and helping them to strengthen their operating infrastructure and expand their business. To date, more than 680 South Florida artists have graduated from the Institute.
AEI will be presented from 9AM - 6PM on June 1, 8 & 15 and the Business Plan Clinic and Workshop on June 22, 9AM - 2PM., and will offer a curriculum of 20 different class modules over the four Saturdays. The program will be presented at ArtServe, 1350 E. Sunrise Blvd. in Fort Lauderdale. The program is designed to help the artist community better understand their enterprise and markets, and strengthen the vitality of the larger urban arts and culture sector. Artists residing in any county are invited and welcome to attend.
See also background on the AEI by the Miami Herald: http://bit.ly/2012Herald
Registration: http://www.broward.org/Arts/Funding/Pages/AEI.aspx
Registrants will receive an AEI course book; an indispensable resource for artists. Developed by The Community Partnership for Arts and Culture (CPAC), the course book features exercises and readings to prepare for each session, and is tailored to the specific needs of artist entrepreneurs.

Designed to help artists operate in the marketplace more successfully, the AEI course curriculum covers all aspects of developing an artistic business. It helps participants develop a personal brand, develop strategies for communicating with target markets, raise capital and identify a variety of tools for protecting one's work legally. Sessions include a mix of lectures, panels, group discussions and practical exercises. The Business Plan Clinic's topics will guide participants through preparation of a simple business plan, an essential tool for any artist. In addition, participants will learn how to work effectively with lenders to obtain financial support.
For more information contact: Patricia Kneski - 954-361-6212. E: patricia@generalprovision.com
James Shermer, Grants Administrator, Broward County Cultural Division (954) 357-7502. E jshermer@broward.org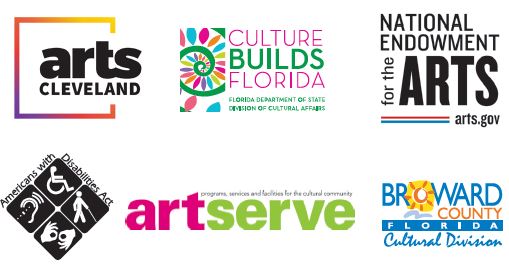 Founded by the Community Partnership for Arts and Culture in Cleveland, Ohio, AEI is made possible by the generous financial support of the Cleveland Foundation, the George Gund Foundation, the Kulas Foundation and the John P. Murphy Foundation.
AEI is presented in South Florida by the Broward Cultural Division, ArtServe, Inc. and the Community Partnership for Arts and Culture.