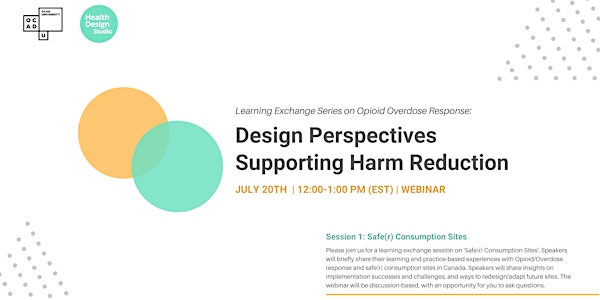 Opioid/Overdose Response: Design Perspectives Supporting Harm Reduction
Learning exchange session on insights into opioid/overdose response and safe(r) consumption sites: successes, challenges, and redesigning.
About this event
Please join us for a learning exchange session on 'Safe(r) Consumption Sites.' Speakers will briefly share their learning and practice-based experiences with overdose response and safe(r) consumption sites in Canada. The webinar will be discussion-based, with an opportunity for you to ask questions.
The objective is to bring visibility to the design considerations of safe(r) consumption sites as an important and timely issue that is under-researched and under-funded. The session aims to provide a learning exchange opportunity with individuals/organizations who are supporting harm reduction through design and the implementation of safe(r) consumption sites.
Participants will have the opportunity to submit questions for the presenters during registration or during the online seminar via the chat.
Presenters: Dr. Katherine Rudzinski, Sean McEwen, Hannah Leyland, Chieng Luphuyong, and Maryam Mallakin
Dr. Katherine Rudzinski is a SSHRC-funded Postdoctoral Research Fellow and an Adjunct Assistant Professor in the School of Social Work, University of Windsor. She also works part-time as a Research Associate at Dalla Lana School of Public Health, University of Toronto. Katherine has 15 years of experience working with and for people who use drugs on community-based research projects. Her recent research explored the opportunities and challenges of implementing supervised consumption services (SCS) at Casey House, a specialty hospital in Toronto, which included the co-creation of a client-centered SCS toolkit. Currently Katherine's work is focused on examining the impact of safer supply programs on women who use drugs and considering what this means for women's experiences of victimization, criminalization, and resistance.
Sean McEwen is a life-long resident of Vancouver BC and has practiced architecture in his home City for 40 years. He consults primarily to the non-profit sector and has worked extensively with neighborhood groups, social advocacy organizations and First Nations. Many of his projects deal with providing housing and social services to special needs groups and people on the margins in Canadian society. He was the architect for InSite, North America's first supervised injection site, and recently was involved in the design of SAFER, a safe supply and consumption site.
Hanna Leyland holds a Master of Architecture from the University of British Columbia, a Bachelor of Science (focusing on Quantitative and Population Health) from Simon Fraser University, and a diploma from the Design Discovery Program at Harvard University. Hannah's graduating architecture thesis examined the design of Drug Consumption Spaces.
Combining her interests in architecture and health, Hannah seeks to utilize design thinking to address the overdose crisis. Hannah has worked on harm reduction design projects in Vancouver with Sean McEwen, architect of North America's first stand-alone Supervised Injection Site: Insite. Hannah published an essay in the Globe and Mail discussing being the sibling of a person with addictions and an article in the architecture journal, Site Magazine, looking at Drug Consumption Spaces through an architectural lens. Hannah is currently registered as an Intern Architect with the Architectural Institute of British Columbia and is pursuing architecture licensure.
Chieng Luphuyong (He/Him) is a Research Associate for the Health Design Studio at OCAD University and Quality and Enterprise Risk Management Coordinator at North York General Hospital. He holds a Master of Design for Health and Bachelor of Environmental Design from OCAD University. Chieng's human-centered, participatory design approach values lived experience and storytelling to build empathy and ensure fair representation of underserved and marginalized communities. He has a strong interest in the human-environment interplay and curiosity of how socio-physical environments' influence human behavior and health outcomes.
Maryam Mallakin is a design researcher and health designer focusing on both medical and health domains. Her cross-disciplinary experience in Health Science and Design, includes academic degrees and professional practice in anesthesiology, microbiology, environmental design, and health design. Maryam holds a Master of Design in Design for Health, which has enabled her to converge her specialized and interdisciplinary academic and professional experience into the health-related domains of scholarly interest and research. Her primary field of research and design interest lies at the intersection of mental and physical health and the intervention design of healthcare systems, services, products, and processes, particularly in the context of public health. Maryam is a Research Associate at the Health Design Studio, OCAD University.
**The Health Design Studio at OCAD University is organizing an online seminar series on Opioid / Overdose response. An opportunity discusses experiences and issues related to harm reduction. **