Description
Wisconsin faces a serious and growing Opioid Epidemic. This epidemic has rapidly developed complex health,social,and lethal consequences. Opioid overdoses have devastating loss for individuals, families, and the community as a whole.
Join us for a one-day multi-jurisdictional FREE training summit to improve investigations, prosecution, documentation, scene safety, and accurate death reporting as it relates to Opioid cases.
Targeted audience: Law Enforcement, Medical Examiners and Coroners, EMS Personnel, and District Attorneys. This training is limited to the first 200 individual registrations.
Don't wait--Space is limited! Deadline for registration is Friday , August 4th, 2017 at 4 p.m.

What you will learn:
Latest drug manufacturing and delivery trends.

What it takes to investigate overdose cases.
What resources are available to your investigations.
Prosecution expectations.
What presents at autopsy.
Safety measures for responding agencies.
Laboratory testing and procedures.
Improved accuracy of death certificate completion of Opioid deaths.
***Lodging is available through Chula Vista Resort. Be sure to mention Opioid Summit and receive the state rate for your lodging. Contact Chula Vista Resort at 855-388-4782.

*** AMBDI CREDITS AND LE CONTINUING ED CREDITS WILL BE AWARDED!
For more information contact:

Angela Hinze RN, FNE, F-ABMDI, BSCJ, SANE
WCMEA President
angela.hinze@co.columbia.wi.us
Office: 608-742-4166 ext. 1320
Cell: 608-697-7790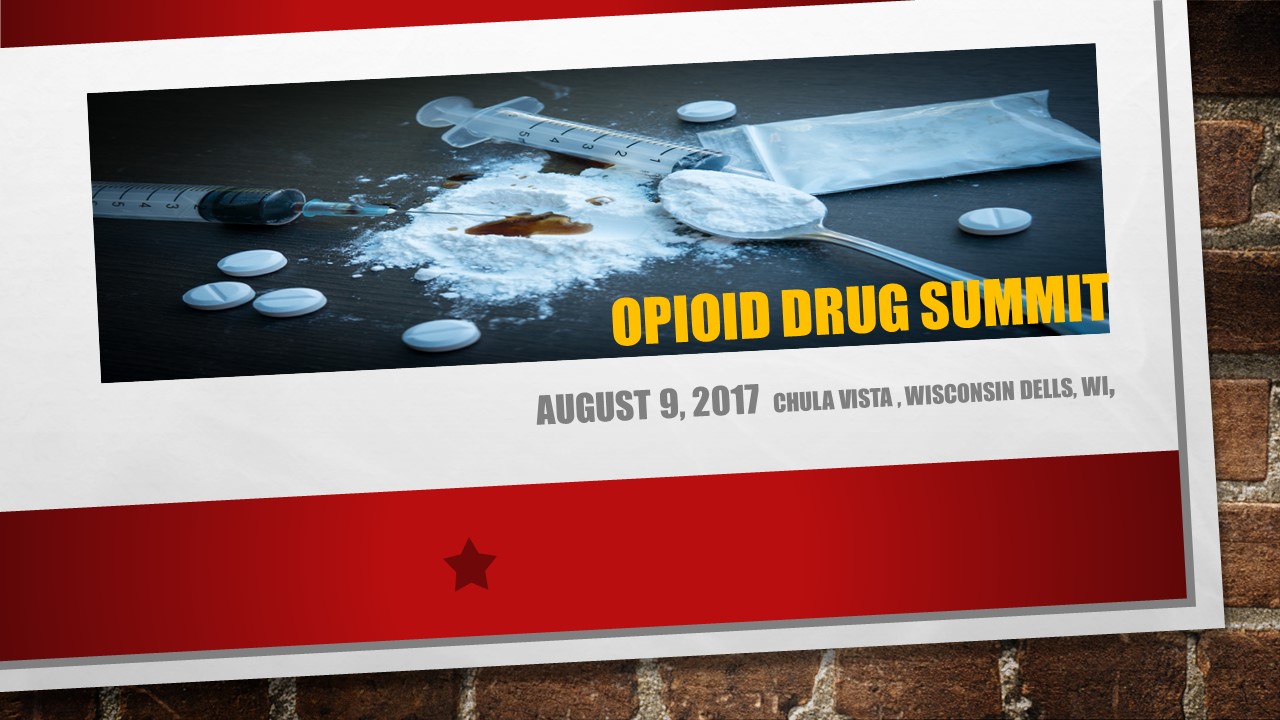 AGENDA
0800-0830
Welcome and Opening Remarks-
State Representative Joel Kleefisch -Assembly District 38 (R-Oconomowoc)

Current Legislation on The Wisconsin Opioid and RX Epidemic
0830-0900
"How We Got Here."
Overview of The Opiate Drug War
Mike Hemberger- Criminal Analyst- Wisconsin Statewide Intelligence Center

0900-1000
"Taking it to The Streets!"
Current Drug Trends, What it Looks Like, Where it is Coming From
Sgt. Michael Haverley – Columbia County Drug Task Force
1000-1015 Break
1015-1100
"Investigative Considerations for Opioid Overdoses"
Special Agents Jim Peterson and Mike Mansavage - Wisconsin Department of Criminal Investigation
1100-1200
"The Forensic Analyst Interpretation"
What Can the Forensic Analyst Provide for you investigations?
Mike Hemberger Criminal Analyst -DCI
1200-1300 ****NEW****

Lunch - Will Be Provided-stay tuned for room location

1300-1430
"What it Takes to Prosecute Prescription, Large-Scale Heroin Trafficking, and Drug –Related Homicide Cases"
ADA Trish Daugherty- Milwaukee County District Attorney's Office. Specialist in Lien Bias Cases
1430-1600
"Scene Investigation, Autopsy Findings,Toxiological Testing, Designer Opiates"
Forensic Pathologist Agnieszka Rogalska – Deputy Chief Dane County Medical Examiner's Office

Sara Schreiber Forensic Technical Director, Toxicology Laboratory, Milwaukee County Medical Examiner's Office
1600-1615 BREAK
1615-1700
"Dangers Encountered By First Responders"-
Protecting Yourself During Opioid Related Investigations
Jake Dettmering; Firefighter/ Paramedic with the DEA SWAT Team
1700-1730
"The Nuts and Bolts of the Data Collection"
Medical Certification of Opioid-Related Deaths, ESOOS Grant, Data Collection, and The Critical Role C/ME's Have in Data Collection.
Lisa Hebel- Wisconsin Department of Health Services, State Vital Records Office

Jennifer Broad- Wisconsin Department of Health Services
Sara Wieczorek- Wisconsin Department of Health Services (MCW)
1730 Evaluations and Adjourn
On behalf of the Wisconsin Coroner's and Medical Examiner's Association (WCMEA) we thank you for your time attending this summit. We look forward to your feedback and training with you in the future.
Acknowledgements:
Funding for this conference was made possible (in part) by the Centers for Disease Control and Prevention. The views expressed in written conference materials or publications and by speakers and moderators do not necessarily reflect the official policies of the Department of Health and Human Services, nor does the mention of trade names, commercial practices, or organizations imply endorsement by the U.S. Government.
Sincerely
Angela M Hinze RN, FNE, F-ABMDI, BSCJ
President of the WCMEA
Chief Medical Examiner -

Columbia County