We look forward to seeing you at our 35th Annual Joint Ball, as we celebrate and honor Noble Carl Veney and Daughter Alexandria Inmon
About this event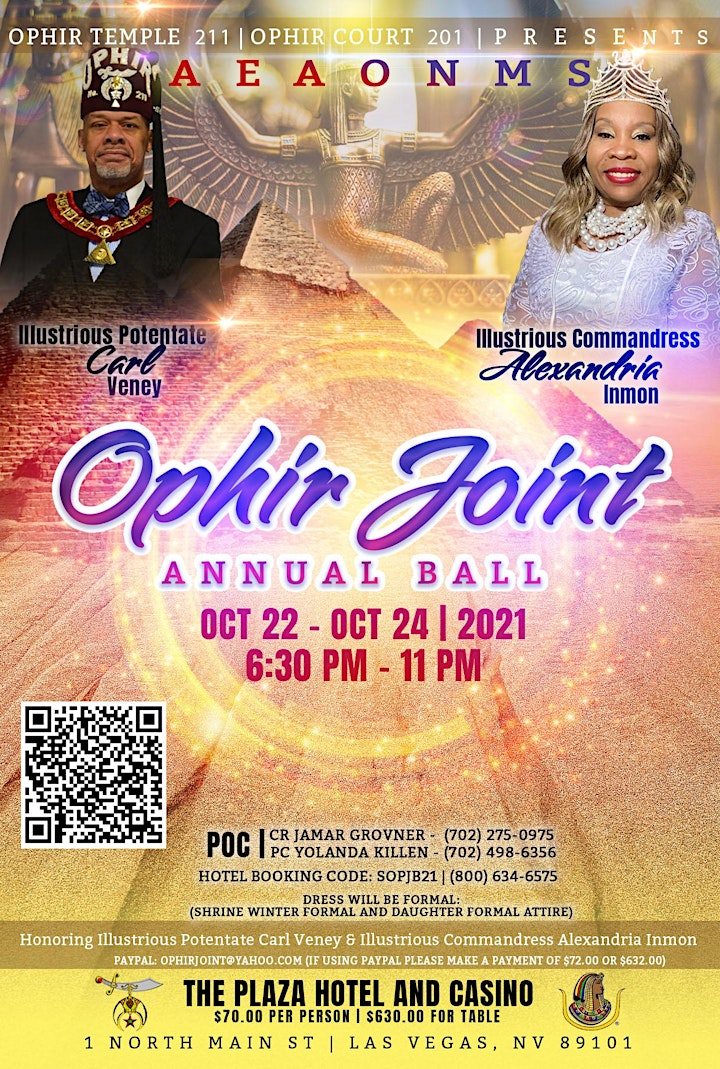 The Nobles of Ophir Temple No. 211 and the Daughters of Ophir Court No. 201 cordially invite you to attend its 35th Annual Joint Ball, honoring Illustrious Potentate Noble Carl Veney and Illustrious Commandress Daughter Alexandria Inmon. This gala affair will be held from Friday, October 22, 2021 thru Sunday, October 24, 2021 at the Plaza Hotel and Casino, located at 1 N. Main St., Las Vegas, NV 89101. Tickets are $70.00 per person. The purchase of a table for 10 people is $630.00.
2021 Joint Ball Souvenir Journal Booklet Ad Form
Deadline for submission October 9th, 2021 (No Exceptions)
a. If your ad requires a photo, a good quality photo must be attached/included with your ad. If you want your photo (s) returned to you, please submit a Self-Addressed Stamped Envelope with your ad. We will return your photo (s) to you after your ad has been published.
b. All proposed ads must be typed or printed neatly with a clear understanding of what needs to be done. Please, ensure the correct spelling of your name (s) is neatly typed or printed. Ad must be in 8.5 X 11 with high quality 300 resolution. You can submit your ads electronically in JPEG or PDF to :
With your submission please include:
Name:
What size page purchased:
Thank you,
Ball Committee
Souvenir Journal Ad form in PDF (for easy printing): PLEASE CLICK HERE