"Operational Disruptions and the Value of Credible Control"
Description
Session Abstract: Operational disruptions can impact a firm's systematic risk, which manifests in a host of operational issues, including a higher holding cost for inventory, a higher financing cost for capacity expansion, and higher perceived risk among supply chain partners. While disruptions have been studied extensively in the operations management literature, the emphasis has been on mitigating the damaging impact on the firm's production potential rather than its systematic risk. We empirically examine whether firms can meaningfully reduce the impact on their systematic risk by credibly attesting to having robust internal control mechanisms. Using a natural experiment in our data, we show that firms with such credible control mechanisms experience a materially smaller increase in their systematic risk and a smaller decrease in their market value in the aftermath of an operational disruption.
The beneficial impact on the firm's risk can persist for two years. We provide evidence that such benefits are associated with a lower level of information asymmetry between the firm and its investors. Our analysis is in the context of investor reactions to disruptions because stock markets provide rich archival data for analyzing decisions under risk and information asymmetry. We argue, however, that our insights apply more generally to other firm constituents in the presence of information asymmetry, including suppliers, employees, partners, customers, and regulators.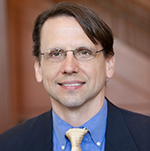 Speaker Bio: Assistant Professor William Schmidt's research examines how supply chain decisions influence and are influenced by information asymmetry between the firm and its constituents, including investors. He investigates the relationships between firm operational decisions and firm value and risk to advance our understanding of the factors that moderate these relationships and identify strategies that firms may adopt to better manage them. Much of his work is in the context of low probability, high impact operational disruptions. His research work includes projects with industry partners, such as Ford Motor Company, Emerson Electric Company, a large diversified manufacturer, and a large book retailer.
Schmidt teaches data analytics and modeling in the core MBA program at the Samuel Curtis Johnson Graduate School of Management at Cornell University. He received his doctorate from Harvard Business School in 2013, his Masters of Business Administration from the University of Florida, and his Bachelor of Science in aerospace engineering from the University of Florida. Before his doctoral studies, Schmidt was a product manager and consultant, primarily for Electronic Data Systems, FreeMarkets, and Ariba.