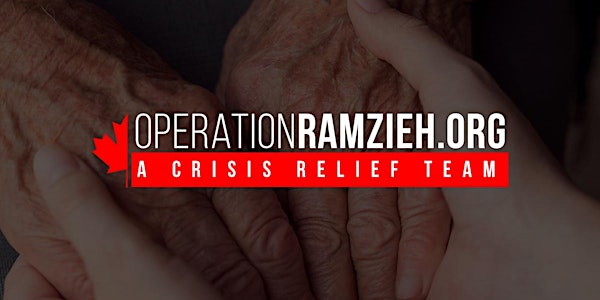 Operation Ramzieh OTTAWA : Relief kits for the Vulnerable
The world is facing a health crisis and the lives of all seniors amongst other vulnerable Canadians are at risk. We are committed to help.
Refund Policy
Contact the organizer to request a refund.
Eventbrite's fee is nonrefundable.
About this event
please use www.OperationRamzieh.org to sign up
Please, if you have other means of getting food... reserve this kit for those who should not be leaving their homes (i.e. seniors, immune compromised, those with very young children). We have faith that you are placing this order because you are truly in need because of dangers associated with COVID-19
March 17th, 2020 Ottawa, Ontario, Canada
In light of the current COVID-19 crisis, DreamMind Group is launching a new initiative to help our community. With social distancing being mandated, and restaurants and other services suspending their business until further notice, we want to ensure that we help those that will be affected the most - the elderly. The world is facing a health crisis and the lives of all seniors are at risk.
Being amongst those who are the most vulnerable and susceptible to contracting COVID-19, these members of our community will have the most difficulty acquiring items they need during this dire time, and we have a moral obligation to help.
They are our mothers, fathers, grandparents, and pillars of our communities.They cannot leave their homes to get the absolute essentials, and many of our elderly do not have the technological literacy needed to order the essentials online with ease. What's worse is that many of them do not have the funds necessary to accumulate extra resources for even a week.
They need our support now more than ever. The personnel of DreamMind are coming together to assemble food boxes that will be distributed to seniors. Together, we strive to keep them safe at home, as well as take the pressure off our hospitals and our incredible doctors and nurses, as they fight the war on this highly contagious and dangerous virus.
DreamMind president, Abbis Mahmoud, has personally contributed the first $40,000 to kickstart this project.
Named Operation Ramzieh after his mother, Abbis is confident that we can help others just as his mother did by feeding those in need back in his home country of Lebanon. In order to achieve this goal, our team was able to buy essential food and other necessities at cost. The entire operation will be volunteer driven to herd this initiative, with vehicles provided through the generosity of various companies and DreamMind alike.
The overhead of the packing facility will be absorbed by the DreamMind Group at The Waverley on Elgin Street.
After consulting with health specialists, we have designed a plan that will help others, while remaining proactive in reducing the risk of further infection.
Our team will be wearing masks and gloves, as well as minimizing contact during assembly.
We will then deliver the product - food kits that will be divided into small packages for easy transport and access - on the doorsteps of those in need, outside their homes. Each free crisis kit is estimated to include the following:
● granola bars
● rice
● spaghetti
● tomato sauce
● bread
● beans
● vegetable soup
● carrots
● potatoes
● fruit
Working alongside essential organizations in the community, our initiative will alleviate the pressure from these services, keeping our seniors safe at home. Furthermore, Abbis has committed to the use of his personal funds to expedite access to the donated funds, as time is of the essence. At the moment, we have enough resources to feed approximately 1200 people.
At about $30 a box, we can donate enough food for an estimated 10 days. Unfortunately, this is not enough. We urge those who can to donate to this cause in order to ensure everyone is taken care of.
The first kits will be ready for delivery by this Thursday. If you know anyone that may be in need, be it family or neighbour, we want to help.
For more information and to see how you can help, please visit www.operationramzieh.org.
Every little bit counts.
Time is of the essence.
God bless.
To Donate please visit our GoFundMe Fundraising page (gf.me/u/xrf8rq) or www.OperationRamzieh.org
To Volunteer to Pack, please visit www.operationramzieh.org/volunteer
To contribute supplies, please contact Andrew Craig at andrew@dreammind.com
For community outreach, please contact the House Family at tony@dreammind.com
For media relations, please contact Ilon or Krista at ilon@dreammind.com
Thank you very much,
privacy statement:
The recipient's confidentiality will be respected and their information is required for delivery purposes only.