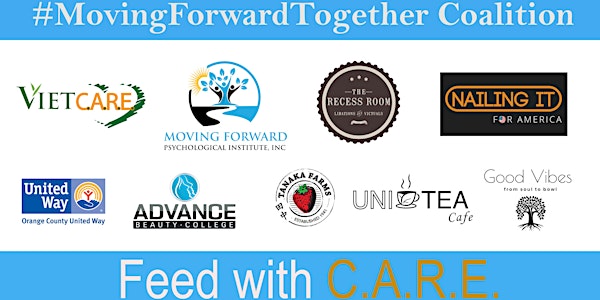 Operation #MovingForwardTogether Food Distribution VOLUNTEER SIGN-UP
Seeking volunteers for Operation #MovingForwardTogether Food Distribution.
When and where
Location
The Recess Room 18380 Brookhurst Street Fountain Valley, CA 92708
About this event
Operation #MovingForwardTogether (OMFT) is a program of the MovingForwardTogether Coalition, a Coalition that provides hot, ethnic meals to isolated seniors and vulnerable families in Orange County, CA. The majority of program participants are monolingual, Vietnamese-speaking seniors, and/or low-income families. Since the program's inception in April 2020, OMFT has distributed over 80,000 hot, ethnic meals throughout Orange County, CA. This operation is 100% volunteer-based and funded via private donations and grants.
We welcome volunteers to help with 1) on-site distribution and 2) delivery to home-bound seniors. On-site Volunteers' responsibilities include setting up, checking participants in, bagging meals, traffic control, and break down. Delivery Volunteers' responsibilities are assigned to different routes that deliver meals to cities throughout Orange County to isolated seniors with the majority of our deliveries in the Westminster/Garden Grove area.