About this Event
FOR SPONSOR OPPORTUNITIES:
For sponsorship opportunities call Mike at (206) 795-5890 or contact the event coordinator, Sandra, at sandra@vision2020today.com or (206) 504-1177.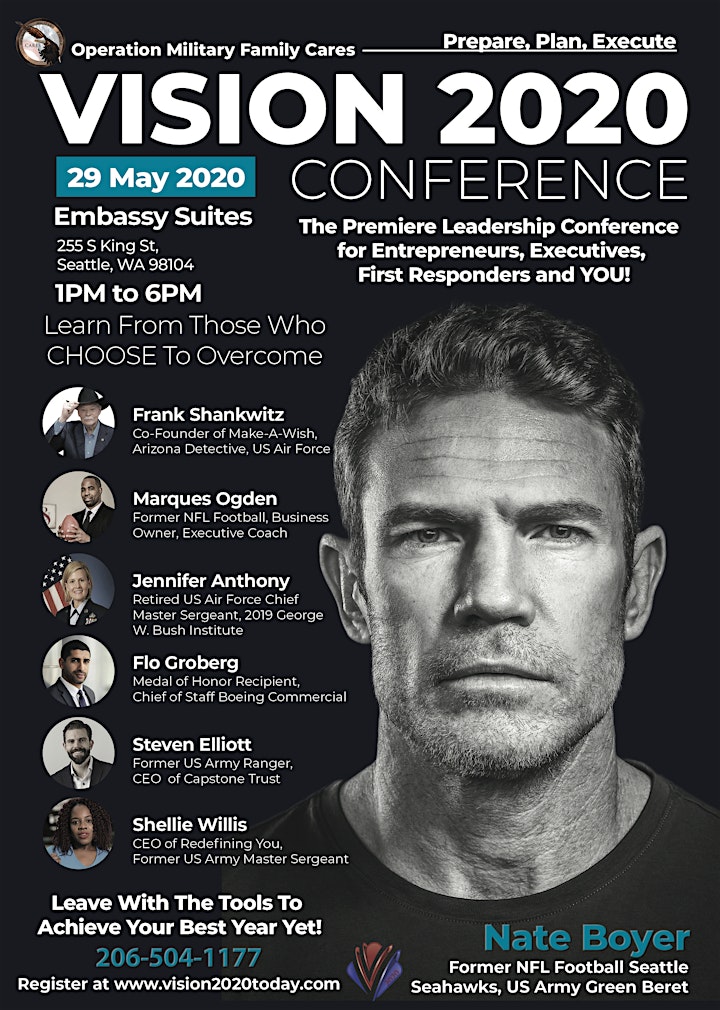 VISION 2020 Today has been founded to address the growing concerns of many who are disengaged with life but have a desire to make a change. Oftentimes, people are not equipped – or lack the know-how - to put their desired feelings into action, therefore miss many opportunities to change their life into something fulfilling and meaningful. VISION 2020's purpose is to assist those serious about change, to find their new path forward.
Operation Military Family Cares is the founding organization and will host a Vision 2020 Today event in MAY 2020. Key speakers will share with participants how they faced their insecurities, struggles with life, loss of identity, and their search for identity to establish a pathway for emotional, relational, spiritual, physical, and financial success. The mission for VISION 2020 is not just to inspire participants but aid them to PREPARE, PLAN, and EXECUTE their best year yet. Provided will be tips, tools, and opportunities participants can incorporate into their lives to obtain the positive and flourishing life they imagine.
EVENT SCHEDULE:
ADMIRAL SPONSOR doors open at 11 am
ADMIRAL SPONSOR private session with speakers from 11:30 am to 12:30 pm
VIP doors open at 11:30 am
General Admission doors open at 12:00 pm
Event begins at 1:00 pm and ends at 6:00 pm
VIP after hours begins at 6:30 pm and ends at 8:00 pm
EVENT PARKING
Parking options and costs will be provided in your confirmation email.
EVENT CONTACT:
Sandra Wankelman
Event Coordinator
sandra@vision2020today.com
(206) 504-1177
SUPPORT A CAUSE WITH EVERY TICKET PURCHASE
A portion of each ticket will be donated to the Edmonds Waterfront Veterans and Families Health and Wellness Center. Thank you for joining us and for supporting a great cause!
REFUND POLICY
Refunds can be requested up to three days after ticket purchases. All sales are final after March 31, 2020. All requests for refunds will be responded to within 5 days. Please contact the Event Coordinator, Sandra Wankelman, to assist you with the process and questions.