Description
Sites and volunteers needed to for help with a local air quality study!
Chino Basin Water Conservation District, Riverside Corona Resource Conservation District, San Bernardino Master Gardeners, Incredible Edible Community Garderns and more are teaming up with scientists at UC Riverside and Earthwatch Institute to better understand how our urban landscapes may impact air temperature and air quality, and we're looking for community members to help us with this research.
You can participate as a community scientist by doing one, two, or all of the following:
Host an air temperature sensor or ozone sensor at your home, school, or community garden.

Monitor indoor/outdoor temperature and humidity at your site.

Record and map the habitat around the sensors using the Habitat Network platform.

Community scientists who attend a training will also have the opportunity to collaborate on the placement of sensors to explore their own questions about temperature.
For more information about the study and details about the different ways to particpate, visit Earthwatch Institute's Urban Resiliency Program.
Who can participate?
Individual residents, community groups, community gardens, schools, businesses, and more are welcome!
UPDATE! The Study areas have been refined. We are particularly looking for volunteers in the San Bernadino and Ontario areas for Campaign 3.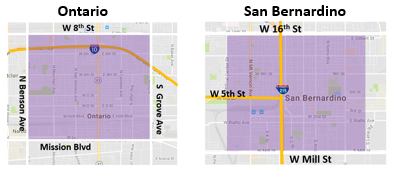 When can I participate? The study is taking place in different locations during two 6 week campaigns. The campaign you participate in may depend on where your site is located and the larger study goals. See the chart below for more details.

Once you've determined if you live in the study area, please click Register above to sign up for a corresponding training date!
During this two hour training our goals are to:
Learn more about your local air temperature and air quality observations.

Provide you with the tools and skills necessary to help contribute data to the study from your own home, office, school, or community garden.
And, if you would like to particpate but can't make it to a training, we'd still love to have your help. Click Register above and choose that option.
For questions or comments, send us an email at urbanresiliency@earthwatch.org