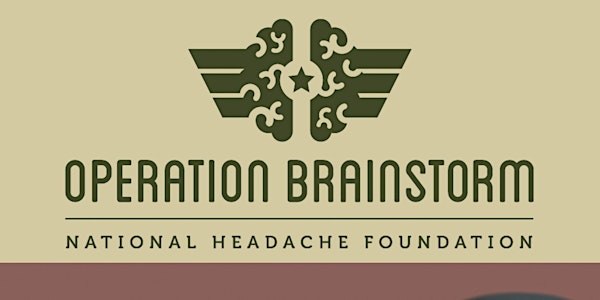 Operation Brainstorm - National Headache Foundation
Headache seminar - Receive free Migraine Survival Tool kit and a free dinner at the American Legion in Farmington. Enter through the back
When and where
Location
Groves Walker American Legion Post 346 31775 Grand River Avenue Farmington, MI 48336
About this event
Do you suffer from extreme headaches, Migraine, PTSD, or TBI? For Veterans who served in combat, TBI may occur from any event that impacts the head, such as blast exposures, motor vehicle crashes, falls, or being hit by flying debris. The severity of a TBI may range from mild to moderate to severe. Veterans with more severe TBIs are at greater risk for long term complications.
The Vietnam Head Injury Study (VHIS) is a long-term study of over 1,000 veterans who suffered traumatic brain injuries between 1967 and 1970 while serving in Vietnam. VHIS has been instrumental in extending the field of TBI research and in uncovering medical and social issues that affect those who suffer from traumatic brain injuries. The results of the study are providing clinicians and scientists with insights into the long term recovery of function following TBI, the role of the prefrontal cortex in executive functions, better predictors of long term outcome (including cognitive, neurological, and genetic factors), and the effects of head injury incurred in youth on aging and the development of dementia.
In recent years, the Afghan and Iraq Wars have increased the prevalence of migraine disease and headache disorders in veterans returning to the United States. In one study of 3,621 U.S. soldiers screened within 90 days of returning from a one-year combat tour in Iraq, soldiers were shown to have two to four times the incidence rate of migraine as compared to the general population.
This research and more like it has validated that men and women in the military are returning to civilian life experiencing migraine headaches due to conditions like Traumatic Brain Injury (TBI) and Post-Traumatic Stress Disorder (PTSD). Poorly managed migraine translates to a potentially huge impact on a patient's quality of life—from missed or non-productive work days to lost family and personal time.
The National Headache Foundation feels that it is vital to reach out to these men and women who have served our country by providing resources to better understand and manage headache pain.
To do this, the NHF is proud to introduce Operation Brainstorm. The program consists of in person listening forums, sponsorship of Veterans Views, educational videos, training programs for healthcare professionals, migraine survival toolkits for veterans, and an online resource guide that provides the top resources available to help military men and women cope with neurological trauma effectively.