Description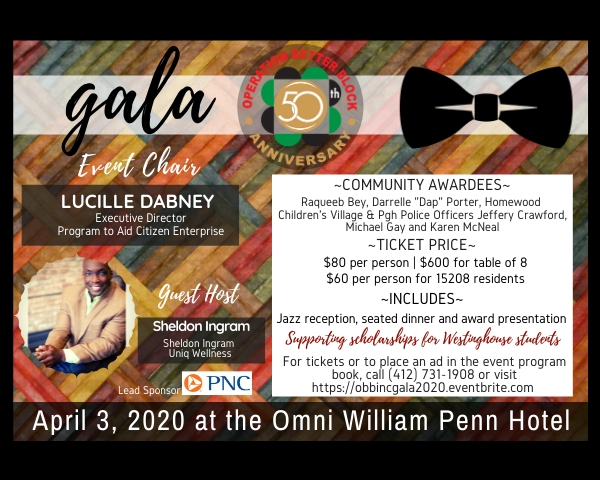 On the evening of April 3, 2020, Operation Better Block (OBB) will hold its fourth annual fundraiser gala to engage the greater Pittsburgh community in the mission and collaborative work of transforming Homewood. This year, we celebrate 50 years of deep grass roots contribution to our region's culture and economy. In celebration of a half-century of community building, we will highlight the resurgence and vibrancy of Homewood, raise funds to sustain our organizing and programming efforts, celebrate local heroes and provide scholarships to Westinghouse students pursuing post-secondary education and training.
The event is chaired by Lucille Dabney, Executive Director at Program to Aid Citizen Enterprise (PACE) and hosted by Sheldon Ingram of Sheldon Ingram Uniq Wellness. In the tradition of investing in youth, post-secondary educational scholarships will be awarded to four Westinghouse High School students.
The evening will kick off with a wine and cheese reception with live music, to be followed by a seated dinner and program. During the program, you attendees will hear from a special guest speaker on the topic of community development, and Operation Better Block will honor its community awardees.
Tickets cost $80 if purchased by the general public, and $60 for Homewood (15208) residents (Homewood residents should contact Gina McMillan at the numebr below to receive a code for the discounted resident rate). Tables of 8 are available for $600.
ALL PROCEEDS SUPPORT OPERATION BETTER BLOCK'S PROGRAMMING AND CHARITABLE MISSION.
For more information, please call 412-731-1908 or visit www.obbinc.org.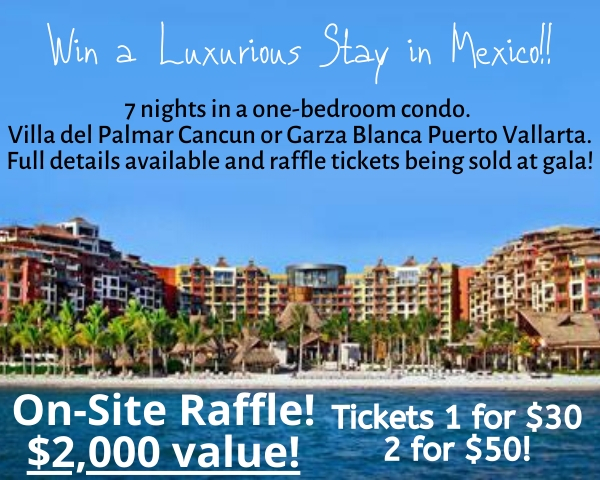 ---
Sponsored by: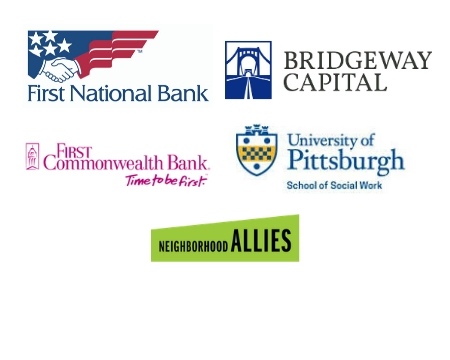 Organizer of Operation Better Block 50th Anniversary Fundraiser Gala
The mission of Operation Better Block, Inc. is to strategize, organize and mobilize, block by block, to benefit the Homewood Community. We do this by:
Providing technical and community development assistance to Block Associations engaged in self-help projects and self-sufficiency initiatives;

Fostering youth development through self-awareness, career exploration programs and community volunteer opportunities;

Participating in housing development efforts to construct new housing units;

Encouraging and supporting public and private investments to stimulate economic development in the community;

Building cooperative partnerships with others to promote community sustainability.
Vision
Homewood is a livable, desirable community and recognized as such.
As we look beyond 2012. The vision of Operation Better Block is to have made a significant contribution to the revitalization of Homewood Brushton as one of the City's premier residential neighborhoods. In cooperation with other partners in the public, private, and nonprofit sectors, we envision the reality of Homewood Brushton as a stable, economically viable, safe, and attractive neighborhood with a diverse population that is reasonably self-sufficient in its capacity to meet the challenges that it will continue to face. Together with our external partners we will:
Encourage more economic investment in the community by promoting Homewood as a dynamic neighborhood.

Stimulate and promote self sufficiency through developing indigenous leaders and providing a resource clearinghouse.

Develop strong youth leaders who will participate in the creation of policy in the public, private, and nonprofit sectors.