OPERA SANTA BARARA PRESENTS DON PASQUALE - A LIVE DRIVE-IN OPERA......Drive-In meets LIVE Entertainment.
About this Event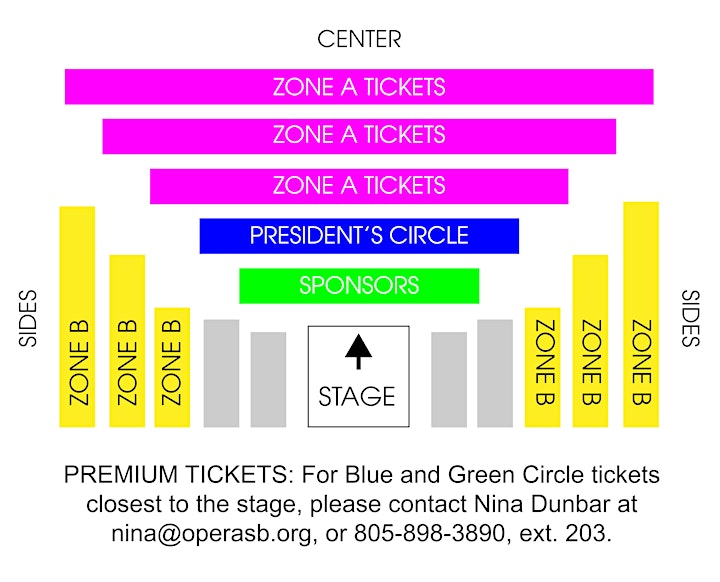 Opera Santa Barbara Presents Don Pasquale, A Live Drive-In Opera
When it comes to combining beautiful melodies and vocal pyrotechnics with laugh-out-loud comedy, no one is a match for bel canto master Gaetano Donizetti, the composer of The Elixir of Love, Lucia di Lammermoor, and many other blockbuster opera house hits. In this hilarious new version directed by the irrepressible Josh Shaw, Founder of Pacific Opera Project, the titular Don Pasquale becomes "Donald Pasquale'', a film mogul in the Santa Barbara silent film business of the early 1920s. Come prepared to laugh, and sing along, and make sure to keep that toe-tapping foot away from the gas pedal!
PREMIUM TICKETS: For Blue and Green Circle tickets closest to the stage, please contact Nina Dunbar at nina@operasb.org, or 805-898-3890, ext. 203.
Each ticket is valid for ONE car. The number of passengers must not exceed the number of safety belts /seats in your vehicle, up to EIGHT people.
The show will include a visual light show, multi-media entertainment and video screens. The combination of an extra high 360 degree stage and screens will ensure a good viewing experience for everyone.
Sound will come from the stage, like a traditional concert. You will also be able to hear the show through your car stereo on FM radio.
Space is very limited.
All the event information can be found on our website at ConcertsInYourCar.com, please be sure to review FAQs before purchasing and arriving, but here is some info to get you started:
All tickets are first come, first parked, in the section you purchased and will not be assigned prior to arrival (first come, first parked basis). Parking attendants will direct each driver to a parking space in their designated section upon arrival. To ensure you don't miss a thing, we added large video screens on each side of the stage.
Only ADA pets are permitted at the Fairgrounds.
All CDC and State of California guidelines will be followed, and we are working closely with Ventura County and the City of Ventura to ensure this event meets or exceeds all recommended standards.
To be considerate of all attendees we do not allow smoking at this event. Thank you for your understanding.
We ask that all attendees stay inside/by their vehicle. You are allowed to sit in folding chairs by your vehicle but you MUST wear a face mask and maintain social distancing.
You may view the show from the bed of your truck. You may not be sitting so high as to obstruct the view of others. You MUST wear a face mask.
Hatches may be open but must not exceed roof height. If hatch is spring loaded please tie it down so it doesn't obstruct the view of others. Please use common courtesy so everyone can enjoy the show.
If a medical condition exists that prevents a guest from wearing a face-covering, then they must remain inside their vehicle at ALL times. No exceptions.
Portable restrooms will be available onsite. We ask that only two people per car at a time leave the vehicle to use. Please wear a mask and follow social distancing guidelines
In the event it is necessary for a fan to leave their vehicle, safe social distancing will be strictly enforced. Failure to follow safe social distancing, or requests of staff members for participants to follow, will cause the participant to be subject to ejection.
Event staff will be wearing personal protective equipment as required by CDC guidelines.
Tickets are ONLY available online, until the shows begins at 7:30 pm.
Your ticket is only valid for the DAY & TIME on the top of the ticket. Nontransferable to another show.
No RVs, Limos or buses allowed.
All vehicles OVER 6.5 FEET TALL MUST park in the ORANGE SECTION.
GATES OPEN AT 6:00 PM.
No in and out privileges.
Outside food and drinks are permitted. No sales onsite.
Please review ALL facts on our website prior to arrival.
All vehicles are subject to search.
For Premium Tickets in the Blue and Green Circles please contact Nina Dunbar at nina@operasb.org, or 805-898-3890, ext. 203.