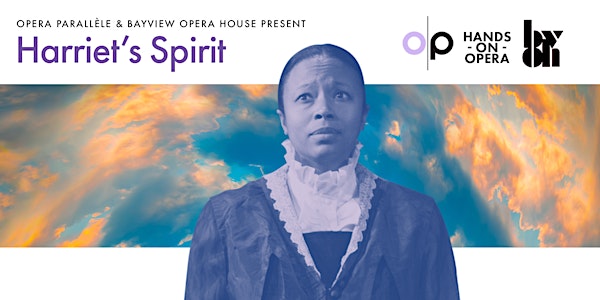 Opera Paralléle and BVOH Present: Harriet's Spirit - OPEN REHEARSAL
FREE Community Event - get a sneak preview of this exciting new work by Marcus Shelby.
When and where
Location
Bayview Opera House 4705 3rd Street San Francisco, CA 94124
About this event
We throw open the doors of the Bayview Opera House and invite the community in to see behind the scenes in the creation of an opera.
Listen to rehearsal then enjoy activities lead by OP Community Programs Ambassador Michael Mohammed. Snacks provided.
PLEASE NOTE COVID 19 protocols below.
~
~
Opera Parallèle & Bayview Opera House present: Harriet's Spirit
A young girl's story of courage and empowerment, inspired by Harriet Tubman.
Music by Marcus Shelby
Libretto by Roma Olvera
Conducted by Nicole Paiement
Directed by L. Peter Callender
Featuring: Tiffany Austin, Christabel Nunoo, Bradley Kynard and the San Francisco Girls Chorus
November 13, 2021 (1:00pm & 4:00pm)
November 14, 2021 (1:00pm)
About the piece:
Modesty is a middle-school aged girl who is struggling with bullying. She tries daily to "say nothing" and melt into the scenery so classmates won't make fun of her. Even worse though, she is too afraid to protect her friends enduring the same abuse. In quiet moments, she escapes her fear by learning about the life of Harriet Tubman. In times of struggle, she is visited by the commanding historical figure who comforts her, offers advice, tells stories that connect to her life today, and ultimately shows how she triumphed during a moment in the Civil War of great peril with the power of love & music. With Harriet as her guide, Modesty hopes to do the same.
~~~~~~~~~~~~~~~
Performance run time: approx. 50 minutes
~~~~~~~~~~~~~~~
COVID-19 Protocol:
All audience members, staff and artists ages 12 and up must be fully vaccinated against COVID-19. Prior to entering the Bay View Opera House (BVOH), you will be asked to provide proof of vaccination through a QR code generated by Digital COVID-19 Vaccine Record Website, or an original physical vaccination card or photograph of it, along with a valid government issued photo ID (a Student ID for minors under the age of 18 is also acceptable). Seating in BVOH will be distanced, and masks are required for all attendees. Please be aware that singers and select instrumentalists will perform without masks.
- 50% occupancy, seats placed in pairs socially distanced.
- masks are required inside the building at all times regardless of vaccination status
- there will be no food or drinks consumed inside the building at any time
- please refrain from attending if you have a cough, fever or any other COVID-19 related symptoms
~~~~~~~~~~~~~~~~~
Programs at BVOH are made possible by: San Francisco Arts Commission, Grants For The Arts, the San Francisco Foundation, Phyllis C. Wattis Foundation, Kenneth Rainin Foundation, Fleishhacker Foundation, California Arts Council, the Nicholson Family Foundation and many other generous donors.