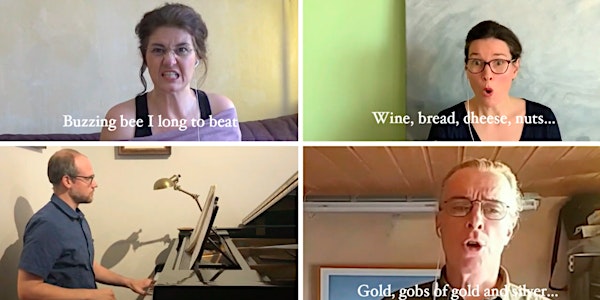 Opéra de Poche: Virtual Premiere of Fein's "The Rat Came Back" (Scenes)
Description
Sometimes it takes a singing rat to teach us about our common humanity...
Composer Evan Fein and librettist Emily Anderson team up for the third time in The Rat Came Back, a new comic opera full of harebrained schemes, memorable tunes, and ping-pong balls. Commissioned by Opéra de Poche, this work was scheduled to premiere in France this July. However, you can tune-in Saturday, May 23 (2pm EST/20h Paris-time), for an exclusive sneak peek of the opera and to connect with the artists who will bring this delightful work to life.
Don't miss your chance to experience the delectable tale of a cowboy, a shabby château, an American with more money than brains, a zany love triangle... and did we mention the singing rat already?
RSVP and receive a link to the private YouTube premiere of these highlights—then join the artists afterwards on Zoom for an interactive Q&A.
All proceeds to directly fund artist relief and essential operating costs of Opéra de Poche. Thank you for your support!
Featuring: Lucie Mouscadet, Isabelle Fallot, Vincent Billier, Arnaud Le Dû, & Anne-Marie Podevin.
Thank you for your support and we hope you enjoy the show!