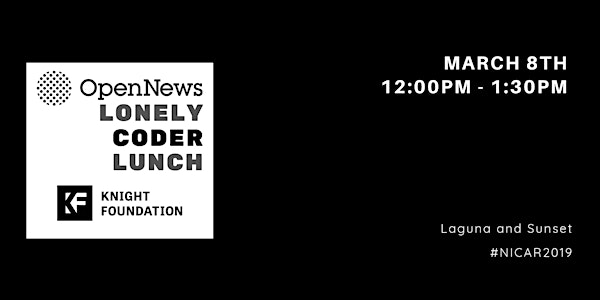 OpenNews, Lonely Coders Club, and Friend Lunch
When and where
Location
#NICAR19 Room Laguna & Sunset 900 Newport Center Drive Newport Beach, CA 92660
Description
Join us for a lunch to meet up with those folks you might only know as a Slack avatar. This will actually be our *fifth* Lonely Coders Club lunch at NICAR! Wow! These lunches began after a long ago thread on the NICAR-L listserv about folks who were the only tech person at their news organization. That conversation has grown into a Slack community of over 300 newsroom programmers who work without big teams.
Let's take some time to gather as a community of lonely coders (and friends are welcome, too) to get to know one another, and chat a bit about the past year in journalism tech and how we can make everyone's work a little easier.
Questions? Email info@opennews.org.
Thank you to the Knight Foundation for sponsoring this lunch, which is free for attendees.