OpenMRS Worldwide Summit 2015

Tuesday, December 8, 2015 at 9:00 AM

-

Monday, December 14, 2015 at 6:00 PM (Singapore Standard Time Singapore Time)
Event Details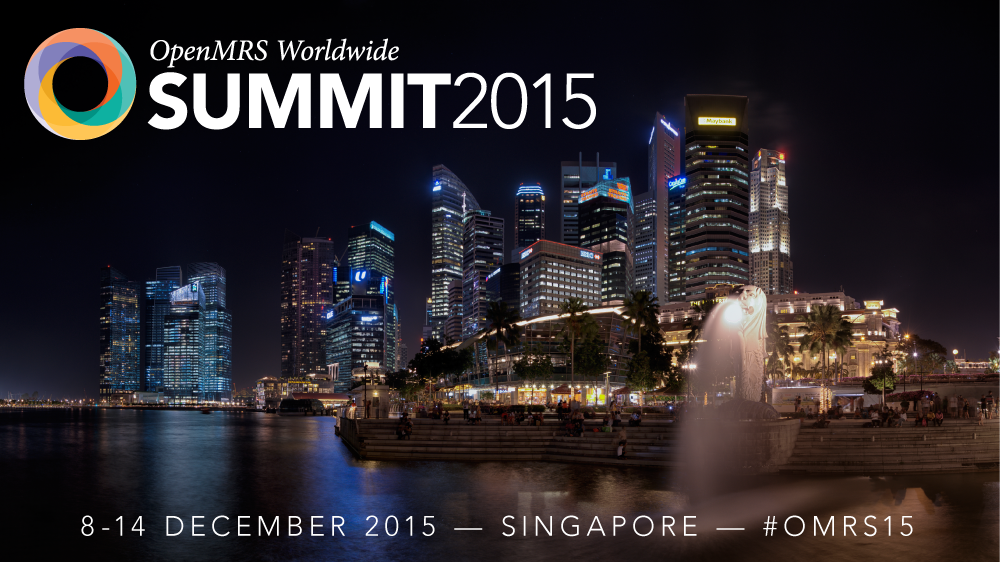 What is OpenMRS Worldwide Summit?
OpenMRS Inc., the new non-profit organization supporting the OpenMRS community, is hosting a new annual global gathering of contributors called OpenMRS Worldwide Summit, focused on building and growing both the OpenMRS community and our software. While our series of OpenMRS Implementers Meetings will continue to bring together OpenMRS implementers with health care professionals to focus on how OpenMRS is used, the annual Worldwide Summit will bring together OpenMRS people of all types, and will offer them opportunities to share their work, as well as discuss how software will evolve in the coming year. The first OpenMRS Summit is happening 8-14 December 2015 in Singapore. Read on for more information about the schedule and logistics.
The official event page with additional information is located at the OpenMRS Wiki: http://om.rs/15
NEW! Tutorials (Tuesday & Wednesday)
For two days before the conference (Tuesday and Wednesday) OpenMRS Inc. will host a variety of educational tutorials that contributors and others can use to learn more about OpenMRS and Health IT. Tutorials are classroom/workshop style, and also include a selection of relevant eBooks from O'Reilly Media. Both half-day tutorials and full-day workshops are available each day; see the registration section above for a listing of tutorial topics and see http://om.rs/15 for additional information. Each tutorial has an associated fee to cover the expenses of trainers and materials; discounts are available for full-time students and volunteer contributors (see below). All tutorials offer a 100% satisfaction guarantee; please contact events@openmrs.org for details. Financial assistance is available: Discounts are available for volunteers and students; others may use the OpenMRS Travel Grant program to request reimbursement for attending.
Conference (Thursday, Friday, Saturday)
The highlight of Worldwide Summit is our 2.5-day conference, where OpenMRS leaders and contributors will share new strategies, new technologies, and new ideas with each other in an interactive setting. The conference agenda will include plenary talks, smaller breakout talks, and unconference sessions. See the event schedule as it develops at: http://lanyrd.com/2015/omrs15/
Developer Hackathon (Sunday & Monday)
.If you are a developer/programmer, please join our free OpenMRS Hackathon on Sunday and Monday after the conference. The hackathon is open to beginners and experts alike. If you're ready to write code and save lives, be sure to register for the hackathon! Space is limited to the first 50 attendees. Additional details about the hackathon format and requirements will be posted at http://om.rs/15.
Evening After-Hours Events
We will be organizing a wide variety of optional evening "after hours" events to hang out and network with other participants, and to provide opportunities to see some of the many exciting sights Singapore has to offer! More information about the schedule of these events will be updated at http://om.rs/15 in the weeks leading up to the Summit.
Venue & Location
All sessions of OpenMRS Worldwide Summit will take place on the campus of Singapore Management University (SMU), located in the central business district of downtown Singapore. The campus located steps away from Singapore's best shopping, lodging, and entertainment; and is also connected underground to the excellent MRT rail transportation system, offering easy and affordable access to all parts of the country, including direct access to Changi Airport. Please see http://om.rs/15 for additional venue information.
Accommodation
A wide variety of hotels and hostels are available within walking distance of Singapore Management University (SMU). Additional information about suggested accommodations are available at http://om.rs/15.
Discounts
OpenMRS Inc. are pleased to offer discounts to full-time students and to our volunteer contributors who are not employed or paid for their work on OpenMRS. Discounts are subject to verification, and full-time students will need to submit documentation of their status. Our full price registration is intended for the general public and people who contribute to OpenMRS as part of their job or paid employment. With absolutely free attendance for the first 10 people to register, and additional charges for late registration, act quickly and register today!
Travel Grants
OpenMRS Inc. offer a travel grant program for volunteer contributors to attend key events throughout the year. The program runs year-round, and limited funding is available for travel grants to contributors to attend Worldwide Summit. Please see program documentation on the OpenMRS Wiki for more information and to apply. Due to the late date, travel grant applications are no longer being accepted for OpenMRS Worldwide Summit 2015. Please read about discounts above for other financial support options. Thank you for your interest & participation!
When & Where

Singapore Management University
81 Victoria Street
188065
Singapore

Tuesday, December 8, 2015 at 9:00 AM

-

Monday, December 14, 2015 at 6:00 PM (Singapore Standard Time Singapore Time)
Add to my calendar
Organizer
OpenMRS Inc. is a United States-based non-profit organization that represents the OpenMRS project in legal and financial matters.
The organization's purpose is to support the OpenMRS community in its mission to improve health care delivery in resource-constrained environments, including developing countries; and working with and coordinating a global community to create and support sotware to manage medical records and other health care systems in developing countries and to resource-constrained environments. It aids in creating and distributing OpenMRS by securing cash, hardware, and other donations, then using donations to aid OpenMRS development and promotion.
The organization was originally founded as OpenMRS, LLC, to create a legal entity capable of representing the OpenMRS project. The growing popularity of OpenMRS also made it necessary to establish a thin organizational layer that is capable of handling all legal and financial interests of the OpenMRS community process.