Imagine your life if you could see the love available to you everywhere…
About this Event
Join us in in a dynamic exploration in expanding our capacity to receive love.
Using the 5 Rhythms Dance practice, guided mindfulness practice & embodied writing exercises within the energy of community, we let the body guide us into new self awareness of our relationship to letting in love - from our Self, from others, and ultimately from the universe around us. With kindness we witness the ways in which we have blocked or denied parts of ourselves and begin to reclaim and reintegrate them. Growing our capacity for feeling and courage to trust that we belong just as we are.
Tom Truman is a 5Rhythms dance teacher since 2016 is based in Santa Cruz and offers on going classes there and teaches around California.
Melissa Fritchle LMFT is a Certified Mindfulness Meditation teacher, holistic psychotherapist and poet.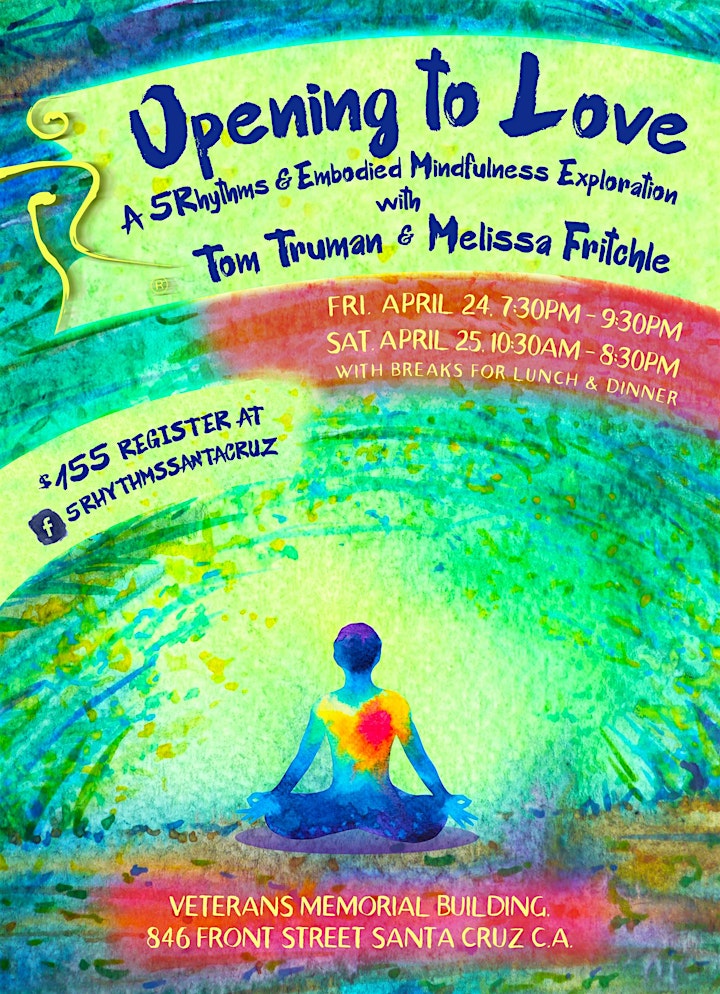 "You yourself, as much as anybody in the entire universe deserve your love and affection" – Gautama buddha
Friday April 24, 7:30pm – 9:30pm
Saturday April 25, 10:30am – 8:30pm, with breaks for lunch & dinner
Veterans Memorial Building
846 Front Street
Santa Cruz, CA
95060
Cost $155