Opening the Doors and Gates

Thursday, November 20, 2014 from 10:00 AM to 1:00 PM (PST)
Event Details
There are many ways to start an experience in nature. We swing open gates at trailheads. We step from the concrete onto dirt to enter a park. We access farms and ranches at farmers markets, grocery stores, restaurants, and u-pick days. For another kind of experience, we walk through doors at environmental education buildings like life sciences museum and nature centers where we learn about and interact with the natural world in a different way. The entry points to nature in the Bay Area are as infinite and as diverse as the human population here. Behind all of the entry points is a network of organizations and agencies that care deeply about connecting people to nature and all of its beauty and mystery.
How can we open the doors and gates to more Bay Area residents? How can we partner with organizations doing similar but different work? What are some best practices and replicable ideas?
In partnership with ChangeScale, our Harvest Gathering will focus on these questions. We will learn about innovative projects around the Bay Area and engage in a discussion about how to connect more people to the nature. Our speakers will be: 
Jose Gonzalez, Latino Outdoors - moderator

Kate Bickert, Golden Gate National Parks Conservancy – Ai Weiwei on Alcatraz

Carol Johnson, East Bay Regional Park District – Healthy Parks Healthy People

Jered Lawson, Pie Ranch – partnership with Google

Chris Overington, Hidden Villa – working with schools to get kids outside

Alison Young, California Academy of Sciences - mobilizing people through citizen science

The Gathering will be held on November 20, 2014 from 10am-1pm at the David Brower Center in Berkeley. Staff of Open Space Council members and supporters attend at no cost. Environmental education funders (e.g., foundations and grant makers) can attend at no cost thanks to the Environmental Education Funders Collaborative. And ChangeScale is underwriting 40 tickets for staff of environmental education organizations. Tickets for other partners and friends are $25.
This Gathering is sponsored by: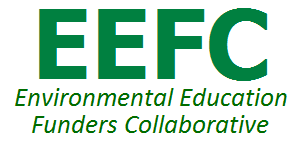 Organiser
The Bay Area Open Space Council is a collaborative of member organizations actively involved in permanently protecting and stewarding important parks, trails and agricultural lands in the ten-county San Francisco Bay Area.