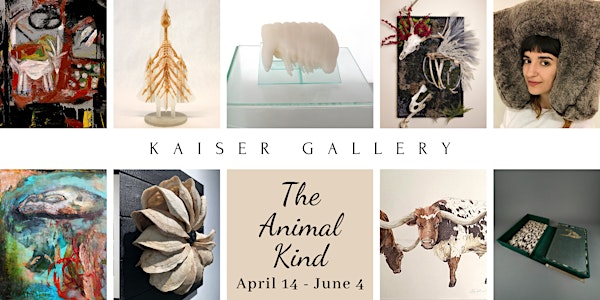 Opening Reception of The Animal Kind
On April 14, from 6 - 9 pm, you're invited to the opening reception of 'The Animal Kind' at Kaiser Gallery!
Date and time
Friday, April 14 · 6 - 9pm EDT
Location
Kaiser Gallery 2418 Professor Avenue Cleveland, OH 44113
About this event
The Animal Kind, the latest group exhibition at Kaiser Gallery, looks at our human fascination with animals. The exhibition features work by ten contemporary artists from down the street to around the world. The wildly eclectic exhibition displays a wide range of artistic styles, mediums, and subject matter pertaining to animals. A few works that you'll see include the wearable soft sculpture by Alex Heard, an art book made from African Cheetah fur found in an antique shop by Andrew Mancuso, and the hyperrealistic work of Betz Johnson Richards.
The Animal Kind will be on view at Kaiser Gallery from April 14 to June 4 and features the works of Justin Brennan, Jeff Chiplis, Ross DiPenti, Jessica Glowczewski, Alex Heard, Betz Johnson Richards, Andrew Mancuso, Stéphanie Morissette, Rebecca Tanda, and Kristen Woodward.
This event is FREE and open to the public.