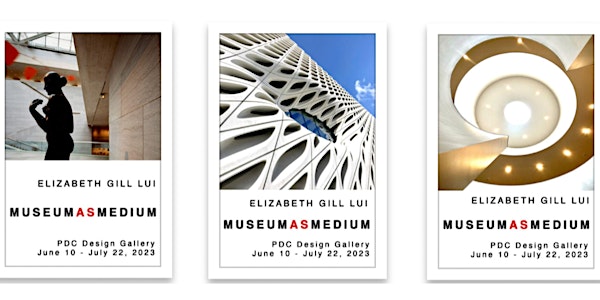 Opening Reception: MUSEUMASMEDIUM by Elizabeth Gill Lui
MUSEUMASMEDIUM: Works by Elizabeth Gill Lui Opening Reception
Date and time
Saturday, June 17 · 6 - 9pm PDT
Location
Pacific Design Center 8687 Melrose Avenue West Hollywood, CA 90069
About this event
OPENING RECEPTION: SATURDAY, JUNE 17, 6-9 PM
Twenty-five years following the publication of CLOSED MONDAYS, (Nazraeli Press, 1998) the artist revisits the museum as subject matter. The exhibit showcases the architectural aesthetic of 20th and 21st century world museums. Signature styles of leading architects are reflected in their iconic museum designs. Shot between 1989 and 2023, the work arcs the coming of age of the museum as an architectural destination.
Created exclusively for MUSEUMASMEDIUM Lui's new interpretations of the museum dive into the digital forces that now permeate photographic and museum practices. As film gave way to digital cameras and iPhones, with the dominant role of social media enhanced by digital manipulation and augmented reality interfaces, the museum becomes the photographer's voyeuristic backdrop for capturing audience self-promotion and playful art theft.
Technology has always partnered with photography to create images of the seen world. MUSEUMASMEDIUM creatively investigates the timeline of this paradigm shifting trajectory, pondering the age-old question—is the machine friend, ally, rival, or foe?
MUSEUMASMEDIUM will be on view at the PDC Design Gallery from June 10-July 22, 2023.