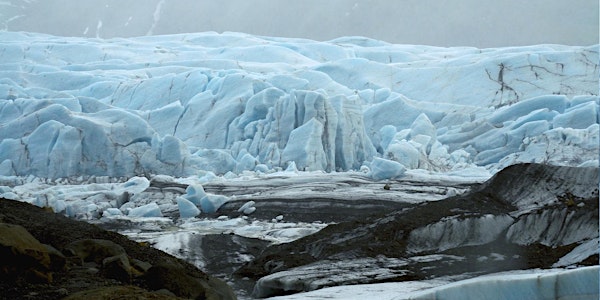 Opening Reception: Melt
When and where
Location
Fort Point Arts Community Gallery 300 Summer Street Boston, MA 02210
Description
The Fort Point Arts Community Gallery is pleased to announce Melt, the second show of the 2018-2019 season, juried by Sam Toabe, Gallery Director of the University Hall Gallery at UMass Boston. Melt (January 28, 2019 – March 7, 2019) brings together the collaborative video, photographic, and sculptural work from Isabel Beavers and Laine Rettmer.
The artists created the collaborative project Melt during a residency at the Skaftfell Center for Visual Arts in Seydisfjordur, Iceland. The exhibition includes a body of video, photographic prints, and sculptural works that reinterpret Norse mythological origin stories through a feminist, science-fiction lens. In connection with Melt, Beavers and Rettmer will host a day-long workshop that explores media literacy and storytelling through the creation of video portraits. It will take place at the FPAC Gallery, 300 Summer Street, Boston, on Saturday, February 16, 2019 (10:00 am – 4:00 pm).
Beavers and Rettmer seek to formulate a process through which illusion and icon become a simulacrum of origin and truth and, in doing so, broaden a canon of origin stories based predominantly in the agency of male character. The artists created the works in Melt in response to Norse mythology and the phenomenological experience of the Icelandic landscape—integrating disparate visual lexicons to create new image-based stories.
"We follow a scientific process of data collection in the field similar to ethnographic documentary," they note. "We treat 'B Roll' as a primary rather than ancillary source of footage, and juxtapose it against performative actions on the landscape."
Beavers and Rettmer measured the Votnajokull Glacier with tape, created compositions of ice forms with red surveying stakes, drew in the snow with foot tracks, and performed rituals in geothermal caves. Their characters at times overcome the physicality and vastness of the landscape—other times they are subsumed by it. Their work integrates images of field-based video with 3D modeling, complicating what the viewer believes to be the site of the mythology. The technology then achieves what the human cannot: an omniscient if incomplete perspective on the site of the artists' stories. This placement allows the viewer to believe in these new stories as myth and origin.
For both Beavers and Rettmer, artistic processes deal with site-specificity and location. Rettmer's video works respond to site structure and context, using these situations as foundations for creating symbolic human narratives. Beavers utilizes site as a point of departure for investigating human and environmental histories as they are tied to place. Seydisfjordur, Iceland, provides a rich context for formulating narrative around human origins, scientific history, and contemporary notions of gender identity and performance.
Taken in summation, the exhibition is a collection of visual sagas. The exhibition inserts structures of the Icelandic landscape into the gallery, employing construction tactics of theater set design and installation art as curatorial methods. The video works rely on symbolism, gesture, and archetype to fulfill an ethical narrative. Sculptural pieces act as "field kits" that become archives of site, cataloging and making available raw video footage in the gallery space. Viewers of the exhibition have the opportunity to interact with the archive of footage on a small monitor, an action that democratized the process of image and meaning-making. The spaces of monumental landscape, digital modeling, and the white cube gallery collide and create a slippage within which the viewer experiences the birth of a new mythology.
During the exhibit workshop, Beavers and Rettmer will lead participants through learning basic video production and the creation of personal narratives. Participants will write new mythologies that reinterpret their own origin stories. Working in pairs or groups, participants will record the telling of their new personal mythologies as video portraits.
The workshop explores myth, storytelling, and digital media and combines the teaching pedagogy of Beavers and Rettmer. Beavers created curricula for "Art, Science, and Cultivating Knowledge," the inaugural Interdisciplinary Practices course at the School of the Museum of Fine Arts at Tufts University, Rettmer leads group video production intensives for her video courses at SMFA, Northeastern, and RISD.
About the Artists
Isabel Beavers (www.isabelbeavers.com) is a multimedia artist and educator based in Boston, MA. She explores ecologies, environmental histories, and scientific storytelling through a range of media including video, animation, sculpture, and sound. Her work has been exhibited at the Museum of Fine Arts Boston's William Morris Hunt Memorial Library, Emerson Media Arts Center, the Waterworks Museum, Boston Convention and Exhibition Center (BCEC), Humbol-Universität zu erlin Thaer-Institut, and Mountain Time Arts in Bozeman, MT. She is the recipient of the National Service Corps MLK Drum Major for Service Award and was the first artist to be awarded a Tufts Institute on the Environment (TIE) Graduate Environmental Research Fellowship. Other recent awards include a 2018-19 Research Affiliate with the Center for Arts Design and Social Research, a Post-Graduate Teaching Fellowship with the SMFA at Tufts, and an artist residency with the Finnish BioArts Society and University of Helsinki. Her work is in the permanent collection of Boston Cyber Arts, the Association for Gallatin Agricultural Irrigators in Montana, and Framingham State University.
Laine Rettmer, a video artist and opera director, explores performance, gender, and methods of social control. Her work has been shown at the Clay Arts Center (2018), the Museum of Fine Art (2017), the Boston Independent Film Festival (2017), Fort Point Arts Community (2017), Manifesta (2016), Yuan Art Museum (2016), Yve Yang Gallery (2016), Perkins and Ping (2016), Present Company (2015), and NADA NY, NADA Presents (2014). For the past four years, she has been resident stage director for the New York-based company LoftOpera; her Macbeth received a Freddie Award for best new production and her Barber of Seville was named one of the top 10 classical music productions of 2014 by The New York Times. She has also worked extensively on new opera with companies such as New York City Opera, Ecce Ensemble, Guerrilla Opera, Rhymes with Opera, and Fresh Squeezed Opera. Recent awards received include a MAP Fund grant for a collaborative opera, Standby Snow: Chronicle of a Heat Wave, a fellowship from the Center for Arts Design and Social Research, a postgraduate teaching fellowship from the School of the Museum of Fine Arts at Tufts, an Art School Alliance Fellowship from HFBK Hamburg, and a residency at Skaftfell Center for Visual Arts in Iceland. Rettmer is a Residential Scholar at MIT and teaches at Northeastern University. She holds a BFA from New York University and an MFA from the School of the Museum of Fine Arts at Tufts.
Instagram: @laine_rettmer
About the Juror
Sam Toabe received his M.A. in the history of art and architecture and museum studies from Boston University in 2015 and a B.F.A. from the Studio for Interrelated Media at Massachusetts College of Art and Design in 2011. His research and writing focus on alternative curatorial practices across a variety of periods and geographies (looking specifically at artist-curated exhibitions and events), revisionist art histories, and the advancement of cultural plurality in our global, visual lexicons. Between 2013 and 2016, Toabe acted as assistant director and subsequently associate director at Samsøñ, an internationally recognized commercial art gallery in Boston's South End. He has contributed to over 50 exhibitions, with supporting roles at institutions such as the Yuan Art Museum in Beijing, the Institute of Contemporary Art/Boston, and Brandeis University, among others.
Gallery hours: Mon-Fri: 8:00 am–3:00 pm and by appointment
The FPAC Gallery, operated by the Fort Point Arts Community, Inc. of South Boston (FPAC), is a nonprofit community organization founded in 1980. The gallery is fully programmed and staffed by volunteers. FPAC's mission is to promote the work of our artists to a broad and diverse audience; to preserve the artists community in the Fort Point Channel area; to ensure the continuance of permanent, affordable studio space; to build community; and to increase the visibility of the arts in Fort Point. Fort Point is one of New England's largest artist communities, home to over 300 artists who produce work in a wide array of media.