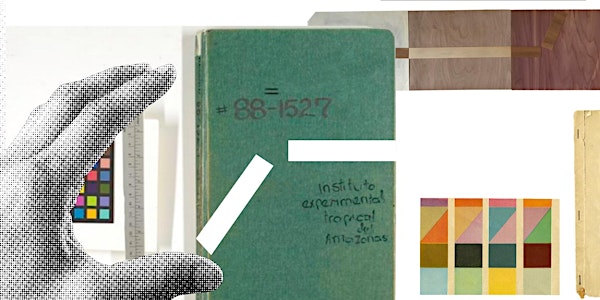 Opening Reception: Mariángeles Soto-Díaz | "Instituto Experimental Tropical...
Event Information
Location
18th Street Arts Center
1639 18th Street
Santa Monica, CA 90404
Description
Join us for an Opening Reception for Mariángeles Soto-Díaz's Moveable Lab Residency and Exhibition on February 24, 2018 from 6-8 PM.
Instituto Experimental Tropical del Amazonas is an installation of new work by Mariángeles Soto-Díaz, comprising a series of documents, posters and mixed media work from an imagined experimental art school that operated in the Amazon jungle between 1935 and 1942. Run by a team of feminist artists and designers with a communal spirit, the Instituto's members studied the properties of rich tropical resources, learning building and crafts techniques with native populations (Makiritare, Yekuana and Yanomami) and setting out to re-imagine every aspect of living. They aimed to make art in concert with nature, within it and in contrast to it. Soto-Diaz's installation at 18th Street aims to visualize a cultural institution founded on these indigenous values. One such value from the Manifesto, which will be on view: "WE HOPE the spirit of this school will outlast us: Post-brown, post-human, post-country are inaccurate designations. We recognize that by definition there is no embodied utopia, only the intention of living through the promise of propelling ourselves toward the circulating metaphysical powers that we can only imagine."
The exhibition in 18th Street's Atrium Gallery will open to the public with a reception on Saturday, February 24, from 6-8 pm, and runs through April 14, 2018.
ABOUT MARIÁNGELES SOTO-DÍAZ
Soto-Díaz was born and raised in Venezuela, where she began her art studies at the Instituto de Arte Federico Brandt in Caracas. She received an MFA in painting from Claremont Graduate University, and an MA in Aesthetics and Politics at CalArts. Her work has been exhibited internationally, from Venezuela to the United Kingdom to New York. Soto-Díaz is also the founder of the Unconfirmed Makeshift Museum (UMM), a cultural intervention in Irvine, California.
SUPPORT
Mariángeles Soto-Díaz's Moveable Lab Residency and Exhibition is generously sponsored by the Andy Warhol Foundation for the Visual Arts.
Date and time
Location
18th Street Arts Center
1639 18th Street
Santa Monica, CA 90404