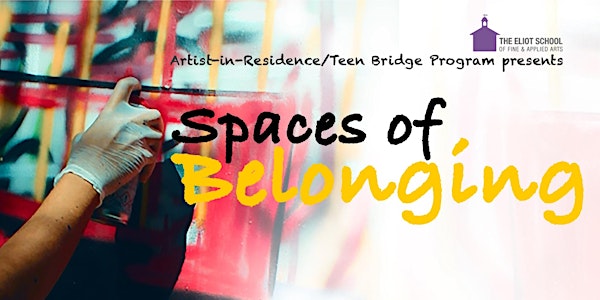 Opening Reception for Teen Bridge/AIR Exhibition with GoFive and TakeOne
Location
Piano Craft Gallery
793 Tremont Street
Boston, MA 02118
Refund policy
Contact the organizer to request a refund.
Eventbrite's fee is nonrefundable.
Come celebrate the completion of GoFive and TakeOne's residency and their work with our teen artists! Artist talk starts at 7pm.
About this event
Join us to celebrate the culmination of GoFive and TakeOne's residency with an opening reception for "Spaces of Belonging," on view at the Piano Craft Gallery, August 5 - 28. The show features work created by high school students who have worked this summer as Artist in Residence Interns to create artwork in collaboration with GoFive and TakeOne. Come for exciting new youth art, good conversation, and light refreshments. Admission is free, but please register so we will know you are coming. This is an excellent opportunity for friends and supporters of the Teen Bridge and Artist in Resident programs to see the latest creations from this dynamic group of young adults.
How do we shape the spaces that shape us? The 2022 Eliot School Artist in Residence Project—"Spaces of Belonging"— explored this question by engaging Teen Bridge artists, students from English High School, and members of the surrounding community in the process of planning and creating a public mural at The English High School in Jamaica Plain. The exhibition at Piano Craft Gallery provides an insider look into the process of creating the mural that was installed on English High School's campus as part of the residency. The exhibition also showcases the artwork that demonstrates the artists' growth.
¡Ven a celebrar la finalización de la residencia artística de GoFive y TakeOne y sus colaboraciones con nuestros artistas adolescentes! La charla de artistas comienza a las 7 pm.
Únase a nosotros para celebrar la culminación de la residencia de GoFive y TakeOne con una recepción de apertura para "Spaces of Belonging", a la vista en la galería Piano Craft el 5 de agosto a las 6 pm. La exposición presenta trabajos creados por artistas jóvenes que han trabajado este verano como pasantes de Artista en Residencia para crear obras de arte en colaboración con GoFive y TakeOne. Venga a disfrutar de un nuevo y emocionante arte, buena conversación y refrescos ligeros. La entrada es gratis, pero por favor regístrese para que sepamos quién viene. Esta es una excelente oportunidad para que los amigos y simpatizantes de los programas de Teen Bridge y del Artista en Residencia vean las últimas creaciones de este dinámico grupo de adultos jóvenes.
¿Cómo damos forma a los espacios que nos forman? El Proyecto de Artista en Residencia de La Escuela Eliot 2022, "Espacios de pertenencia", explora esta pregunta. Ambos Artistas en Residencia, GoFive y TakeOne, se comunicaron y trabajaron juntos con los artistas de Teen Bridge, estudiantes de English High School, y miembros de la comunidad para planear y realizar un mural público localizado en el English High School, en el vecindario de Jamaica Plain. La exposición en la galería Piano Craft ofrece una mirada privilegiada al proceso de la creación del mural. La exposición también presenta obras de arte que demuestran el crecimiento de los artistas.
About the Artists
2022 Artists in Residence GoFive and TakeOne are muralists and graffiti artists who frequently work together as a two-person mural crew. Having grown up in Boston, they bring lived experience as Afro-Latin youth finding their way through this city.
Co-Lead Artist Genaro Ortega (aka GoFive) has been providing Boston with creative and inventive public art for more than 10 years. Using paint and aerosol, and drawing on Boston's rich mural traditions, GoFive has created a lively body of art that pays homage to the unique qualities of the communities in which he works. By painting murals within communities where he has ties, he provides artistically resonant experiences and permanent artistic resources for those neighborhoods. GoFive also teaches design and visual arts at Madison Park Vocational High School. He was recently featured in Underground at Ink Block, organized by Street Theory, and has been described by Boston Magazine as having "serious street art credentials."
Co-Lead Artist Luis Taforo (aka TakeOne) grew up immersed in hip hop culture as a member of the Latinx community in Boston neighborhoods including Dorchester, Roxbury, and the South End. Starting in the early 90s, he became part of the African Latino Alliance, which brought together teens and young adults from various neighborhoods and blocks in Boston for positive art experiences at a time when gang violence there was surging. As he developed increased skills with paint, the scale and scope of his art grew, leading to murals of varying size and themes.
Sobre los artistas:
Los artistas en residencia del año 2022, GoFive y TakeOne, son muralistas y artistas de grafiti que trabajan juntos como un equipo de muralistas. Habiendo crecido en Boston, traen experiencia vivida como jóvenes afrolatinos que encuentran su camino a través de esta ciudad.
El co-artista principal Genaro Ortega (también conocido como GoFive) ha estado proporcionando a Boston arte público creativo e inventivo durante más de 10 años. Usando pintura y aerosol, y basándose en las ricas tradiciones murales de Boston, GoFive ha creado un cuerpo de arte animado que rinde homenaje a las cualidades únicas de las comunidades en las que trabaja. Al pintar murales dentro de las comunidades donde tiene vínculos, proporciona experiencias artísticamente resonantes y recursos artísticos permanentes para esos vecindarios. GoFive también enseña diseño y artes visuales en Madison Park Vocational High School. Recientemente apareció en Underground at Ink Block, organizado por Street Theory, y ha sido descrito por Boston Magazine como teniendo "credenciales serias de arte callejero".
El co-artista principal Luis Taforo (también conocido como TakeOne) creció inmerso en la cultura hip hop como miembro de la comunidad latinx en los barrios de Boston, incluidos Dorchester, Roxbury y South End. A principios de los años 90, se convirtió en parte de la Alianza Latina Africana, que reunió a adolescentes y adultos jóvenes de varios vecindarios y bloques en Boston para experiencias artísticas positivas en un momento en que la violencia de pandillas estaba aumentando. A medida que desarrolló mayores habilidades con la pintura, la escala y el alcance de su arte crecieron, lo que llevó a murales de diferentes tamaños y temas.
The Teen Bridge and Artist in Residence programs are made possible through the generous support of The Adelard A. and Valeda Lea Roy Foundation, Boston Private Industry Council, BPS Arts Expansion Fund at EdVestors, City of Boston Department of Youth Engagement & Employment, Deborah Munroe Noonan Memorial Fund, Bank of America, N.A., Trustee, The Joe Kalt & Judy Gans Family Foundation, Linde Family Foundation, Maureen and David Moses Family, National Endowment for the Arts, New England Foundation for the Art's Public Art for Spatial Justice program, with generous support from the Barr Foundation, New World Foundation, general support from Mass Cultural Council, and individual donors.
Teen Bridge and Artist in Residence are also funded in part by Boston Public Schools (BPS) Arts Expansion, a multi-year effort focusing on access, equity, and quality arts learning for BPS students. The BPS Arts Expansion Fund, managed by EdVestors, is supported by the Barr Foundation, The Boston Foundation, Katie and Paul Buttenwieser, The Klarman Family Foundation, Linde Family Foundation, and other individuals. BPS Arts Expansion is supported in part by an award from the National Endowment for the Arts.
COVID-19 vaccinations are highly encouraged and indoor masking is required.