Opening Reception for PAUSE at Foley Gallery

Wednesday, February 27, 2013 from 6:00 PM to 8:00 PM (EST)
Who's Going

Loading your connections...
3 of your friends are going.
Share it to get more people on board!
Share

Sara Haughty
San Francisco, California

Luke Picard
London, United Kingdom

Rick Vespucio
Florence, Italy
Event Details
OPENING RECEPTION
Wednesday, February 27 from 6-8PM
Foley Gallery - 97 Allen Street, New York NY

Please Join Allen Frame, Pratt Institute Adjunct Professor of Fine Arts, at an opening reception celebrating the work of six Pratt MFA alumni photographers.
PAUSE opens February 26 and runs through March 3, 12-6PM

PAUSE
Six photographers, presented by Foley Gallery, stalk the space of nowhere, anywhere, and somewhere and arrive "here" in the eerie calm of Pause, their exhibition of photographs depicting lives and landscapes on hold, barren, bleak, forgotten, anonymous, abandoned, and random. Their views of the world are rooted in memory and marked by transience. They are travelers poking into voids, looking at emptiness, examining the anxiety of unresolved questions. The artists are melancholic progeny, gazing at the family tree after it's been chopped down, and unfolding maps to forgotten places.
EVA FAZZARI returns to New Jersey landscapes and finds post-storm ruins and abandoned housesovertaken by nature, amid undisturbed domestic scenes of uncanny quietude. Her stark reality is stalled between chaos and niceties of middle-class taste.
PETER RIESETT mines familial settings, but chooses households left behind by grandparents now deceased. Evocative traces of their lives and the fragile, still beauty of their abandoned objects create a sense of both serenity and absurdity.
While most of the photographers depict unpeopled environments and passing landscapes, RACHEL LANGOSCH deals mostly with the female figure, finding (and staging) private moments in the situations of daily life. A woman lies face down in jogging clothes in a carpeted office setting. Has she just been jogging, or is she succumbing to some corporate pressure? The ambiguity is unsettling.
AUSTIN NELSON, making pictures "on the road" mixes portraits with quirky scenes of buildings and landscapes. A Southern mansion in disrepair is just a glancing view on his rambling trip; an old storefront doorway draped with an American flag feels eccentric, if forgotten. Both his places and people are sleepy, on Southern time with no agenda. A friend standing in a field in Texas looks as if he just woke up, probably with a hangover. A car parked outside a nondescript building looks forsaken.
The two Taiwanese photographers in the show, I-HSUEN CHEN and LIANG-PIN TSAO complement each other, both doing road trips but with radically different visions.
CHEN, under the spell of the classic road-trip photographers Robert Frank, Stephen Shore, and Joel Sternfeld, idylls through Taiwan, but instead of finding the drama of Frank's diverse demographics, or the wonder of Sternfeld's American anecdotes, he discovers a society in a state of suspension. Time seems to have stopped for this island culture, and Chen focuses on the inadvertent poise of routine and the everyday. A group of people stand at the edge of the sea, gazing off. Another group sits in a bus station, killing time. A man in shorts bends over a guardrail on a road, looking for something in the brush, but what?
TSAO, on the other hand, journeys through the U.S., zigzagging from state to state, but he observes less than he emotes: a primal scream or an utterance of puzzlement. His scenes, relentlessly captured, are generic and anonymous. Patches of landscape glimpsed at night are like mirages seen by someone in a fugue. His vagueness is as disturbing as LANGOSCH'S ambiguity or FAZZARI'S piercing precision.
 -- NOTES BY ALLEN FRAME
BIOS & ARTIST STATEMENTS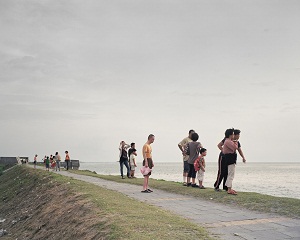 I-HSUEN CHEN is a New York-based photographer, video artist and performer, born and raised in Taiwan. He received an MFA in Photography from Pratt Institute in 2012.  His work has been selected for the New York Photo Festival's 2012 Invitational, his series Nowhere in Taiwan is in the Permanent Collections of Museum of Fine Arts, Houston, and he was chosen as one of Magenta Foundation's Flash Forward Emerging Photographers 2012.  In 2011 he won Jen Bekman Gallery's Blurb book prize and a Hey Hot Shot! Honorable Mention, and was awarded the New Artist Feature by the site Culturehall, chosen by curator Tema Stauffer. Chen's work has been published in magazines and online, including Conveyor Magazine, PHOTONEWS(Germany), American Photo, CCNY blog, and LENSCRATCH. His work has also been shown at 25CPW Gallery, hpgrp Gallery, ISE Foundation and Ed. Varie Gallery in New York.  Before coming to the U.S., he was a professional opera and choir singer in Taiwan.
--
Nowhere in Taiwan is a selection of photographs made while traveling through my native country of Taiwan in the summer of 2011.
Influenced by the idea of the "road trip" in American photography, exemplified in the work of such photographers as Robert Frank, Stephen Shore, and Joel Sternfeld, I set out to find scenes and situations that seem to be "in between," neither landscape nor cityscape but existing in an ambiguous space I call "nowhere." Some of these sites are suburban, or partly urbanized, or abandoned and left behind. The aspect of location that interests me most has to do with the traces of human presence and gesture that reside or remain. In search of nowhere, I look for unexpected instances of intimacy, so that there is a sense of "nowhere" being unveiled.
--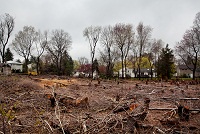 EVA FAZZARI Growing up in the middle class suburban town of Dumont, New Jersey, was claustrophobic for me; I could not recognize myself in the identity granted me by my peers. It was not until I left this square mile town for Ramapo College of New Jersey in 2003 that I found confidence in myself and my creative voice. However, I underwent a greater transformation when I moved to Brooklyn in 2007 to start a new life and pursue my MFA degree at Pratt Institute. Immersed in city life, for the first time I was able to analyze the suburbs from a new perspective. Suddenly, I became obsessed with photographing New Jersey, travelling home every weekend.
An immediate force driving me home was learning that my childhood friend was diagnosed with ovarian cancer. She died at age 22, in October of my first semester. After her death I spent months in search of meaning, photographing her possessions, friends and family. I have discovered that I prefer to photograph anticipation and aftermath but never the main event. It is in these moments that one may clearly view their surroundings, their stillness offering clarity on otherwise overwhelming situations. I became aware of this in my series, Survived By, 2008.
Following Survived By, I began to discover other evocations of loss in New Jersey suburbs. Snow Globe (2009) evokes the claustrophobia I once felt about Dumont. As I began this project, my work, which had previously emphasized traditional portraiture and still life, gradually transitioned to minimal inclusion of people and eventually to interiors and landscapes more alive with feeling than people. I began photographing with a wider lens, using its expansive capture to evoke longing, emptiness or even uncontrolled clutter. In my current series, All That Remains, I examine the environment and its impact on its inhabitants, focusing on transformations, both natural and man-made, and the traces left behind. I have discovered a profound connection between ones atmosphere and ones internal state. Such a revelation may be found in times of transformation.
--
All That Remains   Compelled by a lingering sense of loss I photograph the physical remains of time – impressions made on the walls of our homes, an abandoned house claimed by nature, and landscapes stripped bare.  These are evidence of the lives we lived, and lost, the cycle of change which pushes some ahead while leaving others behind. 
I am drawn to the eerie stillness of life.  I live in this dichotomy – in any moment feeling both empty and suffocated.  There are both dense and barren landscapes, homes cluttered and empty, stuck in a state of limbo.  I revisit these places, forgotten by society, because the physical traces remain.
--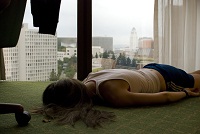 RACHEL LANGOSCH graduated with a BA in Photography from Bard College in 2005 and an MFA from Pratt Institute in 2009.  Rachel has taught digital photography at The University of Southern California Los Angeles and with National Geographic Student Expeditions (teaching in the Galapagos, Greece, India, Australia's Outback and Italy), taught visual arts to inner city students in both Harlem and South Central Los Angeles, and is part of En Masse - a photography collective made up of working fine art and editorial photographers. 
 --
The photographs exhibited are from two bodies of work: In Between and Engaged. In Between is a project about moving forward while simultaneously looking at what has been left behind. Engaged examines the anxieties women face before their nuptials. I am continually interested in moments of introspection and anxiety and how they manifest. In both bodies of work, moments of stagnation and introspection are recreated by actors. Stillness is present while life around these subjects move at immeasurable speeds.
--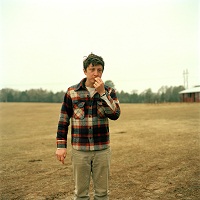 AUSTIN NELSON
For man so feared the world that he attributed his electrochemical faculties to a phantasm created in his own image.

I do not seek salvation because I don't believe in that kind of believing.

Because I have said these things, you are filled with grief.

Let not your heart be troubled.

Believe in yourself as I do not believe in me.

Happy Rebirthday.
Heaven help us.
--
Last time we talked, we were both in similar situations, emotionally. I have to admit that it was hard to not have you there with me sometimes, but I knew we were doing what we had to do and that the next time we met would be even better. I'm really proud of you. I took a lot of photographs after we left and I always looked forward to showing you. In fact, they're really just for you and me, anyway. I thought about everything we had talked about and I started seeing it everywhere - the modern freshly embedded in the ancient and our civilization's grand advancements mixed with our defiantly primitive nature. I became a realistic idealist. I was photographing the actuality of life insecurely covered in the tattered drapery of our unattainable desires and unbelievable beliefs. These images are dreams devoid of fantasy. They prove only their own existence if they prove anything at all.

--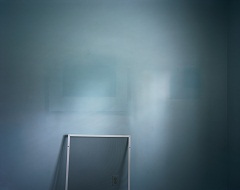 PETER RIESETT Raised near Baltimore, Maryland, Peter Riesett earned his BFA in photography from the Maryland Institute College of Art in 1998. He continued his artistic training at the Pratt Institute in Brooklyn, New York, where he earned an MFA in 2002. His work has been exhibited internationally, including in Houston, Lithuania, and Syria and his work resides in the permanent collection at The Museum of Fine Arts in Houston, as well as various private collections. Pete was recognized as a winner of the Flash Forward 2007: Emerging Photographers Competition, through The Magenta Foundation. He's been awarded 'Honorable Mention' for his book of the series Testament by Blurb's Photography Book Now competition in both 2008 and 2009. Pete's work has been included in the Humble Arts Foundation publication, The Collector's Guide To Emerging Art Photography, as well as the PRC Juried Publication, juried by Dana Faconti of Blind Spot. Most recently, Pete was selected as a winner of 10 BEST 10 International Competition in NYC and also received 'Honorable Mention' in the Prix De La Photographie, Paris (Px3). Currently a traveling exhibition and book from the Museum of Fine Arts, Houston, entitled WAR/PHOTOGRAPHY: Images of Armed Conflict and Its Aftermath, includes his image "WWII" from the series Testament. Riesett currently lives and works in Brooklyn, New York.
--

TESTAMENT is a photographic series that documents the packing up of a life after death. After both grandfathers passing, one in 2003 and the other in 2007, I routinely returned to these spaces to capture what I could before this dwelling disappeared. Much like an archeological dig, souvenirs, texts, and objects filled the space, allowing me to have wordless conversations with the objects of disuse. With every visit the void and absence of life became greater within these walls. Through the wandering process of investigation, compositions were revealed, often transcending into metaphor.

Personality traits become unveiled by how and what is accumulated, stockpiled, and often cherished. These attachments and idiosyncrasies, portrayed through the collision, placement, and relationship of everyday objects intrigue me. The action of photography becomes a way to integrate myself into any given situation. Using an unflinching documentary approach and working with available light, I strive to engage viewers in a dialogue that is both physical and emotional. This is a call to witness.
--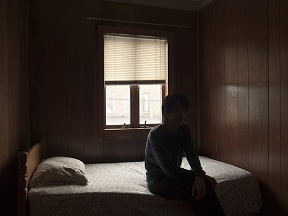 LIANG-PIN TSAO Born and raised in Taiwan, Liang-Pin Tsao is an artist currently living in Taipei, Taiwan. Tsao holds an MFA in Photography from Pratt Institute; an MA in International Journalism from Cardiff University. He has exhibited his work in Taipei, Tainan and New York.
--
 The images exhibited are from two bodies of work: Inner / City and One /America. The series Inner / City presents Tsao's internal struggle to find his place in the new environment when he moved to Brooklyn, NY from Taiwan. Another series One / America is the result of his multiple and lone road trips across U.S. for approximately three months during which Tsao became aware of its valedictory nature and his connection to the land and people he encountered. This selection navigates the recurring topics of solitude, vulnerability and self-discovery from the two bodies of work.
When & Where

Foley Gallery
97 Allen Street
New York, NY 10002


Wednesday, February 27, 2013 from 6:00 PM to 8:00 PM (EST)
Add to my calendar
Opening Reception for PAUSE at Foley Gallery