Opening Reception for Nursing Heroes

Wednesday, May 2, 2012 from 6:00 PM to 8:00 PM (EDT)
Event Details
Please join us for an opening reception to celebrate
Nursing Heroes
Caring for the Community
a special exhibit at the Tampa Bay History Center
Presented by Florida Nurses Association, Former District IV

Clara Frye
Inventor and Founder of the Clara Frye Negro Hospital
Mary T. Cash
The first Florida registered nurse of African American heritage 
Joyce Ely
Pioneer in Florida public health nursing
Dorothy Ebersbach
A love of flight and dedication to nursing 
Imogene King
The Science of Nursing  
From opening the first hospital to treat Black patients, pioneering midwifery training to improve survival rates of mothers and infants, and developing a scientific theory of nursing practice to improve patient care, these local nursing leaders, entrepreneurs, scholars, and scientists took on historic challenges that transformed the delivery of health care.  Guests will also experience the diverse ways in which today's registered nurses, who comprise the largest health care profession, are working to improve health care.
 
exhibit tours - live entertainment - catering by The Columbia Cafe 
   
Super Hero Sponsor

Angel Sponsors


Advocate Sponsors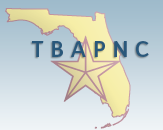 We hope you can join us for this historic event!   
If you have any questions please contact Linda Hankins at 580-399-6191
Organizer
Florida Nurses Association, Former District IV
This exhibit was born from the passion of dedicated and historically oriented registered nurses from Florida Nurses Association (FNA), Former District IV representing Hillsborough County. 
One of the oldest professional organizations in the state, FNA has been serving and supporting registered nurses for over 100 years, advocating for a safer and healthier workplace for nurses and a safer and healthier Florida.
Opening Reception for Nursing Heroes