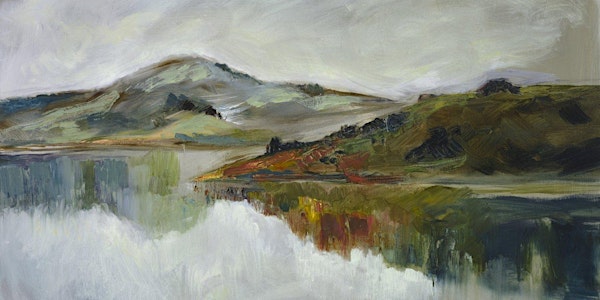 Opening Reception for New Art Exhibit by Sally Rapelye Briggs
New Art Exhibit in Heron Hall! "Layers: Serenity, Survival and Silence" by Sally Rapelye Briggs. On display September 2 – December 23, 2022
When and where
Location
Laguna de Santa Rosa Foundation 900 Sanford Road Santa Rosa, CA 95401
About this event
Visit our gallery, gift shop and grounds during this FREE opening reception. No RSVP necessary.
Artist Statement: My paintings and drawings reflect my love of nature. With a close observation of bark, of moss, and the sun reflecting magically on the Laguna, my paint brush, my palette knife, and my pencil go into an energetic frenzy! Clouds reflecting on the Laguna or Tomales Bay change every minute in form and color, changing from translucent to opaque in storms. These ever-changing skies often determine the moods of my paintings.
My drawings display my inner calm, and the patience to see and portray meaningful minute details in a pine cone, an oak tree, or an old grape vine. I am forever grateful to be surrounded by all this beauty and hope that we all will take steps to preserve it.
Sally Rapelye Briggs graduated from Rhode Island School of Design in 1971 with a major in painting. Her paintings, photography, and sculptures/assemblages have been juried into many shows on the East and West US Coasts. She has been awarded numerous awards showing her versatility in her diverse mediums and her sensitivity to and awareness of our fragile surroundings. Sally is also a teacher. Her 49 years teaching kindergarten through college art demonstrate her dedication towards giving her students the ability to visually express oneself. Her motto in class is "there is no wrong in art! Go for it! EXPLORE!"
For more information, please visit her website: https://sallyrapelyebriggs.com
The Heron Hall Gallery & Gift Shop exhibits three shows per year of local, nature-themed art. Sales support the Laguna Foundation. Due to the multiple uses of Heron Hall, the gallery is open by appointment only. Please schedule a time to see the exhibit by contacting Maggie Hart: maggiehart@lagunafoundation.org
"Tomales 1" oil (30"W x 22"H) by Sally Rapelye Briggs