Description
You are cordially invited to,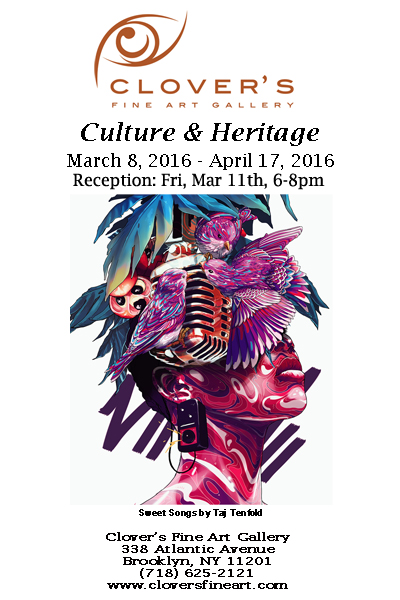 Clover's Fine Art Gallery, ''Culture & Heritage'', an exhibition of contemporary artwork which reflects and expresses different aspects of African heritage and culture.
Haitian American Abstract Expressionist, Sophia Domeville is one of the selected feature artists.

Opening Reception:
Friday, March 11, 2016
6 p.m. to 8 p.m. (Free Event)
Clover's Fine Art
338 Atlantic Ave (Btwn Hoyt and Smith Street)
Brooklyn, New York 11201
Participating artists and notable works of the exhibition include:
Kine Aw, Sophia Domeville, Tanda Francis, Lehna Huie,Ben Ibebe,Tamara Natalie Madden, Ibou Ndoye, Donovan Nelson, Dianne Smith, Taj Tenfold.
The exhibition is set to open on March 8, 2016, and runs through April 24, 2016 which aims to stimulate and facilitate conversations of African heritage through art.

Photo: "Sweet Songs"
Taj Tenfold's pen and ink digital mixed media interprets Bob Marley's "Three Little Birds".
Courtesy of the Artist.
-

Team Sophia