Description
Join Stories on Stage Davis at our third annual Opening Night Gala and fundraiser, celebrating debut novels by California writers Vanessa Hua and Paula Saunders.
To kick off our sixth season, we're welcoming two Northern California writers with novels hot off the presses, Vanessa Hua (A River of Stars) and Paula Saunders (The Distance Home). Both novels are moving and memorable explorations of family in all its complicated glory. Actors Gail Dartez and Ashley Lucas will read excerpts from The Distance Home and A River of Stars, and the authors will be on hand to sign books. The evening will also include a silent art auction, savory and sweet bites, and a refreshing Pimm's Cup cocktail.

All proceeds of this event will help support our 2018-19 season; we remain a volunteer-run organization committed to paying our authors and actors for their work. Stories on Stage Davis is a sponsored project of YoloArts, a non-profit arts organization. Contributions for the charitable purposes of Stories on Stage Davis are tax-deductible to the extent permitted by law.
About the Authors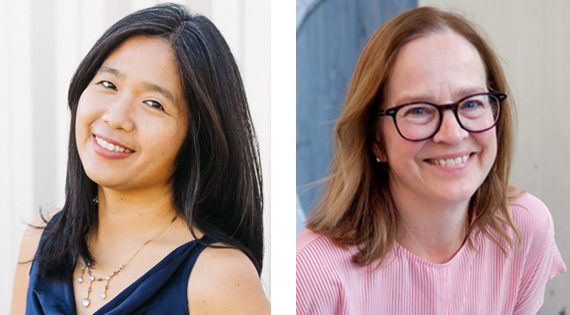 Vanessa Hua is a columnist for the San Francisco Chronicle and the author of a short story collection, Deceit and Other Possibilities, and a debut novel, A River of Stars. For two decades, she has been writing, in journalism and fiction, about Asia and the Asian diaspora. She has received a Rona Jaffe Foundation Writers' Award, the Asian/Pacific American Award for Literature, the San Francisco Foundation's James D. Phelan Award, and a Steinbeck Fellowship in Creative Writing, as well as honors from the Society of Professional Journalists and the Asian American Journalists Association. Her work has appeared in publications including The New York Times, The Atlantic, and The Washington Post. She lives in the Bay Area with her family.
Paula Saunders grew up in Rapid City, South Dakota. She is a graduate of the Syracuse University creative writing program, and was awarded a postgraduate Albert Schweitzer Fellowship at the State University of New York at Albany, under then-Schweitzer chair Toni Morrison. She lives in California with her husband. They have two grown daughters. (Photo: Alena Saunders)