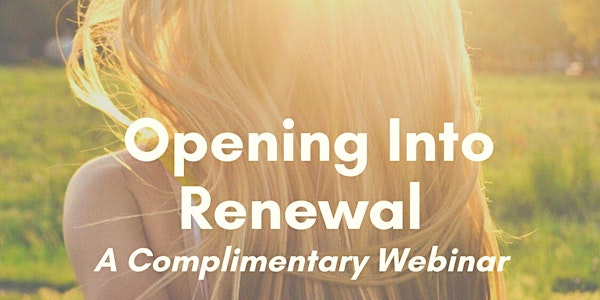 Opening into Renewal Webinar
A complimentary webinar to slow down with what your heart is calling to you now, and to open to a new approach for life in the days ahead
About this event
I don't know about you all, I have found this time with CoVid-19 a deep inner space to look at my priorities, especially how I'm approaching my life. This webinar is an opportunity to slow down with what you've learned during this time about what works and doesn't work for you, and methods to create more of the experience you want––especially as things begin to open up in the days ahead.
It's a space to look at what's important to you now and open a door to a renewed way to show up through your heart. We'll play together, explore together, and inspire ourselves together, and hopefully walk away with a simple step or two that you can begin taking now to up level in your day-to-day life (and how you participate in it!)
What if this Co-Vid experience is actually a great gift to be compassionate with you for where you are….and to renew and reset what you are doing by deeply listening to your inner guidance? And to let go of "I should" or "I don't know how" and to create anew based on what your heart is calling you to now.
What emerges for you in this space may reveal an entirely new direction, or simply a renewal of what you're already doing. Whatever it is, you can gain a powerful compass to create your life consciously during this time of deep shift in the world.
This event is complimentary as a gift to all during this time!