Celebrating the opening of Liberate Yourself's 2nd location in Sherman Oaks! Attend a single event or stay all day!
About this event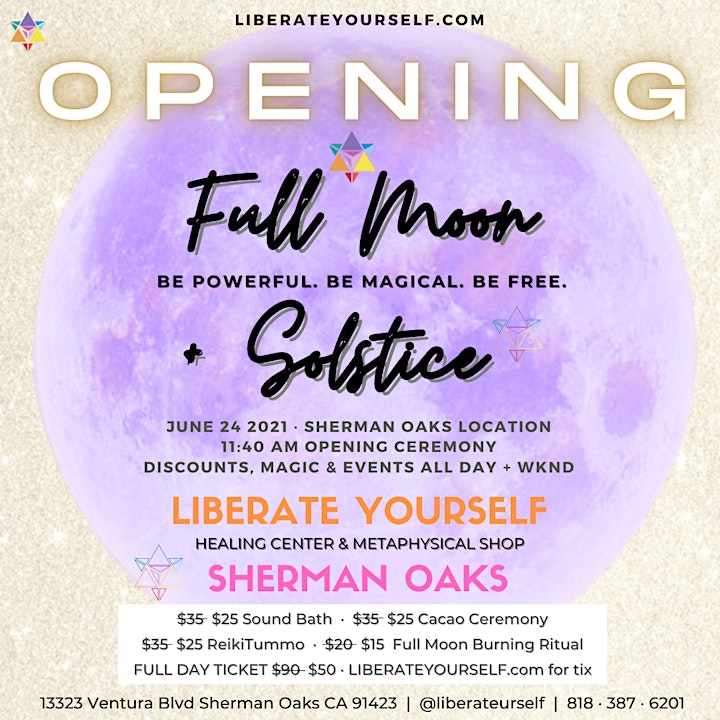 LIBERATE YOURSELF SHERMAN OAKS FULL MOON & SUMMER SOLSTICE OPENING CELEBRATION!
**THIS IS AN IN PERSON EVENT AT OUR LOCATION IN SHERMAN OAKS - THIS WILL BE HOSTED OUTSIDE, FOLLOWING GUIDELINES OF SOCIAL DISTANCING. PLEASE WEAR A MASK. YOU WILL NOT BE ALLOWED TO PARTICIPATE IF YOU DO NOT HAVE A MASK**
Though we are planning events all weekend, this ticket - and the events listed here - are for the official kick-off celebration on Thursday, June 24th and do not include any events on Friday, Saturday or Sunday (which we are still planning)! Join us for a discounted single event or enjoy an extra magical discount on multiple events or the full-day ticket. Of course, no ticket required to come by the new spot, soak up the vibes and shop the big sales! Purchase a ticket if you would like to attend any of the magical events:
On June 24th, the Capricorn Full Moon is beautifully-aspected with both the sun and moon configured to a very strong Jupiter in Pisces, and Mercury has just gone direct! The opening ceremony is at 11:40 AM sharp on June 24th so please join us to bless and officially open the space at that time (and no, it's not a typo - we have Astrologers:)) - Sound Bath and a full day of amazing events to follow!
Please join us for friendship, community, magic and big sales on crystals, smudge sticks and services all weekend through Sunday, June 27th. We are THRILLED to welcome you to this magical new space! Oh, how we've missed our community events! The renaissance is here, friends!!
SCHEDULE OF EVENTS for THURSDAY, JUNE 24TH
11:40 AM (sharp!): OPENING CEREMONY, BLESSING & RINGING OF THE BELL (free to attend for all)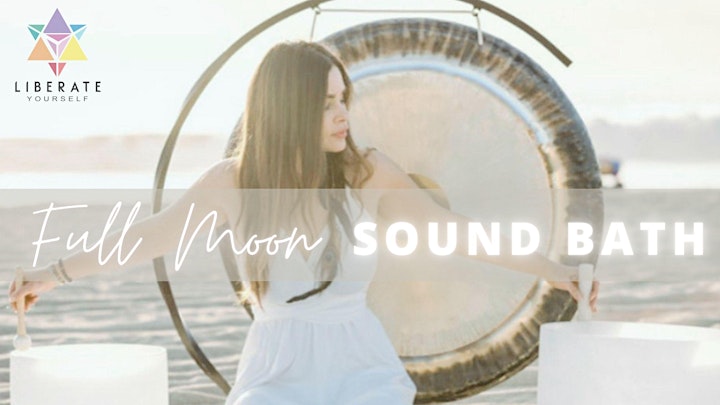 1:00 PM: SOUND BATH with SAHAR SHARIF - https://www.eventbrite.com/e/ambient-soundbath-meditation-with-sahar-tickets-159187182147
Join Sahar in this journey accompanied by Gong Play + Crystal Singing Bowl Vibrations. Sahar is a certified Sound Practitioner residing in Los Angeles. She uses the vibrations and frequencies of planetary tuned and Dark Star Gongs, Perfect Pitch 432-440 Hz finely tune crystal quartz singing bowls, Tibetan singing bowls, chimes and high frequency angel tuners to shift your brain and body to into a deep meditative state while enveloped in vibrational sounds. Allowing the body to repair and restore itself by slowing down the brainwaves and simultaneously shifting every cell in the body from diseased to a state of ease.
Sahar is passionate about using Sound Therapy as a way for body to heal itself along with other holistic modalities, plant based nutrition, meditation, high frequency tuning and aromatherapy for physical, emotional, spiritual expansion and growth. She believes the source of self-healing, transformation and creation for all human beings comes from the power of connecting to the divine within.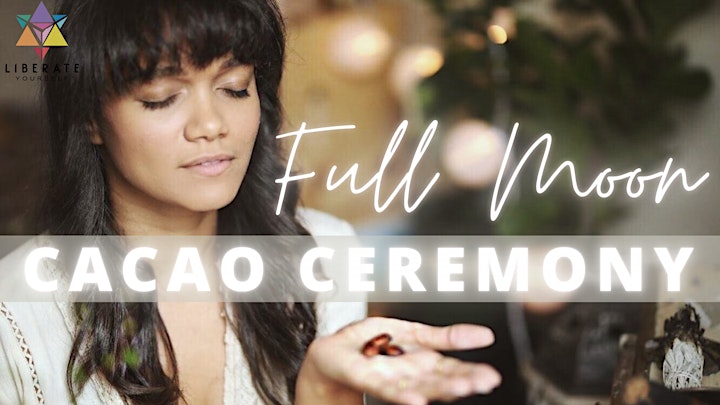 3:30 PM: CACAO CEREMONY with CELESTE MCMILLIAN - https://www.eventbrite.com/e/heart-opening-cacao-ceremony-with-sound-movement-tickets-159187928379
Join us as we commune with the great spirit of the Cacao plant. We're delighted to share with you the many physical and energetic benefits of this medicine as we pair it with synchronistic practices of diving into the subconscious layers of our Being.
We begin with intention setting and a collective blessing for the Cacao. Then we lay down under our blindfolds and begin our journey through meditation, music and powerful breathwork. Energetically and Emotionally, Cacao opens and clears the pathway of communication with your heart.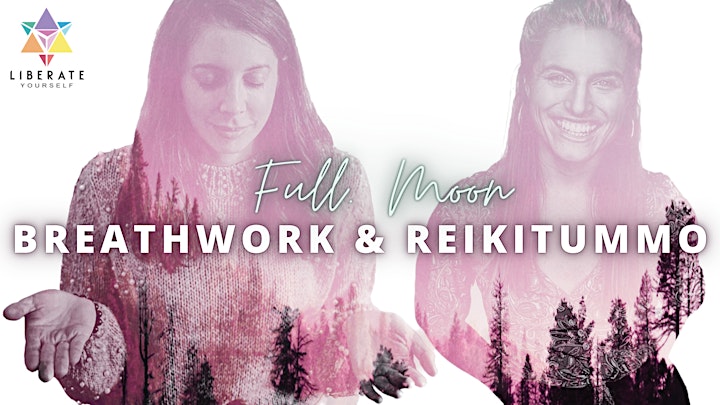 5:00 PM: BREATHWORK & REIKITUMMO with KIMBERLIE EDDY & JEAN GRANT - https://www.eventbrite.com/e/breathwork-reikitummo-release-restore-tickets-159188534191
In this workshop, Jean and Kimberlie will invite the energy of the Capricorn Full Moon to guide you through a group meditation, breathwork, and reikiTUMMO. Come with an intention of what you wish to call into your life. Release what is no longer needed. Make space for the Full Moon, the new authentic you. Talk about a sweet soul renewal on a Sunday!
What is needed? A yoga mat, pillow/cushion, blanket, journal and a sacred item (a crystal, piece of jewelry, photograph -- whatever's clever!)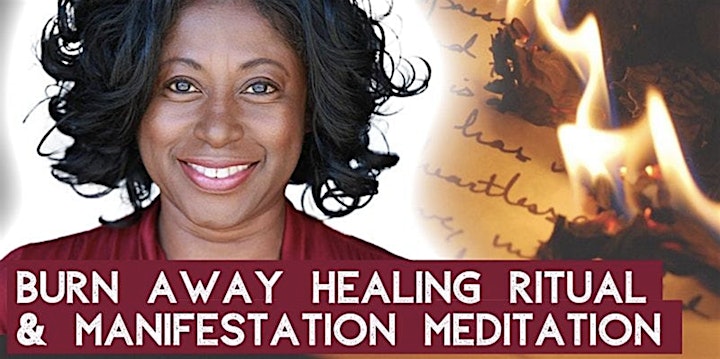 7:00 PM: FULL MOON BURNING RITUAL with DOREENE HAMILTON - https://www.eventbrite.com/e/burning-ritual-manifestation-with-rev-doreene-tickets-159188849133
Whether you want to progress in your career, find new love or remove obstacles in your life, in this ritual we will release what no longer serves you and align your desires to the Divine timing of the Universe! This ritual can be done at any time, but if frequently performed by Doreene on the Full Moon, a time of culmination and heightened spiritual connection - after which, energy begins to wane and release, facilitating the dissipation and transmutation of what we've actively released during the ritual.
Blessings to all who partake!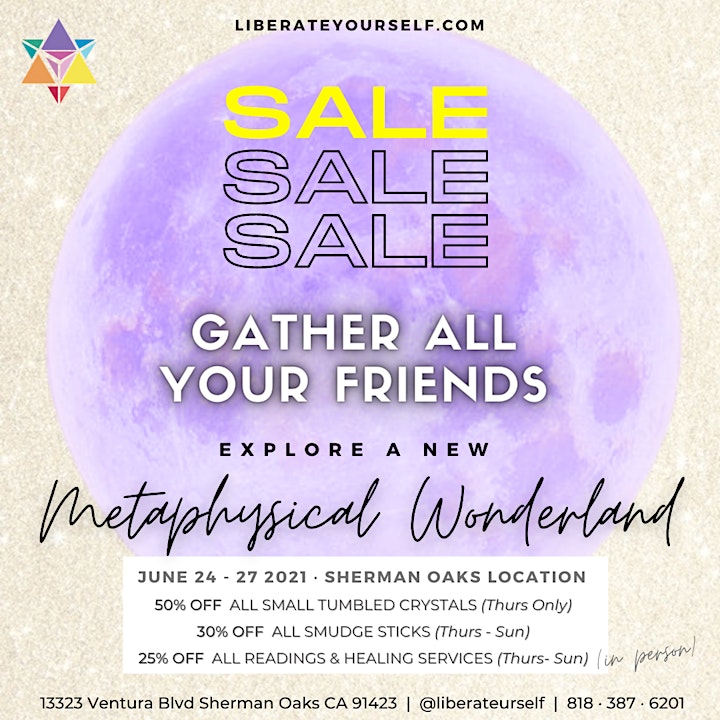 COVID-19 DISCLAIMER: Shopping and events will follow all local Covid guidelines, including mask and social distancing recommendations. Catching Covid-19 is still a risk, most especially for anyone unvaccinated. Liberate Yourself is not responsible for any covid-19 transmission while shopping or attending our events. By purchasing a ticket, you acknowledge that you understand that it is still a risk to attend a live event due to the covid-19 pandemic, and that you are choosing to do so of your own free will, as well as accepting full responsibility if you do contract covid-19.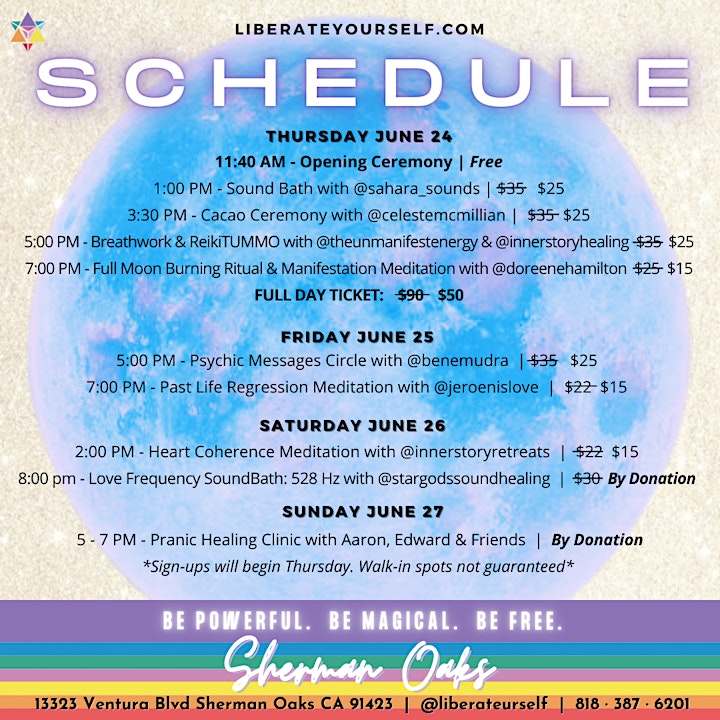 Organizer of Opening Full Moon Sound Bath, Cacao Ceremony, ReikiTummo & Burning Ritual