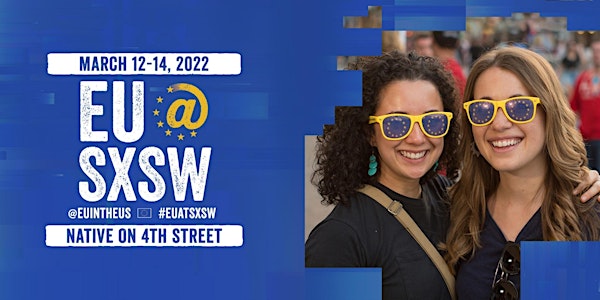 Opening Day of EU@SXSW
Join us for the opening day of the EU House and EU@SXSW!
When and where
Location
Native 807 East 4th Street Austin, TX 78702
About this event
The first day of programming includes enlightening discussions on tech security, quantum computing, and sustainable mobility, followed by an environmentally friendly opening reception and amazing line-up of European pop music.
The full schedule of events is available on euintheus.org/sxsw.
Schedule
10AM CT: Tackling Climate Change with Quantum Computing
1PM CT: Designing A Green Mobility Future
2:30PM CT: Foster & Protect: Tech + National Security (Official SXSW Partner Programming Panel)
4PM CT: Invest & Innovate
6PM CT: "LOVE HATE" Launch Party
7PM CT: Opening Reception
8PM CT: Euro Pop Night
How to Register to Programmed Events
To register for any of the day's panels, receptions, and other events, please click "Register" on the right side of the screen and you will be taken to the full list of open events. Select a ticket for each event you would like to attend, then proceed through the registration process.
General Admission to the EU House
Visit the EU House, located at NATIVE, to experience interactive activities like live chalkboard drawing, a virtual tunnel journey, a relaxing beer garden, and many other EU surprises.
Disclaimer
Note the free registration for each event does not guarantee admission on the day.
Food and drinks are also limited.
COVID-19 Safety
The safety of our attendees is a top priority and all credentialed SXSW participants will be required to provide proof of vaccination against Covid-19 (or a recent negative Covid-19 test) in order to collect and maintain their credentials. This policy remains subject to applicable laws and public health guidance. We will have more information soon as our policy evolves with specifics regarding testing, masking and social distancing.